Special Offer
Save up to 13% when you book these popular tours together!
Make the most of a trip to Berlin with this 2-day Super Saver tour that features guided bike treks around both Berlin and Potsdam. Learn the history of Berlin, from its beginnings, to its role as capital of the Nazi Third Reich, to the divided city of the Cold War, to the modern-day capital of a unified Germany. Then take a train ride to Potsdam to discover its beautiful palaces, parks and gardens by bike. A train ticket plus the use of a bike and helmet is included.
Highlights
Combine two popular bike tours at one discounted price with this Berlin Super Saver

Take a day trip to Potsdam by train and discover its beauty by bike


Learn about the history of these two cities from your local guide
Ride past famous landmarks like Checkpoint Charlie and the Berlin Wall
Admire Sanssouci Palace, the Dutch Quarter and other Potsdam attractions
What You Can Expect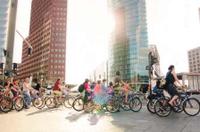 Meet and greet the tour guide and group near the entrance of the TV Tower in Alexanderplatz, a large public square and transport hub in the center of Berlin. After getting fitted for a Beach Cruiser bike and helmet, there will be a brief introduction to Berlin before beginning the approximately 4.5-hour ride around and through this capital city and cultural center of Germany.
Because there is so much to see in Berlin, this tour takes advantage of the many bike paths the city offers. More than 95 percent of the tour takes place on bike paths and through parks. Also, Berlin is quite flat and easy to traverse by bicycle. With frequent stops to learn about the sites and to take pictures, it all makes for a most enjoyable way to explore this fascinating place.
See the Berlin Wall Memorial and one of the last remaining sections of the wall itself. Stand above Adolf Hitler's bunker and recount the final days of the Third Reich. Check out Checkpoint Charlie, the best-known crossing point between East and West Berlin during the Cold War.
Pedal to the famous Brandenburg Gate, one of Berlin's most important monuments. It was a symbol of division between Berlin and Germany during the Cold War, but it is now a national symbol of peace and unity. And visit the Reichstag Building, the meeting place of the German Parliament.
Also, ride along the Spree, a river that runs through the city, and Tiergarten Park, Berlin's largest and most popular inner-city park. Then stop at a beer garden for lunch (own expense) to experience Berlin as the locals do.
Other stops on the tour include Museum Island, with its collection of five world-renowned museums; Potsdamer Platz, a public square and traffic intersection in the center of Berlin; Gendarmenmarkt's German and French cathedrals and much more.
Throughout the tour, the guide will provide ample information about Berlin's past and present — and maybe even offer some insight into where the city is headed in the future. It's a great introduction to the city of Berlin and all that it offers its visitors and residents alike.
The tour ends back at Alexanderplatz.
On the second day of this Super Saver tour, enjoy a brief train ride to the scenic city of Potsdam (with cycles in tow) for another 4.5-hour bike ride.
Pedal through the historical city center, the Russian colony Alexandrowka and the Dutch Quarter. Admire the majestic royal residences that were built during the reign of Frederick the Great. There's Sansoucci Palace, one of the largest UNESCO World Heritage sites in Germany; New Palace, the largest and most impressive palace ensemble in Sanssouci; the small, neo-classical Charlottenhof Palace, also in Sanssouci Park; and Orangery Palace, built in the style of the High Renaissance and commissioned by King Frederick William IV.
Explore a variety of historical sites and learn the deeper meaning behind each.
See, in part, the fabulous Marble Palace and visit the Cecilenhof Palace (entry and audio guide included), where Churchill, Truman and Stalin wrote world history when discussing how to partition Germany. Coast along between the former East and West Berlin, over the Glienicke Bridge connecting Potsdam to Berlin — where Cold War spy exchanges routinely took place — and much more.
There will be time for lunch at a beer garden (own expense) that used to be the old royal dairy.
The tour concludes with a return trip to Berlin.
Itinerary
May 2016
The local operator is a great bike tour company. Very professional, great bikes and engaging guides. Highly recommend. Only issue was with Viator who told us that tour would be cancelled if it rained. However when we found out we were going with the local bike company, their policy is to go out rain or shine. Since Viator sub-contracts with so many vendors, Viator should direct specific inquires to the sub-contractor rather than guess. However, after much follow-up even though they indicated they would handle the issue we were credited the difference by Viator.

November 2015
Very good indeed, a brilliant experience, very nice guides who were interesting and well informed. A very safe experience and a good way of seeing a lot of the city. It is definitely worth doing Potsdam as well, it is beautiful and historic.
October 2015
Both cycle tours are the best way to meet Berlin.Well organised with good guides.But the Potsdam cycle tour was one of the best experiences we ever had!A nice trip by train from Alexanderplatz to Potsdam and a big surprise follows:Hop on your bike and enjoy wonderful Potsdam with beautiful gardens and palaces.They call it Versailles of Berlin.Not true:much more beautiful than Versailles.Go for it !!!66 and 64 years old!
August 2015
What a great experience these two tours were. The guides were full of knowledge and fun. Suitable for all ages as long as you can ride a bike. Very easy terrain and I always felt safe on the roads. Thoroughly recommend to all.

July 2015
Both of these tours were entertaining, illuminating, manageable by bike, and very satisfying. And good value for the money. The guides were filled with knowledge and no small amount of charm. Bikes are comfortable and easy to use. Both cities really are quite flat, so fatigue isn't a major issue. Our group for each trip was less than 25 people. Lunch was perfectly timed. And the guides were just superb. Potsdam, by its very nature, includes a bit more biking, a bit less stopping, and somewhat more historical recitation, but the guide made all of this come alive, and of course seeing the room where the Potsdam Conference took place . . . well, this made the tour very special indeed. Highly recommended!
July 2015
Very nice trip out to Potsdam and a great guide!
June 2015
We have completed 2 tours with the Bike company and both were extremely professional with great guides Kyla and Alex. As both the city and Potsdam areas are far reaching and biking particularly as it is flat terrain is the way to go. The luncheon stops were excellent and the timing perfect. As these cities are bike friendly there is no concern for safety.
July 2014
I found the Postdam portion extremely enjoyable. I found the tour guide extremely knowledgeable of the history in Postdam. The traffic was light and area covered during the tour was extensive and interesting. The Berlin portion of the Bike ride had too many people and I found it a slight annoyance.

May 2014
Great deal to see highlights of Berlin and Potsdam! The bike tour company provide a fun way to see the city, and injects humor in telling the story behind the sites. Potsdam is beautiful and provides a nice contrast to the urban landscape in Berlin. A great value and highly recommended!
June 2015
A very compact city bike tour with visits to all major places of interest. A more relax trip around Potsdam.
Special Offer
$83.62 Save $10.40
Advertisement
Advertisement