10 Reviews
Location:

Berlin, Germany

Duration:

2 days

(approx.)
Special Offer
Save up to 10% when you book these popular tours together!
When you've got a trip planned to Berlin, discover the city and its gorgeous surroundings on this Super Saver that includes a city bike tour and a Potsdam day trip with a second bike tour. Combine the main attractions of Berlin with the UNESCO World Heritage-listed city of Potsdam – all at a discounted price! Spend Tuesday, Thursday, Friday or Saturday on a comfortable beach cruiser, exploring the sights of Berlin, and learn about the history of this bike-friendly city from your local guide. The following day, take a train to nearby Potsdam, and discover the beautiful palaces, parks and neighborhoods by bike – an ideal trip!
Highlights
Combine two popular bike tours at one discounted price with this Berlin Super Saver

Take a day trip to Potsdam by train and discover its beauty by bike


Learn about the history of these two cities from your local guide
Ride past famous landmarks like Checkpoint Charlie and the Berlin Wall
Admire Sanssouci Palace, the Dutch Quarter and other Potsdam attractions
What You Can Expect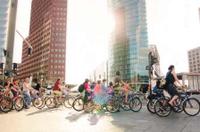 Berlin City Bike Tour (Day 1, Tuesday, Thursday, Friday or Saturday; 4.5 hours)
Get a brief introduction to Berlin from your guide before hopping on your bike – a beach cruiser that offers the height in comfort with cushy seats, wide tires and easy-to-use handlebars and brakes, along with multiple gears for a relaxing ride. Whether it's your first trip to Berlin or you feel like a local, riding along the city's less-traveled roads offers a unique view of Berlin's past and present.
As you pass the city's most famous landmarks, learn about all facets of its history, from the Prussians, the Weimar Republic, Hitler and the Third Reich, to the Cold War and the Berlin of today. Stop every few hundred yards to discuss the sights with your guide and enjoy photo opportunities.
With so much to see in this flat, bike-friendly city, your tour takes advantage of multiple bike paths as well as routes through beautiful parks. Along the way, visit a beer garden to experience authentic Berlin and keep your 4.5-hour bike ride from feeling the least bit strenuous!
See a complete list of sights in the itinerary below.
Potsdam by Train with Bike Tour (Day 2, Wednesday, Friday, Saturday or Sunday; 6.5 hours)
From Berlin, travel by train with your guide to Potsdam, with bikes in tow. When you arrive, embark on a leisurely ride through this picturesque town, declared a UNESCO World Heritage Site.
Delight in the gorgeous sights as you pedal around Potsdam, including a ride through the historical city center, admiring the quaint redbrick homes of the Dutch Quarter (Hollandisches Viertel). Your guide will point out Sanssouci Palace and the New Palace, originally the work of Fredrick the Great, as well as the Orangerie and historical windmill within the amazing Sanssouci Gardens.
See the fabulous Marble Palace before going into Cecilenhof Palace, where Truman, Stalin and Churchill concluded the Potsdam Agreement (entry included). Back aboard your bike, coast between the former West and East Berlin over the Glienicke Bridge, where Cold War spy exchanges routinely took place. Along the way, your guide will recount anecdotes as you explore an array of historical sites.
Your bike tour will take about 4.5 hours, covering approximately 10 miles (16 km) – an ideal way to contrast the creative university town of today with its communist past behind the Iron Curtain. Take a break for lunch (own expense) at a great beer garden – site of the old royal dairy – before heading back to Berlin aboard the train.

Please click on 'View Additional Info' to see a map of the meeting point.

Itinerary
Berlin City Bike Tour Sights:
• Alexanderplatz
• Marx/Engels Platz
• Palast der Republik (former DDR Parliament)
• Museum Island
• Checkpoint Charlie
• Berlin Wall
• Potsdamer Platz
• Site of Hitler's bunker
• Deathstrip watchtower
• Brandenburg Gate
• Spree River and Tiergarten Park
• Siegessaeule (Victory Column)
• Gendarmenmarkt
• Bebelplatz (site of Nazi book-burning)
November 2015
Very good indeed, a brilliant experience, very nice guides who were interesting and well informed. A very safe experience and a good way of seeing a lot of the city. It is definitely worth doing Potsdam as well, it is beautiful and historic.
October 2015
Both cycle tours are the best way to meet Berlin.Well organised with good guides.But the Potsdam cycle tour was one of the best experiences we ever had!A nice trip by train from Alexanderplatz to Potsdam and a big surprise follows:Hop on your bike and enjoy wonderful Potsdam with beautiful gardens and palaces.They call it Versailles of Berlin.Not true:much more beautiful than Versailles.Go for it !!!66 and 64 years old!
August 2015
What a great experience these two tours were. The guides were full of knowledge and fun. Suitable for all ages as long as you can ride a bike. Very easy terrain and I always felt safe on the roads. Thoroughly recommend to all.
July 2015
Both of these tours were entertaining, illuminating, manageable by bike, and very satisfying. And good value for the money. The guides were filled with knowledge and no small amount of charm. Bikes are comfortable and easy to use. Both cities really are quite flat, so fatigue isn't a major issue. Our group for each trip was less than 25 people. Lunch was perfectly timed. And the guides were just superb. Potsdam, by its very nature, includes a bit more biking, a bit less stopping, and somewhat more historical recitation, but the guide made all of this come alive, and of course seeing the room where the Potsdam Conference took place . . . well, this made the tour very special indeed. Highly recommended!
July 2015
Very nice trip out to Potsdam and a great guide!
June 2015
We have completed 2 tours with the Bike company and both were extremely professional with great guides Kyla and Alex. As both the city and Potsdam areas are far reaching and biking particularly as it is flat terrain is the way to go. The luncheon stops were excellent and the timing perfect. As these cities are bike friendly there is no concern for safety.
July 2014
I found the Postdam portion extremely enjoyable. I found the tour guide extremely knowledgeable of the history in Postdam. The traffic was light and area covered during the tour was extensive and interesting. The Berlin portion of the Bike ride had too many people and I found it a slight annoyance.
May 2014
Great deal to see highlights of Berlin and Potsdam! The bike tour company provide a fun way to see the city, and injects humor in telling the story behind the sites. Potsdam is beautiful and provides a nice contrast to the urban landscape in Berlin. A great value and highly recommended!
June 2015
A very compact city bike tour with visits to all major places of interest. A more relax trip around Potsdam.
December 2013
City bike tour was good but a little crowded. The Potsdam tour was fantastic, our guide was entertaining and very knowledgable . The only downside was the place where we stopped for lunch, the food was bad and nothing to cater for vegetarians.
Special Offer
$77.63 Save $7.76
Advertisement
Advertisement