Explore the chilling legacy of Germany's Third Reich during this fascinating 3-hour walking tour to some of the Nazi's most important sites in Berlin. Follow your historian guide on a walk from Wilhelmstrasse past the former headquarters of the SS and Gestapo and the location of Hitler's underground command center. As you move, your guide will help place the sites and rise of the Nazis into historical context, offering insight into those who resisted their reign of terror and discussing the horror of the Holocaust. Finish your day near Berlin's Topography of Terror museum.
Highlights
Walking tour of Berlin's Third Reich sites

Learn about the rise and fall of Hitler and the Nazi Party from an expert guide
See where World War II and the Holocaust were orchestrated as you walk down the Wilhelmstrasse
Witness where the Propaganda Ministry, Hitler's bunker and the SS and Gestapo headquarters once stood

End near the must-visit Topography of Terror museum

Recent Photos of This Tour
Berlin's Infamous Third Reich Sites Half-Day Walking Tour
What You Can Expect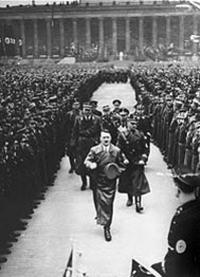 Gain new insight into the chilling rise of the Nazis in Germany during this 3-hour walking tour investigating the Third Reich's key sites in Berlin. You'll gain a new appreciation for the historical events and sites that contributed to the rise (and fall) of this infamous regime.
Start your trip from the Hackescher Markt S-Bahn station, leaving in either the morning or the afternoon (depending on the option selected). Meet your guide at the station, listening as they share historical details about the biography of Hitler and the rise of his National Socialist Party. These facts will help explain the dramatic period of violence that took hold between 1933 and 1945, resulting in one Germany's darkest eras.
Journey along the Wilhelmstrasse, an elegant street that gained an infamous reputation under the reign of the Third Reich as the centerpiece of its government offices. Through 1945, this street housed a variety of Third Reich political structures, including the Reich Chancellery.
Continue to Wilhemplatz Square, once home to the Propaganda Ministry of Joseph Goebbels, housed in a converted 18th century palace. Then check out the sprawling Ministry of Aviation, and Heinrich Himmel's SS and Gestapo headquarters on Prinz-Albrecht-Strasse, once considered the most chilling location in all of Germany.
Hear details about the Battle of Berlin, led by the Soviets at the end of World War II, which contributed to mass aerial bombings of the city and a final attack at the Reichstag. Then head to the Führerbunker. This infamous site is today just a parking lot, but at one point it housed the underground command center where Hitler ended his life.
Finish your excursion at the former Gestapo and SS headquarters, where you'll find the Topography of Terror museum. You're encouraged to extend your trip with this optional museum entrance, or simply end your visit here.
April 2016
Izzy was the best tour guide I've ever experienced! Her in-depth knowledge, great story telling abilities and obvious passion for history made the tour fantastic. I couldn't say enough great things about the tour and the tourguide!
April 2016
Had a fantastic time on this tour despite the cold weather. Darren is a great guide and his knowledge of the subject is very impressive. Highly recommended!
April 2016
A superb tour with a superb tour guide called Alex. His knowledge was excellent and dealt with some difficult subjects with ease and without bias. We learnt so much in a short time period and even went back to some of the sites later in the day to learn some more! Cant recommend this tour highly enough, many thanks!
March 2016
We had an excellent experience on this tour, highly recommended.
Our Guide Sam was knowlegable and very prepared going into much detail and is clearly passionate about what he does.
AWESOME
Rob and Jan
February 2016
Our Guide was wonderful and very knowledgeable. Too bad the weather was cold and rainy.
February 2016
Vouter was great and full of information. He really knew his history and was able to answer any questions. A great tour for WW UK buffs
January 2016
An enjoyable tour through some of Berlin's most important historical sites. Our guide was informative and friendly and happy to answer any and all questions.
January 2016
Our tour guide was fantastic! Really interesting tour... Well worth the cold December day! Would highly recommend this walking tour.
December 2015
This was one of the highlights of my time in Berlin. Kathryn, our guide, was very well versed in this period of German history and made it accessible to everyone. Despite the heavy subject matter she managed to deliver the tour in a fun and engaging way without trivialising it. I learnt more about the Third Reich on this tour than I ever did at high school so I am truly grateful and would recommend it to anyone who wants to learn more about the rise and fall of one of the most depraved regimes in history.

December 2015
Catherine was an extremely knowledgeable guide with a deep passion on the subject. Definitely gained a lot of new insights into it. Well done!
Advertisement
Advertisement