Experience life in socialist East Germany with a trip to Berlin's exceptional DDR Museum. While away the hours exploring genuine artifacts and discovering fascinating stories about life in the German (or Deutsche) Democratic Republic (GDR) between 1949 and 1989. Your entrance ticket admits you to all areas of the museum, where you'll see an authentic Trabi car, a replicated East German apartment
complete with original television programming and more.
Highlights
Entrance ticket to the DDR Museum in Berlin
Explore the museum independently, learning about former East Germany at your own pace
Walk through a reconstructed East German apartment, seeing a typical kitchen and lounge
Sit in an old Trabant car for a virtual tour of the streets of former East Germany

Learn about the Socialist Unity Party who created the DDR
Why Our Insiders Chose This Tour
This is a must-do tour if you want to get a real experience of what life was like in former East Germany.
What You Can Expect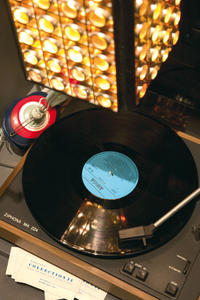 Journey through time to post-WWII East Germany with an eye-opening visit to the DDR museum in Berlin. Make your way to the museum and head straight inside with your entrance ticket. Upon entering, assume the role of a berliner in the unique socialist era of 1949 to 1989, and head to the first of many elaborate exhibition spaces to witness life behind the 'Iron Curtain.'
The original sights and smells of the German Democratic Republic (GDR) will capture you as you wander into various replica spaces such as a perfectly reconstructed East German living room. Having a peek inside the original 'Carat' living room cupboard, check out the authentic kitchen appliances, and catch a few minutes of programming and propaganda on East German TV. Continue to the popular Trabant car exhibition and learn about this standard vehicle of the 'Eastern Bloc.' Climb aboard and travel back to the streets of East Berlin with films of everyday scenes and a virtual tour through a GDR housing estate.
Explore the museum at your own pace, learning about the Socialist Union Party and engaging in engrossing displays such as voting in GDR election or undergoing a Stasi interrogation. At the end of your tour, exit the exhibition through the sobering hole in the Berlin Wall.
June 2016
Excellent museum, a fascinating insight in to life of the citizens of the GDR.
May 2016
Very interesting look inside life during the Cold War. The museum is very crowded!
June 2015
Excellent museum. Very informative.
David W USA
July 2014
it was great. We learned a lot about life in east Berlin. one can take a half an hour or can stay there for several hours as well. It was one of the highlights of our stay in Berlin
December 2013
The museum itself is very interesting and informative. The restaurant treated us like special guests, and the meal was amazing. We ended up taking half the meal home, as it is far too much food. All in all, a great day, and great value.
June 2014
October 2014
Good hands on museum. Enjoyable way to spend an hour or more.
November 2015
Very interactive museum great for kids but much too crowded to really enjoy it. Tour groups should not be allowed in this museum due to the restricted space.

Nathan C Australia
September 2014
Not really worth the money. There were so many people packed into a very small museum it was next to impossible to actually spend the time required to look at anything in detail.
September 2013
very poor value for money through viator, would have been much cheaper to purchase admission and food in the restaurant on the day, was offered the cheapest items on the menu with no choice.
the DDR museum is worth a visit and we found it interesting.
Advertisement
Advertisement