Experience Berlin's past and present on this 4-hour, guided walking tour through the city's Mitte district. Visit landmarks from the city's Prussian, Imperial, Nazi, Cold War and modern eras, offering insight into the evolution of this fascinating German capital. Stroll along the iconic Berlin Wall and follow Unter den Linden to the Brandenburg Gate. Then check out the rebuilt Reichstag and the Holocaust Memorial and hear the amazing stories of Cold War Berlin at Checkpoint Charlie. Your walking tour of Berlin also includes a complimentary city map and guidebook.
Highlights
4-hour historical walking tour of Berlin
Learn about Berlin during the eras of the Prussians, Imperialists, Nazis and the Cold War
Visit Brandenburg Gate, the Reichstag, the Holocaust Memorial, Checkpoint Charlie and the Topography of Terror
Walk along the Berlin Wall and down Unter den Linden
Witness Berlin's modern urbanization at Potsdamer Platz and Friedrichstrasse
Recent Photos of This Tour
Discover Berlin Half-Day Walking Tour
What You Can Expect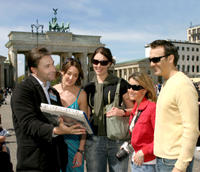 Take a walk back in time as you explore the many layers of history found in Berlin, covering everything from its Prussian period, to its violent 20th century and the present period of rebirth. History fans and those interested in the remarkable renaissance of Berlin's urban center will enjoy this insightful, 4-hour trip past the city's key monuments.

Start your day at the Hackescher Markt S-Bahn station where you'll meet your guide. Listen to an introductory overview of the strange, winding history of Berlin, covering the city's founding and continuing with stories about the turbulent years of war and modern era as the tour moves forward. Walk down Berlin's Unter den Linden boulevard, a thoroughfare that links Stadtschloss royal palace with Pariser Platz and Brandenburg Gate. By the 19th century, this elegant street was among the most famous in the city, growing even more grand as Berlin's boundaries pushed further west.

Head next to Museum Island, pausing at the Berlin State Library (once the workplace of Albert Einstein) and the Neue Wache memorial as you continue. Travel beneath the monumental Brandenburg Gate, which forms the beginning of Unter den Linden, and check out the Reichstag, home of Germany's parliament, just nearby. Then explore Pariser Platz, the location of Hitler's bunker and the Holocaust Memorial, commemorating the many Jews that lost their lives during the Nazi regime.

Trace the path of the "death strip" to Checkpoint Charlie, the infamous crossing point for those traveling between East and West Berlin, and visit Bebelplatz, the location of an infamous 1933 book burning by the Nazis. You'll then have time the stroll along the Berlin Wall, demarcating the boundary between East and West during the Cold War, and hear details about its triumphant downfall in 1989.

Take a moment to stop at the Topography of Terror Museum, situated at the former Gestapo and SS Headquarters. Hear from your guide about the significance of the museum's location, which the city's leaders consciously chose to help confront and reconcile the awful moments of Berlin's past. Look down into the building's excavated cellars, a haunting spot where political prisoners were once tortured and killed.

Wrap up your Berlin walk on a lighter note with a stop at the modern area of Potsdamer Platz, a one-time "dead zone" between East and West that has since been rebuilt. Then take a walk along Friedrichstrasse, a high-end retail district. You'll end your tour at Gendarmenmarkt, where you'll receive a city map detailing useful info on Berlin's public transport, nightlife and museums.
Itinerary
May 2016
Ryan was fantastic! We learned so much about the history of Berlin, in a very entertaining way, with lots of anecdotes. There was a lot of walking, and it was thought provoking and informative. I think we saw so much, in such a short period of time, in the most efficient way possible. Excellent tour, highly recommend.
Robert D L USA
May 2016
I must admit that we expected this tour to just give us an overview of Berlin and not much more. However, we were delighted with our tour guide, Rachel. Her abundant wealth of information not only was very informative but also entertaining. The only problem being that she set the bar way too high for any future tours that we take. Thanks Rachel for a great tour!
May 2016
The tour was really informative and fun because of our tour guide. I think her name is Pip, not really sure. But she was a really amazing narrator. Also showed us quite a good number of places.
May 2016
This tour was the best we have ever had and we have had many. It was because our guide was the best ever. Extremely knowledgeable, articulate with his English and projection of voice so all could hear what he was saying. He kept the pace as needed with the walk and controlled the group so everyone kept
quiet so we could hear him. Great sense of humor and made our Berlin trip! Believe his name was Tabor. Wonderful tour!
May 2016
The guide was so knowledgeable. How he remembered all the dates/ names etc was amazing. There was the right amount of information versus walking, and we covered all of the land marks we wanted to plus more. Thank you for a great experience at a great price.
May 2016
May 2016
We have taken many paid tours in Europe and the walking tour of Berlin was one of our favorites. Our guide was a history major at the university so he gave an excellent well informed tour. His English was also flawless. Next time we travel we will not hesitate to use VIATOR again.
May 2016
Definitely recommend this tour - try to do it as a first activity as it shows you lots that you can then go back later and explore even more - particularly museum island. Tour guide great - really interesting and passionate about Berlin. We've never had a bad tour guide when we've booked through Viator.
April 2016
This was an amazing introduction to Berlin. Darren, the guide , was brilliant. For the rest of our weekend his knowledge and insights stayed with us and helped us make sense of so many of the sights we visited afterwards. I would wholeheartedly recommend that anyone visiting the city does one of these tours as their first induction! Amazingly good value for money.
April 2016
Beth was a wonderful guide. She took us around the city at a good pace and taught us so many things. Excellent tour, excellent guide. Highly recommended.
Advertisement
Advertisement