16 Reviews
Location:

Berlin, Germany

Duration:

4 hours

(approx.)
Get an authentic feel of East Berlin on this guided half-day walking tour. On this tour perfect for history buffs, see top attractions of the German capital including the Berlin Wall, Potsdamer Platz and the East Side Gallery. Learn from your expert guide how the German Democratic Republic (GDR) was formed after World War 2 and remained until the end of the Cold War, and learn what life was like for citizens of the GDR during the war.
Highlights
4-hour guided walking tour of East Berlin
Visit top Berlin sites including the Berlin Wall, Potsdamer Platz and the East Side Gallery
Get the unique opportunity to touch the remains of the Berlin Wall
Learn from your expert guide about the Cold War and daily life for East Berlin citizens
Perfect tour for history buffs!
What You Can Expect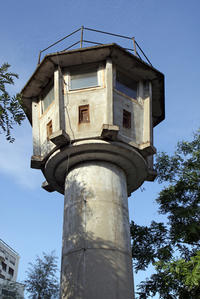 On this historical walking tour of East Berlin, learn all about Berlin and the Cold War as you follow your expert guide to Berlin's top sites including the Berlin Wall. Learn about the two sides of Berlin that remained for 40 years after World War 2: one a bastion of the West behind the Iron Curtain and the other a capital city vying to demonstrate the superiority of communism.
When you visit Potsdamer Platz, hear stories of how the allied powers divided Berlin into four sectors at the end of the WW2 and see where three of those sectors converged. Today, this square boasts some of the city's most impressive contemporary architecture and has become a symbol of the new Berlin.
Walk down Karl-Marx-Allee, formerly known as Stalinallee, and learn how this boulevard's wedding cake-like architecture was designed to illustrate communist power during the Cold War. Explore the Berlin Wall Memorial at Bernauer Strasse and get a sense of the security arrangements designed to prevent GDR citizens from reaching West Berlin. Learn from your guide about the risks that many people took to escape the notorious state security service, the Stasi, and how many lost their lives in the attempt.
Continue to the Gethsemane Church in Prenzlauer Berg, where many courageous East German civil rights activists gathered in the late 1980s to protest the regime and helped usher in the peaceful revolution that culminated in Germany's reunification. End your walking tour at the East Side Gallery, where the longest stretch of the Berlin Wall is still intact. Explore this historic area that has now been turned into an impressive open-air artwork with more than 100 contributions from worldwide artists.
August 2015
If Alex, our guide, were my history teacher, I would have loved history class. I could have listened to him all day. This tour was worth every euro and every minute we were there. I learned so much that I would never have known, or understood if we had tried to do this on our own. The weather outside was really hot, we are old enough to be Alex's parents and were exhausted when it was over. My only recommendation was that we could of taken escalators and elevators and there was a lot of stair climbing.
July 2015
The walking tour was great! Much better than trying to wing it on our own. I highly recommend this walking tour - fun and very informative.
June 2015
This tour was so great! we went all over Berlin and our tour guide Rick(I think that was his name....brown hair in a bun) was absolutely wonderful. He has so much knowledge. Definitely recommend this to everyone.
June 2015
Whatever else anyone does on a break in Berlin - do this tour. Especially if you are interested in the history of the Cold War in Berlin and how it touched people's lives.
August 2014
Kevin was awesome. Berlin is an amazing city. We are so happy we did this tour
July 2014
Excellent and matti the tour guide was so knowledgeable I would go on this again... U also have a brief break in the middle to get some lunch:)
October 2013
September 2013
We found Kevin to be an extremely personable and knowledgeable guide who gave us an interesting and informed tour of East Berlin. A thoroughly worthwhile experience. Thank you
October 2012
October 2012
This tour was great! Very informative. The guide was a historian, was well prepared and so personable. She gave us a new understanding of that time period and made us think. I think this was the best tour we did in Berlin.
Advertisement
Advertisement