Experience the wealth of landmarks in East Berlin as you discover the history of East Germany and the Cold War during this half-day guided walking tour. History lovers are sure to enjoy visits to iconic sites including the Berlin Wall, Bornholmer Straße (where the wall fell), the former Stasi headquarters (East Germany's secret police) and Alexanderplatz, site of the city's famous TV tower. As you walk, your guide will share stories about how the German Democratic Republic (GDR) was established following World War II and explain what daily life was like for GDR citizens.
Highlights
4-hour guided walking tour of East Berlin
Visit top Berlin sites including the Berlin Wall, Potsdamer Platz and the East Side Gallery
Get the unique opportunity to touch the remains of the Berlin Wall
Learn from your expert guide about the Cold War and daily life for East Berlin citizens
Perfect tour for history buffs!
What You Can Expect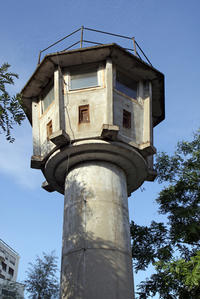 Learn the fascinating history of East Berlin and life in East Germany as you explore some of the area's most famous landmarks on this guided walking tour. History buffs are sure to love this in-depth exploration of the history of Berlin after World War II during this in-depth look at the two starkly different cities that emerged during the Cold War.
Start your walking trip from either East Berlin or West Berlin, leaving at 10am. Those in West Berlin will leave from the taxi stand at the city's Zoo station (Bahnof Zoologischer Garten), while those leaving from East Berlin should meet at the restaurant Weihenstephaner opposite Hackescher Markt S-Bahn station.
Head first to the Hauptbahnof, the city's shiny new main train station, which was transformed in recent years from a former dead zone at the border between the Berlin's eastern and western sections. While at the site your guide will provide commentary on how the foreign powers that occupied Berlin at the conclusion of World War II carved the city into four distinct sectors.
You'll also get a chance to see the headquarters of the Stasi, East Germany's much-feared secret police. Your guide will explain how the efforts of courageous East Berlin residents prevented the destruction of thousands of the organization's files, providing important insights into the inner workings of this secretive group.
Next take a stroll down Karl Marx-Allee, once known as Stalinallee, learning about how this elegant avenue's tiered architecture was created to help project communist power during the Cold War. Continue your walk by heading to the Berlin Wall Memorial at Bernauer Strasse, which will help shed light on the security that once prevented East Berlin's residents from escaping to the West. Hear the enormous risks that many East Berlin residents took to try and escape from the Stasi, with many losing their lives in the process.
Proceed next to the Gethsemane Church located in the neighborhood of Prenzlauer Berg. During the 1980s, many brave civil rights activists gathered here to protest the regime and push for the peaceful revolution that eventually reunited the divided German state. Finish your walking trip at Alexanderplatz, the site of the iconic TV tower in the heart of the former East German capital.
August 2015
If Alex, our guide, were my history teacher, I would have loved history class. I could have listened to him all day. This tour was worth every euro and every minute we were there. I learned so much that I would never have known, or understood if we had tried to do this on our own. The weather outside was really hot, we are old enough to be Alex's parents and were exhausted when it was over. My only recommendation was that we could of taken escalators and elevators and there was a lot of stair climbing.
July 2015
The walking tour was great! Much better than trying to wing it on our own. I highly recommend this walking tour - fun and very informative.
June 2015
This tour was so great! we went all over Berlin and our tour guide Rick(I think that was his name....brown hair in a bun) was absolutely wonderful. He has so much knowledge. Definitely recommend this to everyone.
June 2015
Whatever else anyone does on a break in Berlin - do this tour. Especially if you are interested in the history of the Cold War in Berlin and how it touched people's lives.
August 2014
Kevin was awesome. Berlin is an amazing city. We are so happy we did this tour
July 2014
Excellent and matti the tour guide was so knowledgeable I would go on this again... U also have a brief break in the middle to get some lunch:)
October 2013
Peter E United Kingdom
September 2013
We found Kevin to be an extremely personable and knowledgeable guide who gave us an interesting and informed tour of East Berlin. A thoroughly worthwhile experience. Thank you
October 2012
October 2012
This tour was great! Very informative. The guide was a historian, was well prepared and so personable. She gave us a new understanding of that time period and made us think. I think this was the best tour we did in Berlin.
Advertisement
Advertisement