Treat yourself to an evening of cabaret, acrobatics, dancing and singing with a VIP ticket to THE WYLD revue at the Friedrichstadt-Palast theater in Berlin. Sitting comfortably in the sumptuous Wall Sky Lounge, sip on a glass of Champagne and enjoy bird's-eye views of the stage below. Expect a stunning evening with performances that combine the glamour of the Moulin Rouge with the visual trickery of Cirque de Soleil. Snacks and unlimited wine, beer or soda are included.
Highlights
VIP seating in the Wall Sky Lounge at Berlin's Friedrichstadt-Palast
See a 2.5-hour cabaret and acrobatics show from the comfort of a luxury lounge, for just six people
Sip on a welcome drink of Champagne and enjoy unlimited beer, wine, soft drinks
Enjoy bird's-eye views of the stage and see acrobatics, ballet dancing, circus acts, cabaret singing and more
Watch the THE WYLD performance (October 2014 – September 2015)

What You Can Expect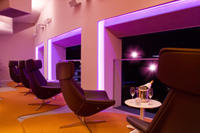 Head to Friedrichstadt-Palast, the so-called 'Berlin Broadway' in recognition of its capacity, size and state-of-the-art effects. Located at the heart of Berlin's lively Friedrichstrasse, the theater is popular with Berliners and visitors alike, who go to see dazzling dance performances inside its iconic building. The history of the building is nearly as enticing as the shows that take place within it; having started out as a market hall, Friedrichstadt-Palast was reborn as a theater following a lavish makeover by modernist artist Hans Poelzig.

After entering via a reserved entranceway at the side of the theater, your host will usher you upstairs to the Wall Sky Lounge – a luxurious lounge with its own bar and designer leather armchairs. With seating for just six people, it's an intimate place that offers bird's-eye views over the auditorium and stage below. Your attentive waiter will serve your welcome glass of champagne and some snacks, before leaving you to enjoy the performance. Additional drinks are also included and food is available for you to order from the lounge's private bar at your own expense.

Then, sit back and watch the show, seeing acrobatics, dancing, singing and special effects. The full performance lasts 2.5 hours and includes a 25-minute break. Shows take place according to seasonality:

THE WYLD (October 2014 - September 2015):
Taking place for most of the year, THE WYLD is populated with flamboyant mavericks, city slickers and intergalactic metamorphoses with a total of 100 participants taking part. Watch the dancers and performing artists weave around each other on stage, entertaining you with carefully choreographed dance moves and visual trickery. With trapeze artists, circus acts, ballet dancers THE WYLD is ethereally beautiful, out of this world and is sure to keep you spellbound for the entire performance.
January 2014
Great experience, well worth the money. Spectacular show - best view in the house - didn't matter that we didn't speak German. Food and drink in luxury with great staff attending to our every need from doors opening to escort to a taxi at the end. Nothing was too much trouble.

December 2013
The show was excellent! The wall sky lounge isn't anything too spectacular, it is actually too high and would be better that it would have been on a lower level to see better the performance. The snacks advertised were small
Advertisement
Advertisement