Attend an incredible 2.5-hour performance of THE WYLD, a 'cosmic love story' that features a barrage of song, dance, acrobatics and incredible visuals, at Berlin's renowned Friedrichstadt-Palast theater. Combining the elegance of a Moulin Rouge-style cabaret with the acrobatic theatrics of Cirque du Soleil, THE WYLD features over 100 artists and an incredible 10-million Euro stage production, rivaled only by the shows in Las Vegas. Guests of all ages and languages are sure to enjoy this captivating performance, offering a variety of seating choices (including VIP and premium options) plus an included welcome drink.
Highlights
2.5-hour cabaret and acrobatics show at Berlin's Friedrichstadt-Palast
Watch a captivating performance inside the last building of the German Democratic Republic
Enjoy the THE WYLD revue (October 2014 – September 2015)

See acrobatics, ballet dancing, cabaret singing, circus acts and more
Choose from four different seating options, including a VIP ticket that offers a welcome drink
Recent Photos of This Tour
Friedrichstadt-Palast Show in Berlin
What You Can Expect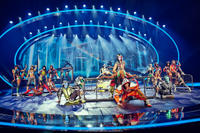 Watch a 2.5-hour performance of THE WYLD, a futuristic theatrical spectacle combining incredible costumes, with a range of singing, dancing, impressive acrobatics and ethereal stage design, at Berlin's historic Friedrichstadt-Palast theater. This quirky, beautiful performance is sure to delight guests of all ages and languages.
Head to the iconic Friedrichstadt-Palast theater for your chosen performance time. This renowned theater, a more than hundred-year-old venue that's often referred to as "Berlin Broadway" due to its large seating capacity and cutting-edge facilities. Situated on Berlin's happening Friedrichstrasse, the venue is popular with both locals and visitors, who flock to the theater to attend its fabulous dance shows. Just as interesting as your performance is the history of the theater itself. Originally constructed as a market hall, the venue was later redesigned by modernist artist Hans Poelzig. Though the building later suffered structural damage, an ambitious reconstruction project by the German Democratic Republic (GDR) led to its grand reopening in 1984.
Pick from among four different seating choices with your purchase, including VIP, Premium, Category 1 and Category 2, before locating your seat for the show. The "Additional Info" button below includes a theater layout to help you make your selection. The full performance is 2.5-hours long and includes 25 minutes of intermission for you to use the restroom or stop by the bar. For more details about the current performance, please see below.
Itinerary
THE WYLD (October 2015 - July 2016):
Taking place for most of the year, THE WYLD is populated with flamboyant mavericks, city slickers and intergalactic metamorphoses with a total of 100 participants taking part. Watch the dancers and performing artists weave around each other on stage, entertaining you with carefully choreographed dance moves and visual trickery. With trapeze artists, circus acts, ballet dancers THE WYLD is ethereally beautiful, out of this world and is sure to keep you spellbound for the entire performance.
June 2016
June 2016
Amazing show...Cirque du Soleil on steroids. I highly recommend it.
June 2016
Although most was in German, it was a fantastic show and lack of ability to understand the words was not a problem. Great dancing, music, and showmanship. I would go back again.
June 2016
Incredible show, full of sexiness and full of excitement and talent. A must see! Great night of entertainment!

May 2016
This was a lot of fun , a true Las Vegas show!
There was music, lights, dancing, acrobatics on bikes and hoops.
We enjoyed ourselves
April 2016
Amazing talent! A must see show! Loved every minute!
March 2016
Fantastic show, well worth the visit. Costumes great, singing exceptional danckng and performances outstanding. Go and see it!
March 2016
I do recommend this show!
December 2015
THE WYLD was everything it said it was going to be and more. We took the VIP seats which were great but to be honest, I think the view would be pretty good from wherever you found yourself sitting. 5 stars definitley
October 2015
A very good show and priority seating gave us an excellent view.
Advertisement
Advertisement