Get to know the best of Potsdam on a guided, 4.5-hour bike tour around this scenic university town. Discover its beautiful palaces, parks and gardens. See the historical city center and Dutch Quarter. Pedal past the royal residences of Sansoucci Palace, one of the largest UNESCO World Heritage sites in Germany. Visit Cecilenhof Palace, where Churchill, Truman and Stalin wrote world history, then stop at a beer garden for lunch (own expense). A train ticket plus the use of a bike and helmet is included.
Highlights
Day trip from Berlin to Potsdam

Bike tour around Potsdam

See Sanssouci Palace and other Potsdam attractions

Have lunch at a beer garden

Bike rental and train transportation included
What You Can Expect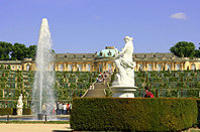 Meet and greet the tour guide and group near the entrance of the TV Tower in Alexanderplatz, a large public square and transport hub in the center of Berlin. After getting fitted for a Beach Cruiser bike and helmet, hop on a train for the brief trip to Potsdam.
There will be a brief introduction to Potsdam before beginning the approximately 4.5-hour ride around and through this capital city of the German federal state of Brandenburg.
Pedal through the historical city center, the Russian colony Alexandrowka and the Dutch Quarter. Admire the majestic royal residences that were built during the reign of Frederick the Great. There's Sansoucci Palace, one of the largest UNESCO World Heritage sites in Germany; New Palace, the largest and most impressive palace ensemble in Sanssouci; the small, neo-classical Charlottenhof Palace, also in Sanssouci Park; and Orangery Palace, built in the style of the High Renaissance and commissioned by King Frederick William IV.
Explore a variety of historical sites and learn the deeper meaning behind each.
See, in part, the fabulous Marble Palace and visit the Cecilienhof Palace (entry and audio guide included), where Churchill, Truman and Stalin wrote world history when discussing how to partition Germany. Coast along between the former East and West Berlin, over the Glienicke Bridge connecting Potsdam to Berlin — where Cold War spy exchanges routinely took place — and much more.
There will be time for lunch at a beer garden (own expense) that used to be the old royal dairy.
The tour concludes with a return trip to Berlin.
April 2016
Got to see most of Potsdam through our guide and learned about the history of the city. Lot of excercise, but lunch was fantastic and the day was great.
November 2015
Our guide was very good. We had a small group and beautiful day. The bikes were easy to ride and the perfect way to experience the extent of Potsdam. The lunch venue was a good choice too. Overall very enjoyable and informative. Couldn't ask for more.
August 2015
Craig, our guide, was enthusiastic, informative, inclusive and it was an all-round fantastic day. We saw a lot of Potsdam, giving us a taster of what is worth returning to. Lunch in a Bavarian pub in the Danish Quarter gave us good food and a suitable rest before continuing. I would highly recommend this trip and we're thinking of returning with our children. Thanks!
August 2015
Excellent tour! Good mix of bike riding and walking in the historic buildings, Great history lesson as well. The beer stop was a nice touch!
July 2015
Marc with a 'C' is a top class guide. Very knowledgeable and really good company. This tour was our highlight of the Berlin visit.

July 2015
Great tour! The bike path is gorgeous, and it doesn't require you to be an avid city cyclist. Our guide Brian was awesome, very entertaining and informative. Even though we only went into one palace Cecilienhof, the biking was so enjoyable I felt busy all day. Good weather probably makes a big difference for this tour, but I had a ball. Will seek out other Bike tours from the local tour company in the future!
July 2015
April 2015
What a fabulous experience , Craig provided a wealth of information which helped us to understand the history of Potsdam. Would thoroughly recommend this tour. Cycling was easy and a lot of the tour was in palace grounds too.

September 2014
Lovely tour. We had Craig leading a group of about 15 of us around Potsdam. He was super sweet, and got to know everyone on the train ride there, which helped all of us to get to know each other. Potsdam was gorgeous and weird and Craig had some great informative nuggets for us. We had perfect weather for biking that day. Do it!
August 2014
We had a beautiful sunny day to take the train out to Potsdam with a mixed group of adults and children with our bike guide, Craig. This is an amazing way to see this historical and highly unusual architectural city. Our guide was very knowledgeable of the history of Potsdam from the Prussia leaders to the WWII take over by the communist. If you have just a few days in Berlin, I highly recommend this tour.
Advertisement
Advertisement