Visit the Sachsenhausen concentration camp on this private tour from Berlin. With a private guide who will answer your questions and tailor the tour to your interests, you'll get in-depth insight to the history of the camp and the cruel intentions behind it. This tour was researched and put together by Nigel Dunkley, a former British military attaché in Berlin and one of the leading military historians in the world.
Highlights
6-hour private tour to the Sachsenhausen concentration camp from Berlin
Learn about life of prisoners in the concentration camp
Visit the punishment cells, execution sites, crematoriums and more
Gain deep insight and learn chilling facts about the camp from your private guide
This tour was created by Nigel Dunkley, a leading military historian
What You Can Expect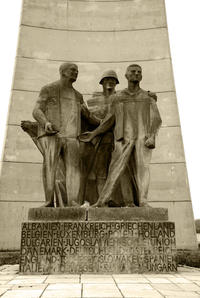 During the 1936 Olympics, hosted by Nazi Germany, slave laborers were forced to build a new concentration camp just north of Berlin, intended to hold the Nazis' political enemies. This camp was Sachsenhausen, and during the next decade, 200,000 people were imprisoned, more than 50,000 of who lost their lives due to execution, hunger, disease and physical exhaustion before the prisoners were evacuated by the Soviets in 1945. For another five years, the Soviets used the camp to imprison 60,000 war criminals including Nazis and Nazi collaborators; 12,000 of them died of malnutrition and disease.

On your private Sachsenhausen tour, learn from your private guide why Nazi architects considered Sachsenhausen to have the ideal structure for a concentration camp. Hear about how the officers of the Nazi SS (or Schutzstaffel, meaning 'Protection Squadron') wanted complete subjugation of camp prisoners. Find out how Sachsenhausen was used as a training ground for the leaders of the Holocaust. And discover how not only extermination killed prisoners, but also starvation, disease and forced labor.
As you explore the camp, see the punishment cells, execution grounds, crematorium, pathology laboratory, hospital and the 'pit' into which dead bodies were thrown.
This tour was researched and created by former British military attaché Nigel Dunkley, one of the world's leading military historians. Your tour may or may not be led by Nigel; all private tour guides have their own special knowledge of the history of Sachsenhausen and are experienced in unraveling the complex history of World War II and the Holocaust.
April 2015
Our tour was great. Our guide, Taylor, was very knowledgeable and we learned a lot.. It was great having a private tour guide. It made for an intimate tour for such a sensitive subject.
April 2015
Excellent tour. Very educated guide, who gave us an interesting , insightful and engaging tour .
Advertisement
Advertisement