Make a sobering, and surprising, visit to the Sachsenhausen concentration camp near Berlin on this 6-hour private tour. Discover the gruesome history of this model concentration camp using the expertise of historian, and former British military attaché in Berlin, Nigel Dunkley. Explore the site's punishment cells, execution grounds, hospital and more with your guide, learning about the camp's unique design and role in the events of World War II. Your visit also includes hotel pickup and drop-off.
Highlights
6-hour private tour to the Sachsenhausen concentration camp from Berlin
Learn about life of prisoners in the concentration camp
Visit the punishment cells, execution sites, crematoriums and more
Gain deep insight and learn chilling facts about the camp from your private guide
This tour was created by Nigel Dunkley, a leading military historian
What You Can Expect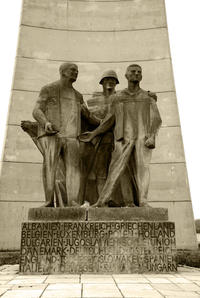 During the 1936 Olympics, hosted by Nazi Germany, slave laborers were forced to build a new concentration camp just north of Berlin, intended to hold the Nazis' political enemies. This camp was Sachsenhausen, and during the next decade, 200,000 people were imprisoned, more than 50,000 of who lost their lives due to execution, hunger, disease and physical exhaustion before the prisoners were evacuated by the Soviets in 1945. For another five years, the Soviets used the camp to imprison 60,000 war criminals including Nazis and Nazi collaborators; 12,000 of them died of malnutrition and disease.

On your private Sachsenhausen tour, learn from your private guide why Nazi architects considered Sachsenhausen to have the ideal structure for a concentration camp. Hear about how the officers of the Nazi SS (or Schutzstaffel, meaning 'Protection Squadron') wanted complete subjugation of camp prisoners. Find out how Sachsenhausen was used as a training ground for the leaders of the Holocaust. And discover how not only extermination killed prisoners, but also starvation, disease and forced labor.
As you explore the camp, see the punishment cells, execution grounds, crematorium, pathology laboratory, hospital and the 'pit' into which dead bodies were thrown.
This tour was researched and created by former British military attaché Nigel Dunkley, one of the world's leading military historians. Your tour may or may not be led by Nigel; all private tour guides have their own special knowledge of the history of Sachsenhausen and are experienced in unraveling the complex history of World War II and the Holocaust.
June 2016
Our tour guide, Taylor was amazing. He knew so much. We couldn and #39;t have asked for a better explanation of nazi Germany's rise and the use of concentration camps. We were given time to look to explore the exhibits but Taylor was always there to answer our questions. Station Z was chilling.
November 2015
The tour was so powerful. Our guide, Barry, was so courteous and kind. He was so generous with the information he gave us, related or unrelated to the tour. It was clear to us that he was really knowledgeable , but furthermore, he had a great style of explaining everything.
September 2015
Maria was an excellent guide though this somber experience through the camp.
Thank you for taking your time to share the history with us
September 2015
Nikoli met us at our hotel and took us to the train station for our trip to Sachsenhausen. Due to the content of the tour, I cannot say it was wonderful as it was - appropriately - horrifying. However, Nikoli was expert in explaining the history of the camp. He made it a memorable experience and did it with great intensity and knowledge. I mean this in an excellent way...he was terrific and the tour was exceptional.
April 2015
Our tour was great. Our guide, Taylor, was very knowledgeable and we learned a lot.. It was great having a private tour guide. It made for an intimate tour for such a sensitive subject.
April 2015
Excellent tour. Very educated guide, who gave us an interesting , insightful and engaging tour .
December 2014
We had a wonderful tour guide Arja, who speaks excellent English and has a sound knowledge on the history of WWII and life at Sachsenhausen during this period. I would strongly recommend her! Many thanks.
October 2014
Amazing tour! Our guide was knowledgable and very informative. A must if in Berlin!
March 2014
We loved Cesar. Very knowledgeable and had a good personality. Gave us dining suggestions too.
January 2014
Nick Jackson is fabulously well informed, holds and communicates a balanced opinion and has an engaging style of delivery which allowed him to access and inspire each member of our party, from age 16 through to 53, and each of whom varied in areas of interest and prior knowledge. The 2 tours he conducted for us (Private Walking Tour of predominantly World War 2 Berlin) and SachsenHausen Concentration Camp were stimulating and informative, there was no area upon which he did not hold informed knowledge, having read widely over many years. He was never in a rush, allowing us to pace the tours at any stage, and on both days over-ran the prescribed tours by adding in extra attractions at both our and his behest. He was a pleasure to 'travel' with and I would recommend him to all.
Advertisement
Advertisement