Get an insider's look at Berlin on this private, guided, 3- or 4-hour walking tour. Enjoy personalized attention while visiting some of Berlin's most popular attractions — like the Berlin Wall Memorial, Checkpoint Charlie and Brandenburg Gate — as well as a few lesser-known locations. Customize the tour and learn about the history of Berlin, from the time of the Teutonic Knights to its role as capital of the Nazi Third Reich, to the divided city of the Cold War, to the modern-day capital of a unified Germany. Hotel pickup and drop-off included.
Highlights
Private walking tour of Berlin
See the highlights of Berlin including the Berlin Wall, the Brandenburg Gate and the Reichstag
Customize the walking tour to your interests and see the city's lesser-known sights if you wish

Enjoy personalized attention and learn about Berlin's notorious history from your private guide
Hotel pickup and drop-off included

What You Can Expect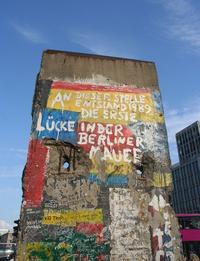 Begin this 3- or 4-hour walking tour with a central Berlin hotel lobby meet and greet with the guide. Choose between a morning or afternoon departure time. Then decide upon the 3-hour tour, which provides a solid overview of the city's main sites, or the 4-hour tour, which offers a more in-depth journey.
Walk through the city with an expert local guide, who will provide a detailed account of the Berlin's fascinating and oftentimes troubled history. Learn about Adolf Hitler and the Nazi party and what life was like during the Third Reich. See where Hitler's bunker was located and visit the Memorial to the Murdered Jews of Europe. Also, find out how Germany was divided while walking through Checkpoint Charlie, the best-known crossing point between East and West Berlin during the Cold War. Then walk alongside the remains of the Berlin Wall at the Berlin Wall Memorial and East Side Gallery.
Walk under the famous Brandenburg Gate, one of Berlin's most important monuments. A symbol of division between Berlin and Germany during the Cold War, it is now a national symbol of peace and unity. Also, see the Reichstag Building, the meeting place of the German Parliament.
Other sites on the tour could include the protestant Kaiser Wilhelm Memorial Church, the East German Government Quarter and Unter den Linden, a boulevard in the Mitte district of Berlin.
This private tour is a customized experience, so be sure to include any specific requests and desired attractions at the time of booking.
The tour concludes with a hotel drop-off.
June 2016
Barry was wonderful! Not only did he take me on a really interesting tour - to all the places I wanted to see - but he helped me with getting my tickets for the S-bahn so that I could visit the Wannsee Villa that afternoon, and find my way to the Dresden Tour I took the next day, AND have my ticket for the bus to the airport for the day after. Barry was terrific!! Can't rave enough!!

May 2016
Our guide, Jaime, is fantastic!
Arlene S United States of ...
April 2016
This was our first experience with Viator. We loved the private tour! It is well worth the money. We loved our tour guide.
October 2015
Out tour guide, JJ was AMAZING. We would have seen the sights on our own but to have JJ share deeper background, before and after photos of historical sights and share parts of Berlin we never would have discovered for ourselves was a treat. We couldn't recommend these tours highly enough!
September 2015
Guide Yan turned up punctually for the start. He was knowledgeable, witty and humorous. He gave us the option of dropping us off at the pick up point or having an extra 1/2 hr. We chose the extra 1/2 hr. He ensured that we knew how to get back to our pick up point. The tour was informative and entertaining.
September 2015
Jan, was very good. Made the history come alive.
July 2015
For this tour Viatour subcontracts with a company called Insider Tour of Berlin. Because of customization our group of 17 wanted to do, I dealt directly with Insider Tour's John O'Leary. I could not have had a better experience. At short notice our morning walking tour was augmented with an afternoon coach tour. Every aspect of the tours was expertly and professionally attended to. Our guides were Heiko, David and Nick. Each of them was personable, engaging, extremely knowledgeable and passionate about the subject matter. If you only have one day to get a sense of the core history and historical sites of Berlin, this is the tour to take.

May 2015
I always highly recommend private tours, whether they be walking or otherwise. This tour further reiterated this as we had an exceptional experience in touring Berlin. This was so much in part thanks to JJ, our amazing tour guide. While I have done many tours, I found JJ to be amongst the top of the guides that I have had with an education in history and a fantastic and sometimes wonderfully humorous touring method.
In roughly four hours, JJ took us all over Berlin and broke down an intense and expansive history of Berlin/Germany into understandable and memorable terms. He was exquisite at matching sightseeing with information retention and by the end of our tour, I felt I had seen everything I needed to see within Berlin. I would highly recommend this as a starter for anyone's trip to Berlin you will want time afterwards to dive deeper into certain buildings, or to visit certain museums - all of which JJ recommended or for anyone who does not have long in Berlin but wants to get a strong feel for the city and to view it's major attractions and even some off the beaten path. If you do purchase this tour, call the tour company who seem to be fantastic and ask if JJ is available - you won't regret it.
Note that we did walk about 11km so for anyone with mobility issues, I would use caution even though JJ was more than wonderful in letting us go at our own pace.
May 2015
The guide was exceptional. Knew a lot of information both historical and current regarding the exhibits in all the museums. Made great recommendations. The tour hit all the major spots such as museum island, hitler's bunker, checkpoint Charlie, Berlin Wall, etc.
April 2015
Our guide Jamie was great! We told him places we would like to see and he incorporated them into our schedule. Very friendly and accommodating to us all and a pleasure to be with. Professional but fun and informative. Definitely use this guide for your tour of Berlin!
Advertisement
Advertisement