15 Reviews
Location:

Berlin, Germany

Duration:

4 hours

(approx.)
Discover Berlin's tumultuous history on a private 4-hour historical walking tour. Your private guide will tailor the tour to meet your interests, so you can choose to focus on World War 2, the Cold War or combine both elements for a full Berlin historical experience. Regardless of your focus, you'll see the Berlin Wall, the Reichstag, the Brandenburg Gate, espionage points of the CIA and KBG and Hitler's bunker.
Highlights
Private half-day walking tour of Berlin
See the highlights of Berlin including the Berlin Wall, the Brandenburg Gate and the Reichstag
Learn about World War 2 and/or the Cold War from your expert guide
Customize the walking tour to your interests
Enjoy personalized attention from your private guide
Hotel pickup and drop-off included
What You Can Expect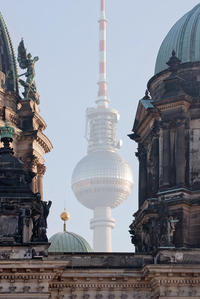 On this private walking tour of Berlin, tailor the tour to your interests for a personalized Berlin experience. Whether you are interested in the history of WW2, the Cold War or both, your guide will show you top Berlin attractions such as the Brandenburg Gate, the Berlin Wall, the Reichstag and Hitler's bunker -- the epicenter of the Nazi regime.
If you're interested in WW2, visit monuments for those who opposed the regime, including Claus von Stauffenberg, and for those who lost their lives during those cruel times. Learn about Albert Speer's Berlin and plans for Germania, as well as the Soviet Monumentalism. Hear stories about the titanic struggle from Stalingrad through the fall of the Third Reich's Capital during the Battle of Berlin.
If you're interested in the Cold War, visit espionage points of the CIA and KBG, learn about Operation Gold or secret Stasi operatives, and stop by Checkpoint Charlie and the Soviet Embassy. In addition, hear interesting reports about how life was for Berlin's citizens during the Cold War and the separation of Germany.
Get deep insights into the history that made Berlin what it is today. To ensure you get the most out of your tour, please include any specific requests at the time of booking. For example itineraries, please see the Itinerary section.
Itinerary
Sample list of Berlin sites you can choose to visit:
If you're interested in WW2, your itinerary can include:
• Berlin Wall
• Brandenburg Gate
• Reichstag
• Hitler's bunker from where the Luftwaffe was coordinated
• Soviet War Memorial
• Memorials to those who opposed the regime, such as Claus von Stauffenberg
If you're interested in the Cold War, your itinerary can include:
• Berlin Wall
• Brandenburg Gate
• Checkpoint Charlie
• Soviet Embassy
• CIA, KGB and Stasi surveillance techniques and espionage points
• Former guard towers
November 2015
In four hours, we covered four days worth of Berlin! The tour was fabulous as was our guide Taylor. He made Berlin come alive for us. We loved the tour and Berlin.
August 2015
Barnaby was a great guide - he really brought Berlin alive for us. We haven't stopped talking about it since. So knowledgable but fun, pitched it just right for the family 1 20 year old, 1 17 year old and two slightly older parents. I really loved Berlin and this tour was no small part of the cause of that.
August 2015
Forrest Holmes was the best guide I have ever had, and I have been on many guided tours. He knew instinctively which sights would appeal most to my son and I. Mr. Holms' knowledge of German History and Berlin was immense, and his ability to bring history to life was amazing! We would highly recommend this tour and tour guide!
August 2015
Jared was superb great personality and knew all of the history we wanted to hear one of the best four hours my family has spent.
June 2015
Any trip to Berlin is not complete without taking this wonderful tour. Our guide, Jan, provided us with an insider's look at numerous historic sites and our family learned a great deal. Jan's also friendly, speaks perfect English and was very accommodating to our wishes. A
June 2015
We had the best tour guide!
April 2015
Our guide Micheal was brilliant. Really was a fantastic way to see the city as we only had two full days there. We did it on our first day and it meant that we knew exactly where we wanted go back to or visit the next day. Michael really brought the history alive as we walked.
September 2014
This was a fantastic tour because Nick was extremely knowledgeable and we were able to get up close and personal with many of the sites of Berlin. We learned about the history of Berlin in this well paced walking tour. It exceeded our expectations and will be retained in our memories for a long time.
September 2014
Nigel was our tour guide. A wonderful man. Very kind, courteous and insightful.
He knew Berlin and its history in minute detail and really brought it all to life. His quick wit and humor was a very pleasant addition to the tour. Made the history lessons that much more enjoyable especially for our two boys.
January 2014
Chris was awesome! Really enjoyed the tour! Chris was so knowledgeable and informative! Great personality!
Advertisement
Advertisement