Discover Berlin's turbulent past on this private, guided, 4-hour historical walking tour. Enjoy personalized attention while visiting some of Berlin's most popular World War II and Cold War attractions, like the Berlin Wall Memorial, Checkpoint Charlie, Brandenburg Gate, the Reichstag building, Hitler's bunker and much more. Customize the tour and learn about the history of Berlin, from its founding, to its role as capital of the Nazi Third Reich, to the divided city of the Cold War. A central Berlin hotel pickup and drop-off is included.
Highlights
Private half-day walking tour of Berlin
See the highlights of Berlin including the Berlin Wall, the Brandenburg Gate and the Reichstag
Learn about World War 2 and/or the Cold War from your expert guide
Customize the walking tour to your interests
Enjoy personalized attention from your private guide
Hotel pickup and drop-off included
What You Can Expect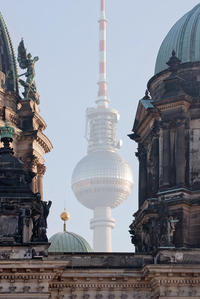 Begin this 4-hour walking tour with a central Berlin hotel lobby meet and greet with the guide. Choose between a morning or afternoon departure time. Then decide whether to focus on Berlin's World War II or Cold War history. Or simply request a combination of the two. This private tour can be customized to individual preferences.
Walk through the city with an expert local guide, who will provide a detailed account of the Berlin's fascinating and oftentimes troubled history.
Learn about Adolf Hitler and the Nazi party and what life was like during the Third Reich. See where Hitler's bunker was located and visit the Memorial to the Murdered Jews of Europe. Also, find out how Germany was divided while walking through Checkpoint Charlie, the best-known crossing point between East and West Berlin during the Cold War. Then walk alongside the remains of the Berlin Wall at the Berlin Wall Memorial and East Side Gallery.
Walk under the famous Brandenburg Gate, one of Berlin's most important monuments. A symbol of division between Berlin and Germany during the Cold War, it is now a national symbol of peace and unity. Also, see the Reichstag building, the modern-day meeting place of the German Parliament.
This private tour is a customized experience, so be sure to include any specific requests and desired attractions at the time of booking.
The tour concludes with a hotel drop-off.
Itinerary
June 2016
Taylor was an amazing guide. He was incredibly knowledgeable and energetic. Since it was a private tour it we were able to hear and ask questions. Great experience.
June 2016
This was the highlight of our 10 days in Germany and the Czech Republic. Cesar was exceptional! He met us at our hotel at 10:00 a.m. and immediately asked us what we wanted to focus on during our tour so he could meet our expectations. He had so much historical knowledge and was masterful at weaving story threads throughout our walk. He has a terrific sense of humor and was just a pleasure to spend the day with. We even talked him into sharing a beer with us at the end of our afternoon. We all came away feeling we had learned so much about Berlin, Germany, Hitler and WWII. Cesar is terrific, and you're guaranteed an incredible experience if you're lucky enough to have him as your guide.
June 2016
This tour was everything we wanted and more. Our guide was incredible and what we learned was immeasurable.
May 2016
JJ was a fantastic guide. His ability to help history come alive was unrivaled in my travel experience! He truly loves German History but it was fascinating through the eyes of a young Irish man. The Holocaust Memorial was definately the highlight of my tour and visit to Berlin. 3 days wasnt enough time to explore this vibrant city but I valued every minute spent on tour with JJ. I would HIGHLY recommend this tour.
April 2016
Very informative guide - we enjoyed Matt's company and knowledge
ROB USA
March 2016
Wonderful!!! FINN is a walking professor!! Knows the secret spots, made the tour enjoyable. You are walking a lot! Put on some comfortable shoes. Cellphone showed we walked almost 3 miles. Well worth it and FINN made it fun!! PERFECT!!
January 2016
Our guide was very good. I learned a lot. Would recommend her to anyone.
December 2015
This was an excellent tour led by a top-class guide JJ. Informed and personable, JJ was the ideal guide for the three of us as he eloquently described the history of the Cold War sites we visited during this four-hour walking tour.
November 2015
In four hours, we covered four days worth of Berlin! The tour was fabulous as was our guide Taylor. He made Berlin come alive for us. We loved the tour and Berlin.

August 2015
Barnaby was a great guide - he really brought Berlin alive for us. We haven't stopped talking about it since. So knowledgable but fun, pitched it just right for the family 1 20 year old, 1 17 year old and two slightly older parents. I really loved Berlin and this tour was no small part of the cause of that.
Advertisement
Advertisement