Bear witness to the realities of World War II's Holocaust on this 6-hour tour of Sachsenhausen Concentration Camp Memorial from Berlin. Travel by train and take a humbling tour of the site, once one of the most pivotal in Nazi Germany. Discover the camp's history, see the barracks, infirmary, laboratory and cells, and listen to tales of courage and suffering sensitively told by your informed guide. Learn about the daily routines and fates of the 200,000 people imprisoned here between 1936 and 1945, and visit the intensely poignant site memorials.
Highlights
6-hour Sachsenhausen Concentration Camp Memorial tour from Berlin, with round-trip rail transport
Take a walking tour of Sachsenhausen, once one of Nazi Germany's most important concentration camps
See the camp entrance, barracks, punishment cells, infirmary and other locations
View the experimentation laboratory, execution sites and crematoriums
Learn about the camp's history and hear tales of the courage and endurance of prisoners
Visit the memorials to those who suffered and died here
Listen to illuminating and sensitive commentary from an expert guide
Recent Photos of This Tour
Sachsenhausen Concentration Camp Memorial Walking Tour
What You Can Expect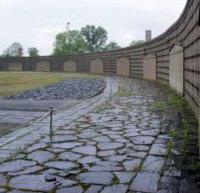 While the Nazis were hosting the 1936 Olympic games, slave laborers were being forced to build a huge new concentration camp just north of Berlin, intended to hold political 'enemies' of the Nazi regime political, racial and 'asocial'. Of the 200,000 people interned, over 50,000 lost their lives before the camp was liberated by the Soviets in 1945.

The camp was then used by the Soviets until 1950 to detain former Nazis, German soldiers and political opponents of the communists. Many thousands more died from malnutrition and disease.

The key to this walking tour is the informative and illuminating narrative provided by your expert tour guide. During your 3-hour visit to the camp you'll learn important background history of the site as you walk through the Appellplatz parade ground, the Jewish Barrack, punishment cells, execution grounds and crematorium, Station Z, the Pathology Laboratory and camp hospital.

This tour was researched by historian Gabriel Fawcett, who is publishing an important witness account of the camp. All tour guides have their own special insights into the history of Sachsenhausen, and are experienced in unraveling the complex history of the Third Reich and the Holocaust.
June 2016
The tour guide JJ was extremely knowledgable, clear in describing every part of the tour. You can see he is passionate about the information he is giving, which makes the tour even more interesting. We didn and #39;t get to say by bye! 5 STAR!
June 2016
The tour was incredible and moving. Our tour guide Sarah was so knowledgeable and passionate about the subject matter and the tour itself. Would highly recommend !!!
June 2016

June 2016
Tour was fantastic. I was so impressed with our guide Kathryn and her extensive knowledge and patience. She was interesting and answered all of our questions. Highly recommended and request Kathryn in you can!

June 2016
excellent,if your considering this tour just book. i thought about doing myself but so glad i didnt no way you would be appreciate this place properly without a guide. highly recommend. our guide was very passionate.
June 2016
Our tour guide was very interesting, and knew a lot of details! I would 100 go on the tour again! She really knew her information, and was helpful with questions. The tour gives you an idea about everyday life in the camp.

June 2016
Our tour was incredible. It was a moving and sobering experience during which I learned a lot as well. Our tour guide, Rick, was great and his studies in related areas meant he was able to provide insightful context into how these events previously were and are viewed from a educational perspective.
June 2016
Lorna the tour guide was very informative. Was not rushed through this tour. Though a sad place, highly recommend this for tourists.
June 2016
This tour was chilling, informative, and unsettling as one can imagine. I highly recommend this tour if one is interested in learning how grim the past was during Nazi time.
June 2016
Had an incr edible tour guide, Darren, he made the tour an incr edible learning experience, and it was done with such sensitivity and passion. I am so glad I signed up for this tour. Sound d like it would be too long, but some of it is the travel back and forth. Highly recommend this tour!!! Ask for Darren!!!
Advertisement
Advertisement