Bear witness to the realities of World War II's Holocaust on this 6-hour tour of Sachsenhausen Concentration Camp Memorial from Berlin. Travel by train and take a humbling tour of the site, once one of the most pivotal in Nazi Germany. Discover the camp's history, see the barracks, infirmary, laboratory and cells, and listen to tales of courage and suffering sensitively told by your informed guide. Learn about the daily routines and fates of the 200,000 people imprisoned here between 1936 and 1945, and visit the intensely poignant site memorials.
Highlights
6-hour Sachsenhausen Concentration Camp Memorial tour from Berlin, with round-trip rail transport
Take a walking tour of Sachsenhausen, once one of Nazi Germany's most important concentration camps
See the camp entrance, barracks, punishment cells, infirmary and other locations
View the experimentation laboratory, execution sites and crematoriums
Learn about the camp's history and hear tales of the courage and endurance of prisoners
Visit the memorials to those who suffered and died here
Listen to illuminating and sensitive commentary from an expert guide
Recent Photos of This Tour
Sachsenhausen Concentration Camp Memorial Walking Tour
What You Can Expect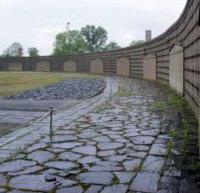 While the Nazis were hosting the 1936 Olympic games, slave laborers were being forced to build a huge new concentration camp just north of Berlin, intended to hold political 'enemies' of the Nazi regime political, racial and 'asocial'. Of the 200,000 people interned, over 50,000 lost their lives before the camp was liberated by the Soviets in 1945.

The camp was then used by the Soviets until 1950 to detain former Nazis, German soldiers and political opponents of the communists. Many thousands more died from malnutrition and disease.

The key to this walking tour is the informative and illuminating narrative provided by your expert tour guide. During your 3-hour visit to the camp you'll learn important background history of the site as you walk through the Appellplatz parade ground, the Jewish Barrack, punishment cells, execution grounds and crematorium, Station Z, the Pathology Laboratory and camp hospital.

This tour was researched by historian Gabriel Fawcett, who is publishing an important witness account of the camp. All tour guides have their own special insights into the history of Sachsenhausen, and are experienced in unraveling the complex history of the Third Reich and the Holocaust.
May 2016
Very interesting and very good guide!
May 2016
Ryan is the best tour guide I've ever encountered. Smart, caring, open-minded, and broad-minded. As opposed to other tour guides who perform a scripted spiel, he engages in conversation, shares his knowledge, and fields every question people ask with respect, thoughtfulness, and deep knowledge. I highly, highly recommend any tour he gives. I learned so much from this tour that will stay with me for a long time. I felt very lucky to find this tour company and guide. Thank you so much!
April 2016
Very good, highly recommended
April 2016
April 2016
Incredible. Heartfelt. Informative. Chilling. Mike was a brilliant guide!
April 2016
This was an intense tour, you cannot help but be moved by the surroundings and historical facts about this camp. The guide we had was great and didn't make light of it in a touristy way. He also had a lot of knowledge about the Russian use of this camp, which I knew nothing about and is just as harrowing. It's important to see places like this, so we don't ever forget what happened.
We met up with the tour at the Zoo, which is the west meeting point, it was really easy to get to and locate the tour contact person. Take food and drink with you as there is nothing there, and you will get hungry / thirsty. Although there might be time when waiting for the train at Hbf to get something but don't bank on it.
February 2016
An excellent tour with an English speaking Guide. Would recommend having a guide as there is so much history the main facts can be pointed out even though entry to the camp is free. Customers should be aware that prices are charged at an adult rate if the child is 12 and over, not 13 as stated on the Virator site. Some other guides do not charge for 12 and under.
February 2016
Excellent, compelling tour. Made me understand mid-century
Germany much better, not just the camp itself. Guide was an
excellent historian, and very good shepherd of our diverse
group, able to deal with different interest levels. As a bonus,
unexploded WW2 bombs were found on the train line that
day and exploded later...we got to hear them.
On the strength of this tour, I booked another excellent tour with same company later.
December 2015
Fantastic tour of an extraordinary time in our history. Tour guide Torben completed the experience. Incredibly knowledgeable and friendly, and even stayed behind at the end to put people on different trains to where they wanted to go.
December 2015
The tour guide was very knowledgeable about many topics pertaining to Nazi Germany, Sachsenhausen itself and German culture regarding the Second World War. The tour's additional information made the visit very moving - I don't think I would have appreciated the whole picture if I had not attended with a knowledgeable tour guide. I thus recommend this tour as a must if you are thinking of visiting Sachsenhausen.
Advertisement
Advertisement