115 Reviews
Location:

Berlin, Germany

Duration:

6 hours

(approx.)
Tour Sachsenhausen, one of the first concentration camps established by the Third Reich, on a full-day trip from Berlin. An expert historian guide provides important facts about the prison cells, laboratories, and gas chambers that you see at Sachsenhausen, which today serves as a national memorial to the prisoners who lived and died there.
Highlights
Full-day trip to Sachsenhausen concentration camp from Berlin
Explore the camp with an expert historian as your guide
Visit sites such as the punishment cells and gas chambers
Hear tales of prisoner bravery as well as the chilling atrocities that took place at the camp
Learn about Germany during the days of the Third Reich
Recent Photos of This Tour
What You Can Expect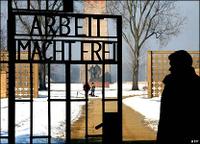 Meet your host in either the east or west of the city — the choice is yours — and then travel together by train (own expense). Your destination is the town of Oranienburg (just less than an hour away) to visit Sachsenhausen, one of the first Nazi concentration camps constructed in 1936. When you arrive, an expert guide leads you inside the campgrounds, where you will learn chilling facts about the prisoners who lived and died here.

For nearly a decade the SS imprisoned some 200,000 Jews, socialists, Communists, and liberals, among other opponents to the Nazi regime. The punishment cells, gas chambers and burial pits that you will see on this tour can be overwhelming, but your guide will put the site's history into context with expert knowledge about one of the darkest periods of the 20th century.

At the end of your time at Sachsenhausen, meet your host to finish the day-long trip with a train ride back to either east or west Berlin (own expense).
August 2015
We took this tour on recommendation of a fellow traveler. What an eye opening experience it was! Finn, Our tour guide was simply amazing! Very well informed. He spoke of the horrors of the concentration camp without overdoing it or sugarcoating it. Very experienced guide! He was very open to all questions clearly he loves his job. Fellow travelers, please tip your guides! Would highly recommend this tour.
August 2015
Very interesting tour. Highly recommended.
August 2015
Jared was a very informed guide. His knowledge of both the site and its important context within this horrific part of history kept his group aware of the tragic trail they were following. Powerful tour and well worth the long walk in the hot sun.
August 2015
Amazing tour! I just wish we had more time to view the rooms with the memorabilia :
August 2015
This is a fantastic, yet highly emotional tour, handled brilliantly by the Insider Berlin tour company. Our guide Nicholai was very knowledgable, and told us many stories of things that happened during the time this camp was in operation. He gave a very honest, and detailed picture of some of the horrific events that happened here. Like I said, it's an emotional tour, it's very hard to imagine and get your head around what you are seeing and being told. For this reason alone I highly recommend going here and definitely taking this tour, it really is worth every penny.
August 2015
Passeio que vale a pena não somente por conta das instalações, mas também pelos comentários feitos pelo guia que contextualizaram o campo de concentração dentro do capítulo deplorável da história da Alemanha em guerra e da URSS no pós guerra. Prepare-se para andar muito.
August 2015
JJ our tour guide was knowledgeable and friendly. He ensured we got on the right train and checked we had the right tickets. The day flew by and it is one I shall always remember. Full of facts which we could hardly grasp and accompanied by the evidence which we could not dispute. The best choice we made for an overall fantastic trip to Berlin.
July 2015
Very profound experience and guided by Mr. Mike, I was able to immerse myself into history itself.
July 2015
Sad day but what an experience. We learnt so much of this crazy history. JJ was an excellent guide. There were nearly 40 people in our group but he always managed to keep everyone close together so no one missed any of his knowledge which I have to say was outstanding.
July 2015
An incredibly humbling and sombre experience which I would recommend to anyone to do. You cannot truly comprehend the atrocities committed here, but we must never forget the pain and suffering inflicted on innocent people here, and coming here, seeing the camp, ensures that you never will. Our guide was well organised, friendly, knowledgeable and informative. Definitely recommended.
Advertisement
Advertisement