Get out on the water in Bermuda on this 3.5-hour kayaking eco-tour! Paddle along Bermuda's pristine coastline, taking in the tropical plants and cliffs, while keeping an eye out for marine life. Take a break on a secluded beach and have time for a swim before making your way back to the starting point.
Highlights
Take a scenic sightseeing cruise as you travel to the kayaking site

Morning kayak eco-tour in Bermuda

Travel to the kayaking site on a scenic sightseeing cruise
Fun way to enjoy Bermuda's beautiful environment!

Recent Photos of This Tour
What You Can Expect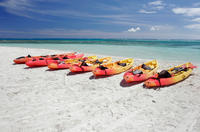 Meet your tour guide on the docks and head out to the sea for a brief sightseeing cruise before arriving at the kayaking site. After a quick safety briefing, you'll be out paddling in your ocean kayak.

Your expert guide will lead you through the waters to some of the most beautiful spots on the Bermuda coastline, including Paradise Lakes, a protected waterway surrounded by coves and islands. Kayak around the shoreline of Daniel Head, an eco-reserve area with a dramatic rocky coastline.

Pull on shore and relax on a quiet beach while you enjoy a complimentary beverage. Then make your way back to the starting point.
June 2016
The staff were fabulous. I can't remember his name but it starts with an L was funny, welcome and very knowledgable
June 2015
September 2014
This was a fabulous tour and the guide was very knowledgable. Private beach was lovely. and we had so much fun seeing the sea turtles. The spot that guide picked was gorgeous and swimming after and relaxing topped off a perfect afternoon-we would def do it again!!!
July 2014
We haven't done a group kayak tour so wasn't expecting much. We were met on time by Dean and taken to the pontoon boat. It was a full boat from cruise ships. We sailed to the beach, past ship wreck and reefs with commentary on where we were and general area and history of Bermuda. Once at beach, we were given paddles, vests and there was a shed in which to lock up personal items. It's a nice little beach. The kayaks are sit-on-tops, tandems with small viewing windows between each paddler's legs. They are not comfortable, especially if you have lower back problems, but they are very stable. Dean lead us out and along the coast line, stopping in shaded areas to tell us about locals and point out houses, etc. He's a very good guide. There is little boat traffic so there were very few wakes, quite flat. We paddled to where the sea turtles congregate and saw a lot of them, which is near the smallest draw bridge. The paddle back was non-stop. We had a little time to swim before reboarding the pontoon where we were given soft drinks and sailed back the way we came. We enjoyed the paddle which was about an hour and a half. We are experienced kayakers so it was an easy paddle. Those with little or no experience struggled a little but we did not have to wait for them, we could paddle at our own speeds. For a group tour, it really couldn't have been better. That said, if you have transport, there are plenty of places to rent a kayak and paddle on your own safely.
May 2014
The journey from the Royal Naval Dockyards was entertaining and educational, and the fun banter between Dean and Stephan (sic) was lighthearted and fun. They were personable and engaging, and made the kayak ride thoroughly enjoyable. We made it back in time to enjoy the warm crystal clear waters of Tobacco Bay Beach. I would definitely recommend this tour if you have a few hours to spare, and want to enjoy the gorgeous weather in Bermuda.
December 2013
August 2013
Dean was very knowledgeable about Bermuda. The little boat ride at the beginning gave us some history of the island as well as a chance for our kids to steer the boat. They thought that was awesome. Then we got to kayaking and did a good amount (maybe 2.5 hours) of it along the coast. We got to try to go thru rocks since it was high tide and look for sea turtles. We docked at a little beach and got to swim and explore on our own for a little and it was just the right amount. This was an awesome excursion and FYI to those on the cruise ships, you can book this tour online and avoid paying extra the ships charge. Same excursion, same great time.
August 2013
WOW! This was one of the highlights of our visit to Bermuda! Guide was awesome, fun in getting out in the water and seeing the sea life up close! Everything taken care of for you, so felt very comfortable in having an ocean kayak adventure! - Gale Wayman, N.J.
October 2015
Enjoyed the kayaking. The leader was very informative and entertaining. The beach area that was mentioned in the initial ad was a little disappointing---they may want to pick up some of the litter. My husband and I are both 65 and found the activity not difficult. We had never used a kayak where you sit on top, but it was easy and the excursion leader helped us adjust the seat backs which made the ride very comfortable.
September 2014
We enjoyed our kayak enjoyed our guide.
Advertisement
Advertisement