Start your vacation off right and pre-book a shared round-trip transfer from the Bermuda Airport to your hotel. Rest assured that your transportation to and from the airport is taken care of, ensuring a safe and hassle-free beginning and end to your time in Bermuda.
Highlights
Shared round-trip airport transfer to/from Bermuda LF Wade International Airport

Efficient and effective way to get around

Professional and knowledgeable driver

Hassle-free, comfortable transportation

What You Can Expect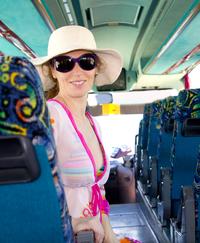 Upon arrival at LF Wade International Airport in Bermuda, your professional driver will be waiting to assist you with luggage and board the vehicle before continuing to your Bermuda hotel. At the end of your vacation, your driver will again be waiting for you outside your hotel, to get you on your flight back.

When making your booking, be sure to provide all the required information. You will receive confirmation within 24 hours of booking and be provided with a travel voucher that you will give to the driver.
Itinerary
Please see the list of hotel zones below:

Zone 1:
Grotto Bay Beach Resort

Zone 2:
Clear View Suites and Villas
Mid Ocean Club
Pink Beach Club
Rosewood Tucker's Point Hotel and Spa
St. George's Club

Zone 3:
Coral Beach Club
Coco Reef Resort
Elbow Beach Club
Edgehill Manor Guest House
Fourways Inn
Grape Bay Cottages
Little Pomander Guest Hosue
Fairmont Hamilton Princess
Newstead Belmont Hills Hotel
Oxford House
Rosedon Hotel
Royal Palms Hotel
Rosemont Guest Suites
Grape Bay Hotel
Sandpiper Hotel
Surf Side Beach Club

Zone 4:
The Reefs Hotel
Fairmont Southampton Princess

Zone 5:
Pompano Beach Club

Zone 6:
Cambridge Beaches Resort and Spa
October 2015
April 2015
All of the logistics went very well. The culture, food, and people of Bermuda are outstanding. The hotel, Coco Reef was great as well. Can't wait to return.
March 2015
Driver was extremely courteous. Was on time for both trips---from and back to the airport.
October 2014
driver excellent. on time . good vehicles.
March 2014
First class. Bermuda is beautiful, the people are happy friendly people always smiling. We loved it so much going to come vack again in September to same hotel. First class transfer service. Taxi waiting at airport on arrival and in plenty of time for leaving. Superb!!!
December 2015
Finding the kiosk in the Bermuda airport was easy. I didn and #39;t get a designated driver, but a friendly local cabbie who works w Viator(?). My return trip, I had to call the transport place to find out when my pickup would be - since nobody offered/contacted me.
August 2015
Zero stars for Viator as my name was NOT on the list of folks to be picked up at the airport. 5 Stars for the driver who was taking a couple 'on the list' to my hotel, told me to hop in, and would work out the glitch with Viator.
June 2012
We had a great pick up from the airport and liked our driver. We were told they would call the hotel to schedule our return and did not. The bellman was able to track someone down in their office since we only got a recording. Not as smooth, but we did eventually get picked up on time.
December 2014
I paid $56.00 for my wife and I (with 2 carry-ons) to be shuttled from the airport to The Grotto Bay Resort hotel. The driver was professional and the ride itself was pleasant HOWEVER, I could've saved a boatload of money if I had taken a local bus (right outside the airport, 3 dollars per person), or a taxi (right outside the airport, 11 or 12 dollars one way). It's just that I had NO IDEA that the Grotto Bay Resort was about 5 minutes from the airport !!!! My wife and I couldn't believe how close our hotel was from the airport. You could literally WALK (although I don't recommend it). Spending $56.00 for a shuttle bus with 2 carry-ons was totally unnecessary for our financial situation. I would've rather spent that money on drinks or something to eat......To be clear, I am not criticizing the shuttle service. If I had to do it over, I would've saved at least 50 dollars with a 5 minute ride on one of Bermuda's clean and efficient buses.
September 2013
A cab from the Airport to the hotel is less expensive than the Viator's van!
In the departure, the Viator's van came 20 minutes before. From the phone calls from the reception and the knocking on the door - we could not pack properly.
Advertisement
Advertisement