42 Reviews
Location:

Kona, Hawaii

Duration:

2 hours

(approx.)
Get breathtaking views of Hawaii from the air! On this deluxe, two-hour helicopter tour of the Big Island, you'll take off from Kona and fly above spectacular waterfalls, along the coastline and over the Waipio and Waimanu valleys. Soar above rainforests, macadamia nut orchards and live volcanoes. Enjoy executive seating in a Bell 407 helicopter.

For a guaranteed window seat, make sure to upgrade to the preferred seating option.
Highlights
2-hour helicopter flight from Kona

See the beauty of the Big Island of Hawaii from the air
Fly over Kilauea, one of the world's most active volcanoes
Soar over tropical waterfalls and the misty peaks of Mauna Loa and Mauna Kea
Fly along the 2,000-foot (610-meter) cliffs of the Waipio Valley
Why Our Insiders Chose This Tour
If you're staying on the Kona side, this in-depth flight is an excellent way to see all of the Big Island from the air. And the sliding windows make it easy to snap pictures of flowing lava and secret waterfalls.
Recent Photos of This Tour
2-Hour Big Island Helicopter Flight from Kona
What You Can Expect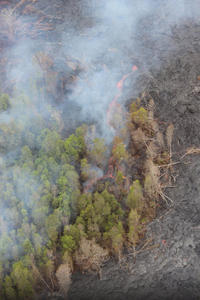 It's no secret that Hawaii is a particularly stunning piece of the Pacific Ocean, so see it from the best angle possible on a helicopter tour of the Big Island. This exciting two-hour tour from Kona will introduce you the Big Island's beautiful and powerful features, including the active volcano of Kilauea, where if you're lucky, you'll see actual lava flow from the crater.

Take off from Kona in a comfortable, low-vibration, six-seat Bell 407 helicopter, and soar south along the coast and then east to Kilauea in Hawaii Volcanoes National Park. See the most recent volcanic activity and look for flowing lava before heading to the north end of the island.

Climb between the volcanic peaks of Mauna Loa and Mauna Kea, enjoying the fantastic views from the helicopter's oversized sliding windows, perfect for taking photos. Revel in the beauty of ocean cliffs and tropical rainforests, where you'll dive between mist-shrouded peaks. Admire the cool mountain waterfalls and the deep green valleys of the Hamakua Coast before returning to Kona, where you can spot the million-dollar resorts that dot the coast.

Your knowledgeable pilot will offer expert narration, which you'll hear over your two-way headset. Ask questions and talk with pilot as you fly!

Please note: due to weather, the flight can range from 100 - 120 minutes.
January 2016
What an amazing tour!!! the volcano and the lava was spectacular but the real treat is the valleys and waterfalls. The staff from the office team to the fantastic Pilot Dan really made this the highlight of our Honeymoon.
November 2015
I'm disappointed that I paid 50 additional for two people for guaranteed window seats when virtually all the seats are window seats. Other than that the tour was wonderful.
October 2015
Absolutely Brilliant Helicopter Tour. Very Friendly and Professional. And KOJI 0ur Pilot was brilliant and gave us all time to take photos from all angles by turning the Helicopter around for both sides etc. And some very fancy flying indeed through the valleys to see the wonderful waterfalls and the keyhole etc. Can highly recommend this Company. Superb.
September 2015
Since I got the front seat on this flight, I had a TERRIFIC view and a wonderful experience. We got to see lava in a few locations, although it was not as voluminous as one sees on TV or the movies. It was still a thrill and a wonderful experience. Everyone at was exceedingly nice. Karen who gave me a ride three times! was particularly nice. I did get cancelled for three flights due to weather, however.
June 2015
The best experience of my life!
March 2015
My husband was a little hesitant about this, but the pilot and the staff was great and very informative. It was a beautiful day with very little cloud coverage. We fly close to the crator and were able to see the lave slowly flowing. We also fly along the coast and observed several whales, one with a baby. Also we saw a pod of dolphins and what the pilot said was a shark.
January 2015
great ride, got to see lava and snow! which was crazy. plus we saw lots of whales while flying up the coast line. the only con was that you get a little bit sick because the helicopter is always dipping and turning.

December 2014
I cannot say enough about this tour. Thank you Koji (pilot) and Michelle (guest coordinator) for an amazing experience. We saw the Big Island from a diffent view point. We saw molten lava, amazing waterfalls, whales and the most amazing views. Worth every cent.
December 2014
An incredibly great and very memorable experience! It is, of course, in many ways dependent on weather conditions.However, our pilot Dan always called ahead to get weather updates and was able to make modifications in the flight plan. His ground crew, the other two Dans, were also very helpful in the flight preparation, and in the post flight photo session! Thanks to Dan, Dan, and Dan of the helicopter operators. They did their duties...and they did them well!... :-)
Gerhard A. Fuerst, Kalamazoo, Michigan (G1st@aol.com)
We winged our way
to Hawaii…
by means of jet-powered flights,
to escape Michigan's wintry cold,
seeking sun, sand, and surf,
wondrous warmth, balmy winds,
miraculous flora and fauna,
soothing sounds and sights,
the treasures of dreamily tropical delights…
exotic aromas, secretive smells,
pleasing, pleasant,
taunting, teasing, tempting
fine fragrances of myriad colorful blossoms…
We sailed and soared at incredible heights,
easily overcoming continental and oceanic differences in time…
leaping over enormous distances in space…
We landed at Kona…
to experience Hawaiian hospitality…
the joys, challenges, and memorable adventures
of a shared family vacation…
to sample tasty treats and liquid libations
of the local cuisine…
and to leave temporary footprints
in soft sands…on beautiful beaches…
until washed away once again
by blue waters with perpetually rolling
and rhythmically undulating waves…
of the vast Pacific Ocean…
resulting in dramatic effects
of crashing surf…
dashing and splashing
on massive volcanic rocks
along curvy coasts and shores.
Footprints in the sand
are symbolic of our human existence…
which is temporal at best…
with the passage of time
fast and fleeting…
So, in order to leave
a lasting impression
our daily deeds done
must be purposeful, positive,
principled, and passionately peaceful…
Come see these wondrous vistas in Paradise...
Gerhard A. Fuerst
12/14/2014
Kailua-Kona, Hawai'i
December 2014
This was an amazing experience!
Advertisement
Advertisement