On this exciting Kona submarine tour, dive deep below the cobalt waters just off the Kona coast, where an entire world of fish and marine creatures is waiting just below the surface. As the submarine descends towards the colorful reef, peer through the portholes at fish that swim to within inches of the submarine windows, and experience the sense of peace and calm in this world beneath the waves. This is a great way to explore underwater without even getting your hair wet, and, if you're very lucky, there's even the chance you could see a passing shark.
Highlights
Hawaii Atlantis Submarine Kona Dive

Unique views of Hawaii's colorful marine life
Professional narration
Option to include hotel pick-up and drop-off


Recent Photos of This Tour
What You Can Expect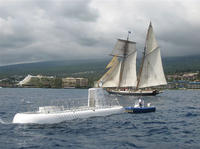 Thanks to the volcanic lava rock that filters the rainfall and runoff, the water here on the Kona coast is some of the clearest in Hawaii. On this enthralling Kona submarine tour, explore the clear waters and colorful reefs just off of the Kona coast, where schools of tropical reef fish flit above patches of sand and through caves.
You'll see all types of tropical marine life on this Big Island submarine tour, from schools of small manini, or convict tang, to larger fish such as the big-eyed emperor fish that slowly cruise above the reef.
This Atlantis Submarine Kona Adventure has been featured in National Geographic television shows, and explores the ocean just off the coast to depths of 100 feet (30 meters). For the entirety of the 50-minute underwater journey, you can relax in comfort in the air-conditioned sub that only holds 48 people, and casually watch through the circular portholes as fish go swimming right by.
February 2016
Loved loved loved this trip...the only thing I would want better is that the trip would be longer. Maria the tour guide was hilarious and very informed and educated. Ty again for this tour. Will definitely recommend it to others!
Fiona Australia
January 2016
Worth every penny! Very happy tour :

December 2015
Great crew, awesome time! Book it!
July 2015
Very interesting to see all types of sea creatures in the deep ocean, definitely a unique experience.
May 2015
Initial printing showed 100 minute boat ride out to the sub- it was actually a 5 to 10 minute boat ride and was a wonderful experience, at low season only 12 tourists were on the sub for our tour. The next day an NCL cruise ship pulled in and they were full up.
August 2014
Great day out especially for Sandra who not being a swimmer finally got to see what lies below the sea. The crew were attentive, the submarine fairly quit and the ride was smooth. Viewing was very good and would absolutely do it again.
December 2013
It was wonderful! We really enjoyed it. The crew was great. I would do it again.
Thank you so much!!! : )
Diane
December 2013
Tour company allowed us to change the date/time of our tour on the spot. Tour was 1/2 full which allowed us to see more and go further than would have been the case were the trip full. We saw tons of fish and the guide was very informative.
April 2012
I was a bit apprehensive about this trip but before I knew it we had dived and were seeing amazing shoals of fish and fish of all varieties. Lovely trip and an amazing experience.
Anonymous
August 2008
We had a great time on the submarine tour. It was much better than we were expecting -- not quite the highlight of our trip but almost! If you have never done one of these submarine tours, do it! It is beautiful. Very peaceful. Completely safe.
Advertisement
Advertisement