There's simply no feeling that compares to seeing enormous manta rays up close, as their graceful wings seem to fly underwater and turn in rolls all around you. On this Big Island kayaking and snorkeling tour, experience the thrill of paddling to a cove in search of wild manta rays, and then watching the beautiful, graceful rays as they feed and flip through the water. While watching the rays from the kayak is great, it's even better when you grab a snorkel and slink off the edge of your boat — joining the wild rays for a swim and an unforgettable snorkel.
Highlights
Big Island nighttime adventure

Kayak along the Kona coast and snorkel with Hawaiian manta rays

Watch the manta rays feed on plankton

All kayaking and snorkeling equipment and instruction are included in the tour

What You Can Expect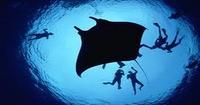 During this Big Island kayaking and snorkeling adventure, swim up close with some of the world's most graceful and gentle creatures, and experience the thrill of watching these rays as they literally swim circles around you.
Upon setting out for this 1.5-hour tour, you'll receive the kayaking and snorkeling equipment at check in and go over some basic safety, before launching out along with your guide in search of the famous rays. Eventually, once you see the surface churning with the flimsy tips of their wings, or see a dark shadow moving towards your kayak in the shape of a massive ray, it's time to grab your snorkeling gear and prepare for the time of your life.
These manta rays are most active at night and in the hour just before sunset, as they feed on plankton rising towards the surface, which only takes place at night. To bring the rays closer, your guide will use an underwater light to attract the clusters of plankton, which in turn attracts the manta rays as they swim and feed all around you. Depending upon the level of activity and the overall number of mantas, you may end up paddling to a different spot in search of greater numbers. This is one of the great parts of snorkeling from a kayak since it allows you the ability to be flexible.
At the end of the tour, your guide will lead you on the short paddle back to Keauhou Bay.
September 2015
AMAZING!!!! DO IT!!! HIGHLIGHT OF OUR TRIP!!!
The mantas were SO BIG and graceful and strange. You'll absolutely love this experience.
You will meet the guides at the kayak shop and then drive your own car to the Sheraton Resort.
The guides transport the kayaks.
You can use your own snorkel gear if you have it.
Do some research about the mantas before you snorkel, as our guides didn't have any facts for us whatsoever. The guides were friendly and did a good job getting us set up though!
Leave all of your clothes/belongings in your car, as they'll get soaked if you bring them, and you don't need anything.
Go to the Sheraton before or after, as they have a beautiful restaurant and bar that overlooks the manta snorkel area and they have a really cool Manta Learning Center where you can learn about the animals.
SUCH AN AMAZING EXPERIENCE!!! Worth every penny!!!!!!
Kurt Kujawa USA
July 2013

August 2012
I had a BLAST, and I didn't even see any Manta Rays! The whole kayaking and snorkeling aspects of this trip were enough for me!
July 2012
LOVED EVERY MINUTE!
this tour was definitely an adrenalin rush but an amazing experience. one with many memories and stories to tell.

March 2015
Quite an experience! It was a little scary kayaking out in the night but our guide was really helpful. Unfortunately no mantas showed up but some wild dolphins were around so that was nice. We will probably try again when we revisit Hawaii.
June 2014
What a wonderful experience seeing so many Manta Rays. What I liked about the tour company is they let you swim free. I would not of enjoyed being on a board or tied together. I did find it a bit uncomfortable not having a seat on the kayak. It was a little hard on the back kayaking just sitting on the plastic. I did find it well organized and had three people from the tour company with us. Had lots of Manta Rays and was glad I also had brought my own light. Loved the somersaults the Manta's did right under us. Recommended them to several others visitors on the Island that were staying at the same condo establishment I was at.
MM Sacramento CA
July 2015
Aloha Kayak is REALLY BAD at communicating details of this trip. Phone calls and text were ignored. I finally got through once via phone and got someone that sounded like they only had an elementary school education. I was told to meet at the Bay at sunset with few other details.
No one showed up at the Bay that night at the arranged time, so I called Aloha Kayak and no response. 20 minutes late, the independent contractor for Aloha Kaya showed up with his girlfriend and said we should have met him at their office. He had no equipment for us, so we had to use all our own snorkeling gear and our kayak paddles. The rest of the kayaking and snorkeling part was good, but I did see another trip vendor at the Manta Ray site that looked well organized. After the Manta Ray activity, we had to go back to their office and fill out tediously long information and waiver forms, which pushed our night really late considering I had to drive two hours to get back to our hotel on the other side of the Big Island. Meanwhile, the independant contractor complained of working too many hours, but not making enough money with Aloha Kayak.
Previous to this in the afternoon, I called Aloha Kayak to rent a couple of kayaks so that my son and I could travel along the coast of sea caves. Once again, no answer via phone or text messages. We found and spent our dollars with another vendor.
Of all the vendors I had to use during my 10-day stay in the Islands, Aloha Kayak was the worst. I would HIGHLY recommend going with another vendor.
February 2015
It was a disappointment as they did not have but one light to attract mantas and we had to keep going over by the boats with stronger lights see a manta and then we got chased away by their group leader.
The people who did run it were kind and helpful but this is a rag tag outfit.
Advertisement
Advertisement