Get a bird's-eye view of the Big Island on a 1-hour parasailing experience. This family-friendly adventure can accommodate one, two or three people on each flight. Gaze out at the beautiful Kona Coast as you soar 800 feet (243 meters) or 1,200 feet (365 meters) into the air. Then land smoothly and safely back on the boat before returning to shore.
Highlights
Enjoy a fun, exciting parasailing adventure on the Big Island

Soak in amazing views of the Kona Coast on a single, tandem or triple flight

Choose your flight height and soar up to 1,200 feet above sea level!

Enjoy a dry landing on the boat, not on a beach or in the water

Safe and reliable tour with state-of-the-art boat and equipment

A perfect activity for families!

Recent Photos of This Tour
Big Island Parasailing Experience
What You Can Expect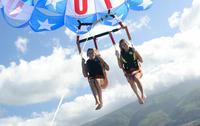 Begin your Kona parasailing adventure by boarding your 12-passenger boat and heading out into the water. This family-friendly experience accommodates single, tandem or triple flights.

Please note that the amount of time you spend in the air will depend on which option you've chosen. For the 800-feet flight, single passengers fly eight minutes, while tandems and triples fly for 10 minutes. For the 1200-feet flight, singles fly 10 minutes, and tandems and triples for 12 minutes.

Strap into your harness and rise up into the air, enjoying unparalleled views of the Kona Coast. For your safety and comfort, take-off and landing take place on the boat instead of the beach or the water.

February 2016
Had a blast parasailing! The check-in process was a breeze, the crew was great and super friendly. I hate heights, but my husband and I did this together, the crew and other passengers on the boat really made it easy to be comfortable. I would definitely use this company again if we ever go parasailing on the Big Island again.
January 2016
Very nice. The crew was wonderful. Put us all at ease. The parasailing was great. All felt very professional. A lot of fun. Would do again.
Wayne United States of ...
January 2016
Perfect weather to parasail. Booked the earliest sail and got our own boat.They open up a check in table right on the pier where the tenders from our cruise dropped us off. Awesome staff and special thanks to Captain Casey and Ship Mate Dani! You Two Rock! The experience was seamless from start to finish!
September 2014
UFO Parasailng is the best!!! Had a great time, would do again in a heartbeat! Even saw dolphins while we were flying!
August 2014
Great fun! My son and I went up together. It was clear, serene and beautiful.
April 2014
AWESOME! Crew was great. I'm usually afraid of heights but felt completely safe. We actually spotted whales and a pod of about 30 dolphins while up there. Check one off our bucket list...though I may put it on again just so we can do it again!
April 2014
Great experience, the crew guides were great beautiful experience, everyone should try this!
January 2014
Tour guides were personable and went the extra mile to make sure that everyone had a great time. The ride was .... INCREDIBLE!!! :)
Annette C USA
May 2013
This was amazing. The guides were very helpful and upbeat during the entire trip. If you want the best time, go the highest level up. I was able to see a small pod of whales having fun. It was scary and fun at the same time.
Spanish traveller Spain
April 2013
I have wanted to parasail for around 40 years, but have never had the guts! So I thought, well, if I don't do it now, I never will, so we went up, and it was brilliant! We had paid for 800 feet, but the lads sent us up 1200 feet, and charged us $20 extra when we got down! I got the impression this was quite normal! We sat on a metal bar, well strapped in, and took off-I was terrified, but it was actually very easy, and the views were amazing. We were up for about 12 minutes, you wouldn't want any longer because the bar gets a bit uncomfortable, and we landed easily on the boat (just in case you thought we landed in the sea!). Definitely a "must do".
Advertisement
Advertisement