Fly through the air at two different speeds on this popular Big Island super saver, where you can combine a Big Island helicopter tour with a zipline course through the rainforest. These are two of the Big Island's most popular activities, which you can amazingly fit in a single day and still be back for dinner. Choose to depart from either Hilo and Kona, and spend between 45 minutes and two hours exploring the Big Island by air, before you clip into a comfortable harness and fly your way through the trees.
Highlights
Big Island helicopter and zipline combo tour from Kona or Hilo
Fly over Hawaii's active volcanoes and cascading waterfalls by helicopter
Enjoy a thrilling 8-line zipline course through the lush rainforest
Picnic lunch, light snacks and water included
Small-group tour limited to 12 people ensures a more personalized experience
Why Our Insiders Chose This Tour
Get two thrilling adventures in one unforgettable day. A helicopter flight is the ideal way to see the Big Island's volcanoes, and ziplining along one of the longest lines on the island offers remarkable waterfall views.
Recent Photos of This Tour
What You Can Expect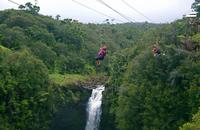 Choose from one of these two options for your Big Island Super Saver:
9-Hour Tour From Kona:
Your adventure begins at the Blue Hawaiian heliport outside of Waikoloa, where you'll board an air-conditioned, comfortable chopper for the 2-hour tour of the Big Island. Over the course of the jaw-dropping flight, you'll see everything from steam rising above Kilauea volcano, to waterfalls thundering down towards the sea along the Hamakua Coast outside Hilo. Experience the power of Rainbow Falls and famous Akaka Falls, which take on completely different appearances when viewed from up in the air. Soar between snowcapped Mauna Kea and Mauna Loa volcanoes, and admire the silent sea of black lava that covers up much of the island.
After landing back in Waikoloa, sit back for a scenic drive to the zipline site's adventurous 8-line course, where lines that are set up side-by-side span more than 2 miles (3.2km) of gorges. Allow your instructors to clip you into your harness, and then fly down the 2,300-foot (700-meter) zipline — one of the longest lines on the Big Island! Remember to open your eyes for the view and drink in the tropical scenery.
Once you've completed the 8-line course, enjoy snacks and a picnic lunch before the drive back to Kona.
6-Hour Tour From Hilo:
The zipline and helicopter tour from Hilo follows the same itinerary, except the helicopter flight is much shorter and you'll spend more time on the ziplines.
June 2015
September 2014
Fantastic tour. Everyone was lovely to deal with, our helicopter pilot Caption Redbeard (alias Scott) was brilliant. We loved every minute of the helicopter ride over the volcanos and his knowledge was invaluable. Then a wander around Hilo, some lunch and then up to the ziplines. What a buzz. The guys Matt, Chris and Gavin rocked the lines, everything was fun, safe and the views were AWESOME! Had a ball. Everything was on time, we were looked after from the minute we touched down in Hilo until the time we flew back to Oahu! Thanks to everyone for a brilliant day - one we will remember for ever.
June 2014
The helicopter tour was amazing and our tour guide John was the BEST!! The zipline was SO much fun too! Everybody involved in the day of activity was simply amazing, from our drivers who picked us up to our tour guides down to support staff. Everybody was amazing, friendly and professional.
March 2014
This was a fabulous package and a great company to book with. It's a bit costly but was worth treating my two daughters and sister to our first time on the wonderful Big Island. Rick was our esteemed pilot - an ex Marine, we felt totally safe during our flight. He was very informative and open to all our questions. The zipline was great! The young staff were all very professional and extremely efficient - this was all our first time and we all had a blast! I've recommended this company to everyone I've talked to about this vacation.
Thanks for a wonderful experience!
January 2014
Wow! This was an amazing trip from start to finish! The helicopter tour was phenomenal and the zipline was fun too. However, the best part was probably our pilot Dan who talked with us throughout the entire helicopter tour showing us so many wonderful things and explaining them so well (we had two children with us). He listened to our interests and focused the tour on those. It was a fabulous day - one none of us will ever forget. Well worth every penny!
January 2014
Must do on the Big Island! Danny was our helicopter pilot and was very knowledgeable about the island ! Zip lining was by far a wonderful experience with our great guides Alex,Chris, and Matt! If you don't do this tour you will truly miss an experience of a lifetime !
January 2014
Far most the best experience on the island. Our helicopter pilot Danny was wonderful on showing us what all the Big Island has to offer . He made sure everyone had a great view no matter where you were sitting. Our zip lining guides Chris,Matt and Alex made it memorable!
December 2013
OUTSTANDING! Super fun crew and beautiful landscape that you zip thru. Waterfalls, deep gorges and lush valleys. Awesome experience.
July 2013
Brilliant. You get a fantastic 2.5 hours time in the air; seeing the entire island (in 2 seperate flights which provides a nice break in flight times). The zip line was also a load of fun. Only advice: after the zip-line you're in Hilo with no specific agenda for a few hours before the 2nd leg of the flight. So I suggest you investigate options and plan something to do (even if only foregoing the zip-line lunch and having a nice meal/late lunch somewhere in Hilo)
April 2013
This was our first trip to Hawaii and This Adventure Was Worth Every Single Penny. The Paradise Helicopter Pilot, Marco, was excellent, discussed everything, from what we were seeing and the locations' history. Minor turbulence was experienced once, but nobody was worried. The KapohoKine Adventure Tours took us to the 5th longest Zipline in the world. Amazing Ride and Super Safe Guides on the Lines! Greatly appreciated. The little kids (61lbs) with our group were so comfortable with the guides they were not afraid and even went down the lines first! When they didn't make it to the platform, the guides were retrieving them in moments. The Guides also were knowledgeable about the area and the history of the Big Island.
Absolutely a must do!! You will see some of the most amazing waterfalls and breathtaking views. Next time I come to the Big Island - I am Doing This Same Trip AGAIN!!
Advertisement
Advertisement