On this two-wheeled, adventurous Kilauea tour, explore Hawaii's active volcano from the comfortable seat of a bike, where you'll ride through multiple microclimates and past rugged volcanic terrain. This Hawaii bike tour is one of the best ways to explore Kilauea volcano, where every bend in the road reveals a new volcanic wonder, from steaming craters to lava fields to cliffs dropping off toward the sea. Even better, the tour includes visits to the Jagger Museum and Thurston Lava Tube.
Highlights
Guided Hawaii Volcano National Park bike tour
Cycle through Volcano National Park to Kilauea Volcano

Rainforest, lava tube, steaming vents and huge craters
Learn about the Big Island's geography

Professional interpretive guide
Lunch and beverages
Pickup and dropoff from select locations
Recent Photos of This Tour
What You Can Expect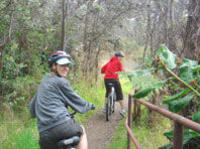 Ride a bike from summit to sea down the roads of an active volcano. Nearly all of the roads and trails on the tour are downhill, level, and paved, and you'll have a guide who'll narrate the area's mythology, geology and sights.
All the necessary equipment is provided for this Kilauea volcano tour, as are beverages, lunch and a support van if you get tired of biking. After your start at the Visitors Center in the Hawaii Volcanoes National Park, you'll ride past lush, tropical rainforests that house hidden, volcanic lava tubes — one of which you can even explore on foot and venture inside. You'll pass steaming vents, massive craters and barren volcanic terrain, and, if Madame Pele (the volcano goddess) is in the right mood, there's even the chance you could see lava spilling into the sea.
The landscape at Kilauea volcano is unlike anywhere in Hawaii, and, since the tour's support van is always nearby, you can bike for as long as your energy allows and still enjoy all the sights. Or, if you'd prefer to simply ride along and not use a bike at all, you can follow the group on the very same trails while comfortably seated inside.
Your bike ride ends with a lunch with views of the ocean. On the way back to the start point, enjoy a trip to visit the Thurston Lava Tubes. Read the
Itinerary
for all major points of interest on this tour.
Itinerary
Itinerary:
Visitor Center at Hawaii Volcanoes National Park




Jagger Museum (inside visit)




Kilaueu caldera rim and steam vents




Rainforest section and paved trail of the volcano summit




Kilauea Iki Crater outlook




Chain of Craters Road




Mau Loa O Mauna Ulu (see the lava flow)




Views of the Ka'u coastline




Oceanside lunch




Thurston Lava Tube



June 2016
We had such a great trip with Pretty and Michael! It was definitely the highlight of our time on the big island.
June 2016
Even though it rained most of the bike ride it was still amazing! We would do it again, no questions!! :) once in a life time experiences!
May 2016
Great family activity. Our two teens loved it. Great way to see the the volcano area. Guide and driver most helpful. Felt safe and had a fun adventure
April 2016
It was a great tour for people of all ages. Pretty and Mike were excellent tour guides and my boys and I had a wonderful experience.
April 2016
Amazing experience. The tour is something any level rider can do. We had people of all ages and fitness levels. Only 2 moderate inclines, and the rest was downhill. So much fun seeing the lava tube, rainforest, and volcano. our guide Mike was fantastic!
March 2016
This was a highlight of our trip! The ride was mostly easy, with only a couple of hills. However, if you are not able to ride at least 10 miles, then you shouldn't do this tour. This is a great way to experience Volcano National Park!
February 2016
My husband and I loved this tour!! Now, we had some people tell us just to go through volcano national park on our own and skip the cost of a tour, but the tour guides are what made this tour so awesome! For starters, everything was as described: We were picked up on time, were given sufficient instruction and yummy snacks and a delicious lunch. Second, our driver/ tour guide, Pretty, was awesome! Born and raised in Hilo, Hawai'i she shared so much about the local history and especially the cultural significance of many things we saw. We would never have learned a fraction of what we did had we gone and hiked the park on our own. Mike, our bike tour leader and tour guide was awesome as well! Learned so much from him again about the local history, folk tales/religious significance of many plants and sights we saw. On the way down to lunch by the ocean, Mike showed us several slides in the car about local wildlife, about the volcanoes and lava. It was really cool. This is one of my favorite things we did while on the big island. Highly recommend for a fun trip! Also, if we were not leaving town that night, Mike recommended some great spots to see the lava glow after the sun went down and also a great hiking trail down into the crater which looked really cool. Pretty also recommended going up to the observatory at the top of Mouna Loa at night to look at the stars and see the incredible view. We will definitely do these things next time we go. So much to do and see on the big island-we loved it and we loved this tour!!
January 2016
Excellent! We were picked up on time. Tour was as described. Tour guide was fantastic. Driver was also top notch. Lunch was delicious. Weather was perfect. Views and history were beautiful and so interesting. Worth doing.
November 2015
My family and I had a wonderful time on this bike tour. My husband and I live in Oahu and we traveled to the Big Island with his parents who were visiting from out of state it was great for both those who live here and those visiting. Our guides, Nainoa and Pretty did a fantastic job!! The bike ride was paced well with excellent stops and snack/water breaks along the way, kept fun and informative by our guides, and got to see some wonderful sites of the volcano. It ended on a wonderful note, eating our lunches on previously formed lava patches overlooking the ocean.
November 2015
This was one of the highlights of our trip! The guides were great and it was a wonderful way to see the park.
Advertisement
Advertisement