Discover two things Hawaii's Big Island is famous for—java and volcanoes—on an off-road Kona Coffee and Craters Tour. Hop aboard a 6x6 all-terrain adventure vehicle for a breaktaking (and bumpy) ride up the side of Hualalai volcano. You'll pass giant craters and among both rainforest and lunar landscapes climbing 6,000 feet to explore an incredible lava tube on foot. Afterward, spend some time at one of Kona's renowned mountain coffee plantations where you'll have an opportunity to sample the local product.
Highlights
Hualalai Holoholo 6x6 adventure tour on the Big Island
Breathtaking panoramic views of the Hawaiian landscape
Explore the volcano on foot
Off-road travel up the side of Hualalai

Learn about the Big Island's distinct geology and rock formations
Why Our Insiders Chose This Tour
Ideal for adventurous nature or coffee lovers! It's a bumpy but cool ride up the Hualalai volcano in old military off-road vehicles with open sides for ample views. You get to explore a lava tube before stopping at a coffee plantation on the way home.
Recent Photos of This Tour
What You Can Expect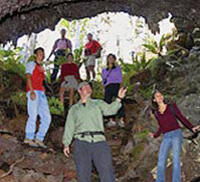 See the geologic forces which helped create the Big Island at Kaupulehu Crater, the heart of Hualalai's last eruption. Visit magnificent coastal viewpoints, see stunning lava formations, and scramble through a lava tube on foot.

Climb aboard the Hualalai Holoholo PinzTrek and head off on a Big Island off road adventure up the side of Hualalai, one of Hawaii's most fascinating natural volcanic areas. The off-road Pinzgauers carry you from sea-level through a dense rain forest to a world of volcanic majesty at 6,000 ft. (1,800 meters) of elevation on privately owned lands of Kaupulehu. Although in plain sight of Kailua-Kona, these seldom-visited uplands are seemingly geologic light-years away!

Amidst distinctive native birdsongs, this rock-rambling tour will take you through a beautiful and surreal landscape of native dryland forest, lava flows and enormous, deep craters. Your guide will also lead you, on foot, on an exploration of an impressive lava tube. In this quiet and refreshing sub-alpine climate, your guide will explain the awe-inspiring forces of volcanism and the historic eruptions that changed the landscape of the Kona Coast far below. You'll also visit a mountain coffee plantation and sip Kona coffee on the journey homeward.

This Kona Coffee and Crater tour involves a short walk of under 1 mile (1.6km), however, all participants must be able to walk on uneven terrain and make short climbs unassisted.
February 2016
Great Tour with lots of interesting facts and sights to see. Justin our tour guide was knowledgeable and friendly. We had a great time! I can't wait to go back to Kona again and take another tour with this company!! I would highly recommend this tour!
Spanish traveller Spain
April 2013
This was terrific! We had originally booked a half day trip, but Donna actually phoned me in Spain from Las Vegas to tell me that the tour was now a full day, but that Viator would make up the difference in cost, if we still wanted to take it, as it wasn't on the original day, then called me back to confirm! We did take it, and the company collected us from our hotel, which we had not expected, and took us to their office, where we picked up the off-road vehicle. The driver, Danny, was Hawaiian, and told us lots of stories about Hawaii and the various lava flows. He took us through gates to where no private cars or tour buses could go and we saw ancient craters and lava tubes. We then went to a coffee plantation, where there was plenty of coffee on offer (I don't drink coffee, but never mind!) and a nice picnic lunch was provided. Again, we had not expected this. We were shown coffee trees and how they grow, and how the coffee was extracted from the beans. We also saw a beautiful chameleon living in one of the trees. The jeep we travelled in was not too uncomfortable-I had been worried about spending all day in it, but provided you held on tight to the safety straps, it was fine. Then we were taken back to our hotel when we returned to the office. Great tour, highly recommended.
September 2012
Eugene was great! He was very knowledgable. We would take this tour all over again.
October 2010
The guide was very nice and knowledgeable. I would have liked to have spent a little more time on the vehicle as it was a fun thing to ride around on. Great tour..but a little pricey.
Advertisement
Advertisement