Discover the
Big Island's
coral reefs and Polynesian cultures on with a Kona submarine adventure and a sunset luau at Island Breeze, a 5-hour combination tour. Slip beneath the surface in an Atlantis submarine, and get an up-close look at Hawaii's thriving marine life at depths up to 100 feet (30 meters). Return to shore for a luau on the shore; experience a traditional lei greeting and imu ceremony, sip drinks from an open bar as you watch dances from across Polynesia, and sample island delicacies at a sumptuous buffet.
Highlights
Kona Submarine tour and Island Breeze Luau and Show combo
50-minute Atlantis Kona submarine tour

Unique underwater views of Hawaii's diverse marine life and coral reefs
Spectacular Island Breeze Luau and show
Lei greeting

Traditional polynesian arts and crafts
Imu ceremony and all-you-can-eat Polynesian buffet dinner
Entertaining songs and dances from across Polynesia
Exciting Samoan Fire Knife dance
What You Can Expect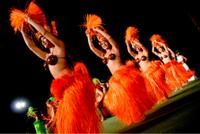 Likely to Sell-out! The Island Breeze Luau regularly sells out weeks in advance, so book ahead to avoid disappointment!

Your adventure begins with an unforgettable 50-minute Big Island submarine journey aboard an Atlantis 48-passenger submarine, as featured in National Geographic television specials. You'll explore a huge natural coral reef and its marine inhabitants! A new adventure awaits you at depths up to 100 feet (30 meters). Enjoy the view in air-conditioned comfort and safety during your Kona submarine tour.

Your evening festivities commence as the sun begins to set at King Kamehameha's Kona Beach Hotel. A traditional Lei greeting welcomes you to the spectacular Island Breeze Luau. The evening continues with photos, an open bar, Polynesian arts and crafts, and a traditional Imu ceremony.

After the all-you-can-eat buffet luau, the Island Breeze show is filled with excitement, aloha and 'ohana, (love and family). From the Fijian and Maori dances of war to the gracefulness of the Hawaiian hula hands, it's a fun-filled evening for you and your family. The daring Samoan Fire Knife dancers are a real highlight, featuring an astonishing demonstration of bravery and skill!

Special Note:
You may choose to take the Atlantis Kona Submarine and the Island Breeze Luau on the same day or separately. If you select transportation with your tour, please complete the two tours on the same day. If you do not need transportation to the two activities, you can complete the tours on separate days. The Atlantis Kona Submarine operates daily, and the Island Breeze Luau operates on Sunday, Tuesday and Thursday. At checkout, select the date of your submarine adventure and then fill in the date you want to see the Island Breeze Luau in the special requirements box.
November 2015
June 2015
I guess I was just hoping to see more volcanic activity on the helicopter tour .
April 2014
Great exciting undersea adventure, the crew and captain were great very knowledgeable and fun!
Fun for the whole family.
Anonymous
August 2008
Thanks so much for this experience. We have never been on a submarine before, and who knew it was going to be so much fun. And educational. And beautiful. Would definitely recommend this submarine tour to others.
September 2014
September 2014
Submarine was fun and saw many fish and a white tip reef shark. Looking out of the ports was hard on the neck and shoulders, but otherwise fun.
August 2014
This tour offered a variety of activities. The submarine was very entertaining and educational and good for someone who does not swim or snorkel. The luau was also good, but the show was too long to be sitting in those uncomfortable chairs.
April 2014
The staff were very gracious and provided a lot of good information. We were somewhat disappointed we didn't see more big fish, but that is just luck and has nothing to do with the tour.
The Luau was outstanding! We really enjoyed the King's arrival, tattoos and beverages. The performance by the dancers was great.
August 2011
Atlantis sub trip was very good, saw some amazing coral reef fish and dived over 2 wrecks which was very spooky! Also visitted the fish nursery where locals are trying to restock some of the more beautiful of the reef fish - Yellow Tang were everywhere! Very informative guide.
The Island Breeze Luau was also quite good. The food was excellent, but drinks expensive after your free Mohito. If its a cultural experience you're after, the Celebration of The Kings at the Fairmont Orchid is a much better and more exciting show. Overall, a good combi-tour.
Corrine B Canada
August 2012
Split my review into two:
Submarine:
Honestly as an adult that spent most of my trip snorkeling the reefs this was not the most entertaining experience. I am unable to scuba anymore for health reasons so it was cool to get lower and see some wreaks but it's not a LOT different than a simple snorkel if your ok diving down. The kids seemed to love it. My fiance is the reason we took the sub and he was amoung the excited kids because he'd never been in a sub (I have... so it's not as novel)
The luau:
The luau is entertaining for sure and you will need to see one from some location. I choose island breeze because of the vegetarian dish they offer in addition to the buffet. The pasta dish I got was alright but not special but with that along with some menu items I was fairly satisfied. Most traditional hawaii food is not vegetarian, so from that perspective it's not a buffet of cool things for a veggie but it is for a meat lover. They do lift the pig out of the pit at this one (I guess not all do). Drink are alcoholic but don't taste good.
Note:
There is another tier of seating at the luau that allow you to get vip access, more entertainment and the best seats. Buying from viator will not get you this access or allow for an upgrade - you'll have to buy your luau elsewhere or some the hotel or something. I'm not sure the cost of that, but I would have liked to have better seats as we were way in the back corner and that made it hard to see the dancing or get any pictures.
Advertisement
Advertisement