Discover two of Kona's most popular attractions at one great price! Explore Hawaii's ocean world aboard a Big Island submarine, then experience Hawaiian culture at the popular Royal Kona Resort Luau. Great food, dazzling dance and music performances, and the spirit of aloha at its very best!
Highlights
Big Island Submarine Adventure and Voyagers of the Pacific and Revue combo
Atlantis Submarine Dive
Unique underwater views of Hawaii's amazing marine life and coral reefs
Professional narration
Spectacular Luau and Voyagers of the Pacific show
Traditional Imu ceremony and all-you-can-eat Polynesian buffet dinner
Entertaining songs and dances from across Polynesia
Exciting Samoan Fire Knife dance
Recent Photos of This Tour
Best Kona Submarine Adventure and Royal Kona Resort Luau
What You Can Expect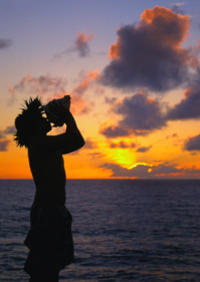 Likely to Sell-out! The Royal Kona Resort Luau regularly sells out weeks in advance, so book ahead to avoid disappointment!

Your submarine tour Kona adventure takes you on an unforgettable 50-minute journey aboard an Atlantis 48-passenger submarine, as featured in National Geographic television specials. You'll explore a huge natural coral reef and its marine inhabitants! A new adventure awaits you at depths up to 100 feet (30 meters). Enjoy the view in air-conditioned comfort and safety aboard a Big Island submarine.

As the majestic island sun begins to set, you'll join in the fun at the Royal Kona Resort for a spectacular evening at the Voyagers of the Pacific Luau and Revue. This exciting traditional Polynesian luau is held in the resort's oceanfront coconut grove and includes a traditional shell lei greeting, torch lighting and Imu Ceremony. There's an open bar while you enjoy Kailua-Kona's premier all-you-can-eat Polynesian buffet.

Following the island-style feast, be entertained by the cast of musicians and dancers as they take you on a fast-paced journey through the South Pacific Islands. Their show includes songs and dances rarely seen in typical luau shows and is highlighted by the Samoan Fire Knife dance. The performance alone will keep you talking for months!
November 2015
My grandchildren were enchanted!
October 2015
The views were great. The crew was able to move the sub so that both sides would get view's of special places on the ocean floor.
March 2015
This was a very fun activity and appeals to all ages. Cody was our guide and he was very informative of the marine life as well as the ocean itself. We enjoyed the submarine more than the Luau but the Luau provided a pleasant insight to the Hawaiian culture.
April 2014
My husband expected this tour to be kind of cheesy but went along to please me. He admitted this after the trip and expressed how surprised and pleased he was with it. He said it was the highlight of his trip! As for me, I loved it! The guide (Samantha?) was very knowledgeable. It was well worth the money especially paired with the luau.
March 2014
January 2013
A very exhilerating and educational Adventure for all ages!!
August 2012
niallsmum Australia
September 2011
Submarine trip on Wednesday was rescheduled due to heavy swells. Atlantis staff texted before 9am to arrange new day if possible, we did it on Friday instead, and so the Luau voucher was faxed direct to Royal Kona for collection at 5pm.
Luau was absolutely fantastic, professional set-up, great band, amazing dancers including the fire-dancer as the finale, excellent food, coffee and open bar! (soda, juice, beer, spirits and Meitai) Throughly enjoyed by all, especially the kids. Parking at luau was just $3, or there is free parking about 5minutes walk away. Photographer takes a group shot on entry, which is available for purchase after an hour for $20.
Atlantis Submarine tour was well organised and safe. Photographer takes group shot before going out on the boat shuttle to the sub, and photos are available for $20 on return to boat, this includes a CD with your photo and images of fish etc from previous dives. The submarine went to depth of 100ft and included going around a shipwreck. We saw all sorts of fish and coral, including an eel "Elvis" and a barracuda. Optional purchase of the dive-log ($1) was well worth it as the kids spent lots of time ticking the boxes of the fish they had seen. Tour is narrated by one of the staff (not pre-recorded) and so he was able to tell us exactly what we could see and answer any questions.
Highly recommend doing both tours !!
Donald H USA
January 2009
The submarine staff was very nice and helpful. Viewing the ocean bottom was interesting and fun. Enjoy every bit of the view. The Royal Kona Resort Luau was so much fun. I would suggest this luau to everyone. The entertainment was great, food was good, and the environment was wonderful. Definitely would do this again!!!!
February 2016
A MUST DO! I only rated it a 4 because of what you see compared to the Atlantis in the Cayman. I will however give it a 5 based on the crew being much more entertaining than the crew in the Caymans. If you've never been on a submarine before this trip is definately a 5 for you!
Advertisement
Advertisement