Take an evening swim with the manta rays on this 1.5-hour snorkeling tour from Kona. Led by an expert guide, you'll venture five minutes off the west coast where the mantas come for plankton. Hop in with these gentle creatures as you swim side-by-side in the warm waters, lit by the vessel's diving lights. Afterward, dry off and enjoy warm soup, bread rolls and hot drinks as you recount your underwater adventure.
Highlights
Hop aboard and experience the popular Kona manta ray snorkel
The manta ray night snorkel was voted "one of the top 10 things to do in your life" by the Travel Channel
Snorkel next to these gentle giants and watch as they feed on plankton
Recent Photos of This Tour
What You Can Expect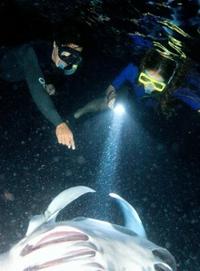 Hop aboard your vessel with your guide and journey out to the manta site. Although these creatures are visible during the day, they remain most active at night, feeding on the plankton that rises to the ocean's surface. When you reach the spot, snap on the last of your snorkel gear and jump in.

The dive lights of the vessel are safe for the manta rays, and allow better visibility for your evening dip. These creatures are extremely gentle and don't have stingers, teeth or barbs. As you swim alongside them in the water, you'll be able to see how truly big they are, featuring wingspans up to 15 feet (4.5 meters) wide.

After your night snorkeling, dry off and enjoy a helping of soup and a hot drink. You will return to your original departure point when the tour concludes.

May 2016
Awesome experience!! Had to wait a little while in the water fro the mantas to show up, but when they did it was wonderful. We had 2 different ones swim directly under and in front of us. Our tour also had the unexpected bonus of a pod of wild dolphins showing up and swimming and jumping right next to our boat.

April 2016
The Manta Ray Night Snorkel with Fairwinds was a once in a lifetime experience. Everyone should do this. There were 5 or 6 boats out there from other companies and it was obvious that ours was the best prepared and had the best equipment and crew. Two women we talked to on our trip said they had gone before with a different company and this was so much better. I recommend it. Even my husband, who is not a snorkeler, loved it!
January 2016
December 2015
This is one of the best things I have ever done. So cool to be this close to these majestic animals. If I was only able to do one excursion, this would be the one!
November 2015
This was truely the most amazing experience we have had on our trip. I have a fear of swimming in the ocean but this was wonderful, the crew are really good and help you . We were very lucky to see half a dozen Manta Ray and yes they come close very close to you. But wow. The only down side was their video person was away . So I took my camera in cheap one got some shots - but would of loved their one . But we still would recommend them.
October 2015
Best ever experience, crew were excellent, knowledgable
September 2015
Awesome. Exceeded expectations. Fantastic crew and amazing sights.
September 2015
This is a must do. Being within inches of these big, beautiful and graceful ocean creatures is truly a thrill. We watched two Mantas perform what looked like a ballet as they mirrored each other in the water before our faces. Captain Dave and his crew were wonderful hosts and guides - the hot soup and hot chocolate after the snorkel was a welcomed treat. I highly recommend this activity. Also, I would suggest a dose of Gravol prior to your outing if you are motion sensitive being sea sick would spoil your fun.

August 2015
This was an incredible experience, but unfortunately we only saw one manta ray. Hopefully when we return we have a bit more luck.
July 2015
Advertisement
Advertisement