Experience big skies and incredible nighttime views on this Mauna Kea stargazing trip with a small group. Join no more than 12 guests for a pre-trip picnic at the historic Parker Ranch, proceeding by 4x4 luxury van to the summit of the Big Island's tallest peak. After admiring an incredible sunset view, continue down to 9,000 feet (2,743 meters) for a fun, informative stargazing session, complete with a telescope, hot chocolate and macadamia-nut cookies. The trip also includes a guide and a hooded parka to keep you warm.
Highlights
8-hour Manua Kea stargazing tour on Hawaii
Enjoy a private star-gazing show through telescopes at the Mauna Kea Observatory

Learn about the history, culture and ecology of Hawaii as you enjoy the sunset and gaze at the stars
Indulge in a picnic dinner at a historical ranch
Small-group tour limited to 12 participants, ensuring a personalized and unique experience with a naturalist guide

Why Our Insiders Chose This Tour
Ride to the Mauna Kea summit in comfort and safety aboard a specially equipped 4x4 van, and gain access to parts of the Big Island that most travelers will never see!
Recent Photos of This Tour
Mauna Kea Summit and Stars Small Group Adventure Tour
What You Can Expect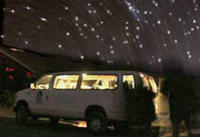 View a spectacular sunset from the top of Mauna Kea and enjoy a unique stargazing experience on this Big Island adventure tour. After pickup from a central location in Kona, you'll travel through Hawaii's historical Parker Ranch in a 4x4 luxury van to Mauna Kea summit.
Enjoy a hot, picnic-style dinner (see sample menu below) at a Hawaiian ranch where you're provided with a warm, hooded parka. Then prepare to make the climb to the top of Mauna Kea, learning about
the Big Island's cultural, natural and ecological history from your naturalist guide en route to Mauna Kea Observatory.
From the summit, enjoy views of Mauna Loa and see Maui's volcano, Haleakala, along with other special points of interest. Stand among some of the earth's most powerful telescopes at the Mauna Kea Observatory as you enjoy the once-in-a-lifetime sunset view.
After sunset, travel to the Mauna Kea Visitor Station at 9,000 feet (2,743 meters), where your guide sets up a telescope for a personal, entertaining and educational star party. Learn how Mauna Kea's unique geography draws scientists from all over the world to study the heavens, and also allows for incredible nighttime views of the stars.
Enjoy hot beverages and chocolate macadamia nut cookies as your guide gives a personal astronomy lesson before your return to Kona.
Picnic Dinner Menu (please specify at booking):
Hot Entrée Option
Barbecue chicken with mild Korean BBQ chili sauce (served hot)
Warm homemade cornbread
Cole slaw with blond raisins
Cold Vegetarian Entrée Option
Vegetarian Spinach Wrap (served cold)
(Wrap includes: hummus, lettuce, tofu, cucumber, tomato, carrot, avocado, bell peppers and tomatoes served with a side of sesame soy dressing)
Gluten-Free Option
Grilled chicken breast with lemon garnish (served hot)
Dessert

June 2016
Exhilarating!! One of the BEST things we've ever done by far! We were well prepared for this by Hawaii Forest and Trail and they even called the day before. Our tour guide Maka, was extremely knowledgeable and entertaining. The drive up was fun as he invited each of us to ask him a question. We stopped half-way for a decent dinner so we could acclimate to the elevation too. He even stopped again at 10,000 ft -- above the clouds -- so we could take photos! The Summit was amazing with all the telescopes. Freezing - 28 degrees!! We were dressed right and they gave us parkas and gloves too. After we watched the sunset, Maka took us back down to a private place along the road not the crowded observation level where he gave us an amazing astronomy lesson and viewing with his telescope as we enjoyed hot chocolate and brownies. The road was very rough going up and very dark coming down, so I would NOT recommend trying this yourself unless you're experienced and have a 4-wheel drive vehicle. Overall an experience I will remember forever! I cannot recommend this tour enough -- do it! You'll never regret it! :
May 2016
Fantastic tour, great sunset and the stars just unbelievable
Great tour guide
April 2016
EVERYONE REALLY ENJOYED THE TOUR..FOR WHAT IT WAS...THE GUIDE DID A SUPER JOB EXPLAINING EVERYTHING....
.I WAS VERY, VERY, DISAPPOINTED THAT THEY NEVER GOT TO ENTER THE BUILDINGS TO SEE THROUGH THE TELESCOPES...THAT IS THE IMPRESSION I WAS GIVEN WHEN I SPENT 1,300.00 ON A GREAT TOUR THAT INCLUDED THE OBSERVATORY BUILDING BEING ENTERED and THEN GETTING TO LOOK THROUGH THEIR HUGH TELESCOPES....JANET HILL
April 2016
Very impressive! fantastic guide, highly redommended!
April 2016
Enjoyed the views on this tour while the tour guide did the driving!
December 2015
Incredible! Informative guides. A must do. There was plenty of time at the summit. So many stars in the sky. Everyone had time looking through the telescope
December 2015
not to be missed. Spectacular! Well informed guide. Delicious dinner!
December 2015
December 2015
The tour was well run and enjoyable.
December 2015
We did a bunch of tours while on the big island helicopter trip, snorkeling, swimming with dolphins, national part, but this Mauna Kea trip was the best of all of them. Our guide Maka was AMAZING!!! I would highly recommend this trip to anyone going to the island.
Advertisement
Advertisement