You'll never forget the thrill of standing up and riding your very first wave, and the entire experience is made even better when shared with family or friends. With the small-group surf lesson on the Big Island of Hawaii, allow an expert, local instructor to teach you the basics of surfing, from the proper method of paddling out to how to stand up on the wave. Here in the waters of Kahalu'u Bay, your instructor will be there right by your side with tips and helpful suggestions — and may even assist with a little push to get you up and riding.
Highlights
2-hour Big Island surfing lesson in Kona
Learn how to surf Hawaii's famous waves safely with a knowledgeable instructor
Enjoy personalized attention tailored to your skill level in a group limited to either two or three people
Practice the basics like popping up on dry land, then enter the water to put your new skills to use
Surfboard, reef booties and rash guard provided
Why Our Insiders Chose This Tour
Lessons feature either a 2-to-1 or 3-to-1 student-to-instructor ratio, offering a personalized experience that can be tailored to your skill level.
What You Can Expect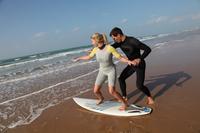 Your Kona surf lesson begins near Kahalu'u Bay, where you'll meet your expert, local instructor at a surf shop across the street. Here you'll begin by selecting a board and getting fitted for booties and a rash guard, which help protect your feet from the rocks and your skin from the tropical sun.
Once you're set up with all your gear, head towards the waters of Kahalu'u Bay where you'll learn some techniques on the sand, which include paddling, positioning, safety, etiquette and ways to select the best waves. You'll even learn the proper way of what to do if you fall.
Next, strap on your leash and grab your board for the water part of your adventure, where you'll slowly paddle out towards the waves with your instructor right by your side. Because this surf lesson is for small groups of only two or three people, you're ensured the instruction is highly personalized and you'll maximize your time in the water.
If you've surfed before, but still need some additional instruction on riding the face of the wave, the instructor can tailor the lesson around your specific set of skills. Beginners will stick with the smaller waves on the inside section of reef, whereas experienced surfers might venture farther out to the larger, more powerful waves.
Either way, whatever your skill set or experience with surfing, this 2-hour Kona surfing lesson is one of the best activities on the Big Island, where the sun, salt and splash of the waves combine to create an outdoor adventure that travelers of all ages can enjoy.
June 2015
My 18 year old daughter did this lesson and she said it was her most favorite thing she did during our trip. The instructor was very very good, she got up in no time and the smile on her face was there for 2 hours. He was patient, responsible and the perfect person to do instruction. The waves were small enough but perfect for learning there is a place under trees by a tiny church to sit and video or watch from. Best experience ever.
April 2015
These instructors were fabulous. So glad we did this. the area and waves seemed great for beginners. The instructors were very patient, encouraging and fun. Would definitely recommend this.
July 2015
Maybe it was just that the waves were not big enough but there were few in our group that did any actual surfing. The day was beautiful and the event enjoyable but didn't feel like I got the surfing out of it.
Advertisement
Advertisement