This two-tank Big Island scuba dive is for experienced, certified divers, who are looking to log bottom time at some of the Big Island's best and most colorful dive spots. The tour departs from Waikoloa Beach, and features two dives that range in length from 30-45 minutes. Given the current ocean conditions, your captain will choose the best locations for your two-tank Big Island scuba dive, and a third of the marine life you'll encounter on this tour is endemic to here in Hawaii.
Highlights
2-tank scuba diving tour from Waikoloa Beach

Enjoy two dives off the coast of the Big Island
Spend up to 90 minutes underwater exploring the various Hawaiian marine life, such as lionfish, eel, coral, lobster and puffer fish
Two certified instructors will be with you, providing diving tips and telling you what you can expect to see
More than 30% of what you'll see underwater is unique to Hawaii!
Small-group experience is limited to 10 divers, allowing for more guide interaction
What You Can Expect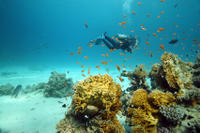 Your Big Island scuba dive begins on the sands of Waikoloa Beach, where you'll board the dive boat and embark on a journey along the Kohala Coast. You'll be fitted with all of the necessary equipment such as BC, regulator, and weights, and since trips are capped at only 10 people, you're ensured a safe and personalized experience for exploring beneath the waves.
As you hook up your tank and prepare for the dive, the captain will steer the boat in the direction of the site with the best conditions for diving. In winter, keep an eye out for humpback whales while you enjoy the cruise to the dive site, and there's even the chance your entire dive could take place to the soundtrack of whale song.
On this Big Island two-tank scuba dive tour, possible dive sites include:
Garden Eel Cove: A steady descent that finishes in a sand channel full of curious garden eels.




High Rock: A huge underwater ridge that rises to within 9 feet (3m) of the water's surface




Anglers: An underwater archway that's known for its large population of colorful Lionfish




Bandit Ledge: An abundant amount of cauliflower coral spread out over multiple ridges




North Golden Arches: An underwater arch that's surrounded by coral with a wealth of endemic marine life




South Golden Arches: A large rock arch that springs from the sand that 's surrounded by coral and marine life




Kaloko Arches: The main feature is the underwater architecture with arches, sea caves, and pinnacles




Harlequin: A classic deep dive where it's common to spot enormous schools of fish




Eel Cove: A steep drop off towards an exciting deep dive




Turtle Pinnacle: As the name suggests, one of the best places on the Kohala Coast to go diving with Hawaiian green sea turtles




West Kaiwi: A spectacular dive site that's laden with fish, as well as colorful corals




Thunder Reef: A great spot to view pelagic animals that reside at deeper depths



Advertisement
Advertisement