Explore the spectacular and sacred sites of the Basque country on an enriching full-day excursion from Bilbao. Visit grand ecclesiastical structures like the Sanctuary of Loyola to attend an enlightening prayer ceremony; discover the quaint fishing villages that pepper the coastline to see why Bilbao residents favor them for their summer sojourns; and tour the stunning sights of the city of San Sebastian with an accomplished guide. Convenient round-trip transportation from your Bilbao hotel is included in this tour.
Highlights
Visit Loyola, Getaria, Zarauz and San Sebastian from Bilbao

Discover the basilica and the tower house in Sanctuary of Loyola, hometown of the founder of the Jesuits

Drink healing water in Zestoa - you never know!

Stop in the magnificent little fishing village Getaria

Relax at the beach of Zarautz

Explore San Sebastian on a panoramic tour and walking tour through the beautiful old quarter

What You Can Expect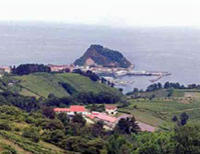 Depart from your centrally located hotel in Bilbao and climb aboard a comfortable air-conditioned minivan. Enjoy the spectacular scenery as you venture into the rural province of Gipuzkoa, noting the contrast industrial villages make with verdant valleys. Arrive at the picturesque Sanctuary of Loyola, a provincial gem home to the Saint Ignatius of Loyola; visit the beautiful Basilica and his former home before departing for the next destination.
Follow the winding coastal road and pass through the village of Zestoa, an enclave famed for the medicinal qualities of its waters. Reach Getaria and disembark the minivan to explore the impressive monuments of the medieval fishing village, which was home to famous figures such as Juan Sebastian Elcano (the first man to travel the world by sea) and designer Cristobal Balendiaga.
Next, admire the blissful beachfront views of Zarauz on the way to the city of San Sebastian. Accompanied by your knowledgeable guide, complete a panoramic tour of the city in order to gain insight into its culture and history; wander the charming old quarter and visit significant sights before returning to Bilbao in the early evening.
August 2015
Tour was great. Pedro was the most awesome, helpful, and friendly tour guide we've ever had. He made the tour fun and entertaining. He took the time to explain everything and gave us ample time to fully enjoy all the places we were visiting, and take plenty of photos. He answered all of our questions. The Basque Country is an amazing place. The landscape is breathtaking and the culture is unique. We learned a lot about the Basque history and culture, and its cuisine. Would highly recommend this tour.
August 2015
Un poco largo el recorrido del sanctuario, muy bien todo en general. Pedro el Guia trabaja con mucha dedicacion.

July 2015
This tour was a totally enjoyable day, made consistently intriguing by Pedro who's just a superb guide. Thanks!
June 2015
Fantastic trip for anyone short on time. Our guide Pedro is very proud and passionate about the history, preserving the language and sharing the beauty of this area. Definitely would live to come back to see more!
June 2015
excellent, tour was very good . Pedro the guide made the trip incredible,
December 2014
The tour was great. We saw things we never would have seen during a limited time in northern Spain, and the tour guide, Gary, was fantastic. I would recommend this tour for anyone seeking to leverage a lot of experiences into a single day.
October 2014
Excellent Tour! Enjoyed it very much since it was a great overview of that part of the Basque country. Our guide Garai is worth his weight in gold. Professional, knowledgeable and also ready to answer any and all questions. My 85 year old mother loved it too! Would do it again!
October 2014
Fantastic, far exceeded our expectation. Our tour guide Garry was super, highly knowlegeable. It was interesting listening how he described each sites so well.
We highly recommend this tour. We will do it again.
As for our tour guide Gary. on the scale of 1 to 5 we give him a 6
August 2014
perfect guide, excellent explanation and a impressive tour.
June 2014
My husband and I very much enjoyed our tour of San Sebastian and surrounding areas. It was lovely only being 3 of us on this tour and being driven around in a BMW wagon. Our tour guide Garry really made it a very special and personal day for us. he was so knowledgeable and warm and friendly. We particularly loved San Sebastian and the beautiful beach there. Mu husband really enjoyed seeing all the history live he has studied. Thank you so very much.
Advertisement
Advertisement