Treat your body like the temple it is with a 1.5-hour Turkish bath experience at a hammam in Bodrum. This refreshing hammam experience starts with a soothing sauna on a heated stone, follows with a healthy scrub and exfoliation, a purifying body and hair wash and ends with a calming oil massage. A traditional recipe to invigorate your body, this hammam will restore your skin and promote healthy blood circulation. Experience firsthand why hammams are renown for their health benefits and a great way to begin or end a holiday.
Highlights
1.5-hour Turkish baths experience in Bodrum with hotel pickup and drop-off
Pamper yourself with a cleansing session inside one of Bodrum's traditional hammams
Relax on the hot gobek tasi stone to encourage your body to sweat and release any toxins
Have an exfoliating loofah rub, followed by an oil massage as well as a hair and body wash
Enjoy free time at the end of the session to relax in the lounge with a drink, if you wish
Choose from a selection of experience times to suit your schedule
What You Can Expect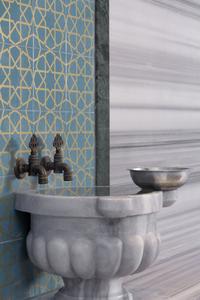 Select a time that fits with your schedule and enjoy a pickup at your hotel for a 1.5-hour Bodrum Turkish bath experience. Then, relax as you cruise to your hammam to spoil and unwind your body. Arrive and enter the baths where you will be led to a changing room. Slip into your swimsuit, put on your own peştamal (Turkish cotton bathrobe), and tuck your belongings into your locker. Now you're ready to relax, head into the baths area and lay down on the gobek tasi (elevated platform) that's in the center of the floor. Let the heat of the stone pull impurities from your skin for about 20 minutes before you douse yourself in warm water at one of the bathing tubs in the room.
Next, perspire the rest the junk from your body inside a steamy chamber. Then, sit back during an exfoliation from a bath attendant who will scrub you all over with a loofah glove. Afterward, lie down and enjoy a soft and soapy body buff that removes the rest of your dead skin. The pushing, pulling and wringing of your skin not only invigorates your pores, but is well-documented to increase blood circulation for general wellness.
But the fun isn't over yet, savor a head rub hair wash (you're welcome to bring your own shampoo) that will leave you in a state of bliss. Dry off with a fresh towel and then chill in the lounge with a beverage (own expense). When it's time to go, get dressed in the locker room and exit the baths to rendezvous with your driver.
End your Bodrum hammam experience with a return trip to your hotel.
Special note: Starting your trip with the hammam experience is the best way to prep your body for a Bodrum tan.
September 2014
Had to wait 45 minutes to be picked up from the hotel - the minibus driver had driven by twice, but hadn't made it clear who he was there to pick up!
Once we arrived, we were told that what we paid for online was just the entrance fee and the very basic sauna and scrub - not the oil massage as I had been lead to believe from the information given on the website, so we had to pay an extra 50 Turkish Lira per person. The website is very misleading!!
The actual experience of the Turkish bath and massage was great though and left us feeling relaxed and with lovely soft skin.
I would recommend the doing the Turkish bath, but be really careful that you know exactly what you are paying for!!
Marcia G USA
May 2016
July 2015
Absolutely rubbish. Hotel pick up was 40min. late and I had to call 3 times whats going on. Operator was rude and impolite , she was talking to me like I am some kind of rubbish.
Finally when minibus came, he just drove me to the next street. I was practically, 4 min. walking distance from spa. So it was not in Bodrum, how you are promising on your website, but it was in Gumbet. After arrival I had to pay another 11 for body oil massage, because they told me I bought just basic spa experiences. Which is not true, because on your website is written exfoliating loofah rub, followed by an oil massage... So someone is not telling the true.
You also promised heated gobek tasi , but I just could dream about that, because there was only ordinary sauna, which I can visit every day in UK. And after sauna I just feel like calf waiting to be slaughter, that is how you feel there. Waiting in the room with another 20 people, who was jumping the queue, waiting for marvelous exfoliating loofah rub. Whole procedure of loofah rub took max.5 min. and for that I have been waiting in queue about 30-35min. Absolutely joke.
I am so disappointed, and I am just wondering if you know what are you selling exactly. That was not worth of money at all.
June 2015
This was the most disappointing of the three trips I booked for us in Turkey. It was very rushed and cost extra when we arrived there. I would not recommend it.
Advertisement
Advertisement