Discover the best of Bogotá's tourist attractions, covering its most famous neighborhoods, museums and sights on this tour with optional 5-hour or 8-hour itineraries. Explore the cobblestoned streets of the La Candelaria neighborhood, see the city's historic district and La Catedral Primera (Prime Cathedra), view gold artifacts at the famed Museo de Oro and take a cable car to the famous Mount Monserrate. Your trip also includes a guide, hotel pickup and drop-off, entrance fees and lunch (with the 8-hour tour option).
Highlights
Sightseeing tour of Bogotá

Learn about the history of Colombia's capital from your professional guide

See the Capitolio Nacional, La Candelaria, and Museo de Botero

Take the 5-hour tour and also visit the Museo de Oro, Teatro Colón and Mt Monserrate

Choose the 8-hour tour to include lunch and stops at Quinta de Bolívar

Complimentary hotel pickup and drop-off included

Recent Photos of This Tour
Bogotá City Sightseeing Tour with Optional Lunch and Cable Car Ride
What You Can Expect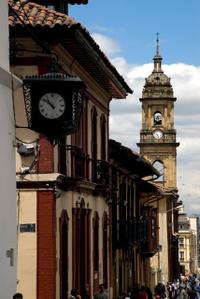 Get a taste for the best the Colombian capital has to offer on this city tour that's chock-full of history, culture and stunning sights. Whether you're interested in colonial architecture, history, art or simply looking for great views, this tour is sure to delight.
Your day begins with pickup at 8:30am from your Bogotá hotel and heads first to the atmospheric neighborhood of La Candelaria. This historic neighborhood, bursting with colorful facades, ornate ironwork and interesting buildings, is perfect for photographers and architecture-lovers.
From there, proceed with your guide to the Plaza de Bolívar (Bolívar Plaza) to take in some of the city's most famous historic structures surrounding the square, including La Catedral Primera and the Capitolio Nacional (National Capitol). Then head over to the Museo de Botero, where you'll see 100+ pieces of artwork by Colombian artist Francisco Botero, along with paintings from numerous other artists from around the world.
Depending on whether you've selected the 5-hour or 8-hour tour option, your day will also include the following:
5-hour tour:
In addition to all of the sights mentioned above, this tour will make a stop at Bogotá's incredible Museo de Oro, home to one of the world's largest collections of Pre-Columbian gold objects. Finish your tour with a visit by cable car to the sky-high environs of Mount Monserrate, a peaceful religious pilgrimage site set in the mountains above Bogotá. Take in breathtaking views and grab a few photos before heading down the mountain for a drop-off back at your hotel.
8-hour tour:
Experience the best of Bogotá's attractions on this 8-hour sightseeing trip, which includes all of the visits in the 5-hour option above plus an authentic Colombian lunch, a look at Quinta de Bolívar (home of the famous Simon Bolívar) and stops in additional city neighborhoods. Proceed the northern edge of the city to see the capital's financial district, along with the Parque 93 area and its slick International Center. Finish your Bogotá exploration with a stop in the neighborhood of Usaqén, another colonial gem that is now populated by countless bars and restaurants. Conclude your tour with drop-off back at your Bogotá hotel.
June 2016
I booked the full-day tour of Bogota because I had a limited amount of time in the city but wanted a thorough exposure as much as you can get in one day without feeling rushed. Fabian arrived on schedule at my hotel. He asked if I had any specific interests and said that he could be flexible based on what I wanted to do. I told him that I wanted to see Monserrate, the Quinta de Bolivar, the gold museum and La Candelaria. I also told him that I was interested in the author Gabriel Garcia Marquez who had spent time and worked in Bogota for the local paper for a period. Fabian was very personable and knowledgeable about a variety of subjects, including my interests, and we had a great day together discussing various topics. We started at Monserrate which was not crowded at that time in the morning which saved us having to wait in line for the funicular. He shared his knowledge and pointed out some very interesting things throughout the day that made this tour well worth it to me. We stopped at a local restaurant for lunch before leaving La Candelaria to head north and that was a great choice as well.
June 2016
Great tour! You see a lot of Bogota in a short time and the view from Mount Monserrate is beautiful.
May 2016
Fernando was an excellent guide - he gave us a great overview of Bogota with enough insight to really understand the history and culture of this great city!
April 2016
The guide, Emilio, and the driver, Juan David, were fantastic. The guide spoke excellent English and also spoke in Spanish, as we were trying to practice. He not only gave us a thorough explanation and interesting details on all of the sights, he engaged us in conversations about Colombian history, culture, food, etc. We had been to Bogota before, but the sights seemed new to us with all of the additional explanation and context. He offered us little experiences along the way, like finding us the best Ajiaco and Chicha along the way. Emilio was excellent at suggesting little breaks along the way to keep our legs fresh. It was a jam-packed day, but it was an excellent tour, and I would highly recommend it! The whole family loved it.
February 2016
Very nice way to see Bogota with a very informative guide
January 2016
Great guide,knowledgable passionate about bogota,insightful and really interesting.one of the best tours I have ever done
December 2015
Angela Suarez was an amazing guide. She is warm, engaging, very knowledgeable, professional and her command of the English language is superb. We had booked the 5 hour tour and Angela stayed with us for over 7 hours. I think we saw more of Bogota in one day than most people would see in 3 days. Angela also assisted us with purchasing bus tickets to Villa de Leyva and drove us to the airport on our final day. She is amazing and I would suggest asking for her to be your guide.
November 2015
Excellent guide--great English and informative.
November 2015
October 2015
Advertisement
Advertisement