Saddle up your steed for a ride among the stunning countryside near Bogotá on this 5-hour horse riding adventure. During your ride you'll traverse the scenic Cerros Orientales (East Hills), check out the San Rafael Dam and keep an eye peeled for native Colombian flora and fauna along the way. This family-friendly horseback ride is great for those of all experience levels and also includes a guide, lunch, round-trip transport from your hotel and all necessary equipment.
Highlights
Horseback-riding tour from Bogotá

Discover Bogotá's natural beauty on horseback with your expert guide

See San Rafael Dam and admire breathtaking views of Bogotá from the Cerros Orientales

Complimentary hotel pickup and drop-off

What You Can Expect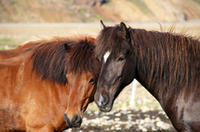 Traverse the majestic natural environment near Bogotá on horseback during this 5-hour ride through the Cerros Orientales (East Hills) near the Colombian capital. This family-friendly ride offers a great chance to get up close and personal with the unique plants, animals and scenery of the Colombian outdoors.
Start the day with pickup at your hotel in the morning before heading to the horse stable for a brief safety lesson and overview of your horseback trip. Then mount up and head into the hillsides with your group and guide. The winding trails of this unique outdoor area, sitting an elevation of 11,000 feet (3,500m) will provide ample opportunities to spot local wildlife, including numerous species of birds, insects and reptiles.
Soon you'll pass the San Rafael Dam, a structure that is responsible for around 70% of Bogotá's drinking water. The area also boasts some impressive views, offering panoramic vistas of the greater metropolitan area down below. At the conclusion of your ride, head back into the stables for a hearty lunch of Colombian favorites before proceeding back to Bogotá for drop off at your hotel.
February 2015
WARNING: Not suitable for people inexperienced with riding horses! Steep inclines and uneven terrain with sharp rocks everywhere. I've gone riding a dozen times but this was the first time I've gotten thrown off a horse. That being said, this was a relly cool tour and the places we saw were amazing!
April 2013
While the shortened experience we had was nice, I could not honestly recommend this to other travels. First, the description of this horseback riding adventure is highly inaccurate. 1) The departure time states 9:30 a.m. Because we had to confirm pickup details, we called the local provider who informed us she would pick us up at 8 a.m. 2) The description states that the activity is perfect for beginners and that there would be a brief overview and safety training. We basically showed up and our guides helped us up on the horses. My partner has experience riding, but I didn't. My partner rather than the guides had to teach me how to ride a horse. 3) A short while into the tour, one of the guides received a call on his cell phone that instructed him to bring us in after 2 hours. I understand that the total approximate time of 4 hours can vary, but we were intentionally cut short because our driver said she had another client to pick up in the afternoon and she had to leave early. Moreover, when we returned after our short ride, there was already another group waiting to be taken on a tour, which made us feel like they were rushing us in order to accommodate that group. Conclusion: Again, the actual riding time we had was nice although not what we expected. There was no actual tour guide experience, and we just quietly followed the guides as they led us around the trails. At times it was a really scary experience as I hadn't received any basic training. I am most displeased, however, in how the local provider forcibly shortened our experience when we had paid for the full experience. If they were not able to accommodate us for the entire experience, we would have simply chosen to visit on a day when it was available. I hope future Viator users will not be conned into this activity, and I certainly will not be using Viator for my future travels.
Advertisement
Advertisement