Hop aboard a vintage steam train to admire the beautiful Colombian landscape on this 9-hour journey to the scenic town of Zipaquirá, with round-trip locomotive journey from Bogotá. Start with a relaxing train ride, taking in majestic views of the Colombian landscape along the way. Then spend a few hours on your own exploring the town of Zipaquirá, famous for its salt cathedral, and nearby Cajicá, an idyllic Colombian village, before returning by train to Bogotá. Your excursion includes a train ticket and round-trip transportation from hotels in Bogotá.
Highlights
Round-trip steam train ride from Bogota
See the scenic savannah landscape surrounding Bogotá on the relaxing train journey
Enjoy free time in the towns of Zipaquirá and Cajicá to explore on your own
Visit the famous Salt Cathedral of Zipaquirá if you wish (own expense)
Complimentary hotel pickup and drop-off

Recent Photos of This Tour
What You Can Expect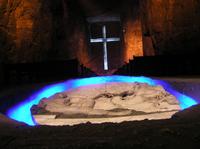 It's time to climb 'all aboard!' for a relaxing ride by vintage locomotive from Bogotá to the Colombian town of Zipaquirá. Whether you're a train-lover, or simply looking for a chance to observe Colombian life outside the big city, this 9-hour excursion offers the perfect escape.
Start your trip with pickup at 8:30am from your Bogotá hotel, heading on to the city's La Sabana station, where you'll board the historic train for your trip to Zipaquirá. As you chug out of the station, enjoy a serenade of Colombian music from the onboard band, or grab a snack at your own expense from the train's snack bar. During your 3-hour ride, spend some time gazing out the window at the sublime landscape of the Bogotá savannah, stretching to the horizon and beyond.
Before you know it, your train has pulled into Zipaquirá, where you'll have an hour to explore on your own. Many visitors head to the city's renowned salt cathedral, a stunning underground religious building carved from 250,000 tons of salt, which you can check out at your own expense.
After your one-hour stop in Zipaquirá, hop back on the train for the ride to Cajicá, where you can spend some time browsing the city's intriguing shops or enjoy a mouth-watering lunch of authentic Colombian specialties.
Then climb back on your steam-powered train for one last ride back to Bogotá, winding its way through the beautiful landscape of Colombia. Upon arriving at the station, receive a drop-off back at your hotel.
February 2014
This was a wonderful outing, but because we were staying so near the station of Usaquen, we saw our 'guide' for five minutes at the beginning and end of the day. Also, he spoke no English which made communication difficult. You must have made a lot of money on our booking!
TravelerD USA
December 2013
A very good opportunity to see the Colombian countryside. Zipaquira was a very interesting city. It was also very interesting to see the Salt Cathedral as this is one of the most popular tourist sites in Colombia. However, be aware that although it is called a "tourist" train, most of the tourists are local people (not foreign tourists from other countries) and most of the people operating this speak only Spanish. I can converse in Spanish, but it might be harder for someone who doesn't.
June 2015
This tour was great. Fun and very entertaining.
June 2013
We had a good day. There were some concerns, however. First, the company was nearly impossible to reach by phone to reconfirm the trip. We were unsure until the morning of the excursion if we would be picked up at all, and were making plans to take a taxi.
Furthermore, we were surprised that we were taken to Usaquen, because La Sabana is closer to the hotel. We must have spent 40 minutes each way in the car.
The train was comfortable and the scenery interesting. We had a good walk in Zipaquira with a guide. The next stop, for lunch, was disappointing. We had no guidance about where to eat - no restaurant names or map of the town - so we just got pizza. This could be improved.
Columbia is trying to build up its tourism; attention to details is one way to
July 2013
As a train enthusiast I was excited about going on a day trip aboard a vintage train pulled by a vintage Steam Locomotive. I was even more excited when I arrived at the quaint little station house. That excitement faded and a bit of disappointment set in as soon as I saw a Diesel Electric Locomotive pulling the train into the station. Although it was a vintage Diesel Electric the experience will never equal the excitement generated by a Steam Locomotive as it chugs and hisses and churns it's way into the station.
The trip itself is fun and well organized and I did enjoy the local music played by local musicians during the ride up and back and the stop for lunch and a look around in the town of Cajicá.
Elizabeth W United States of ...
October 2013
The train ride seemed much, much longer than the 3 hours each way - partly due to the train never getting above about 40 MPH. The "delicious snacks" offered for purchase were standard snack machine-type things that were brought around by people working on the train. Probably what I could have really done without was the roaming musicians - however, there were a few people in my train car that really seemed to enjoy them, so it is just my taste. The Salt Cathedral was really little more than cross after cross after cross and then finally some actual sculpture - there was a nativity scene, a few angels, etc. and they were well done.
When we were taken into the little town for lunch with stopped right in front of a restaurant where an attempt was made to herd everyone in to this particular restaurant. I declined and just roamed around on my own and found a different place for lunch. The instructions on getting back to the train and the time of the departure were unclear. One guide told me we would leave in 2 hours, another told me three.
Upon return to Bogota the driver who was to have picked me up forgot about me and fortunately I found someone with a phone that could get reception in Bogota and they called your company and the driver did ultimately show up and get me back to my hotel.
Advertisement
Advertisement