31 Reviews
Location:

Bologna, Italy

Duration:

8 hours

(approx.)
Explore the culinary and motor heritage of Italy's Emilia-Romagna region on this full-day tour from Bologna. Traveling by minivan, visit producers of the area's three best-known foodstuffs — Parmigiano-Reggiano (Parmesan cheese), balsamic vinegar and prosciutto ham— to learn how each is made and taste delicious samples. Then, visit the Ferrari Museo (Ferrari Museum) in Maranello to immerse yourself in all things Ferrari, and enjoy an optional test drive (own expense). A 4-course lunch, including wine, and the personalised atmosphere of a small-group tour limited to 14 people make the tour extra enjoyable.
Highlights
Full-day Emilia-Romagna food and Ferrari Museo tour from Bologna, with lunch
Discover the culinary heritage of one of Italy's most celebrated food regions, Emilia-Romagna
Learn how Parmigiano-Reggiano cheese is made and enjoy tastings
Visit a prosciutto factory and balsamic vinegar producer and taste samples of both
Tour the Museo Ferrari, a homage to Italy's legendary Ferrari brand, in Maranello
Discover the Ferrari story, ogle the displays, and if you wish, take a test drive (own expense)
Enjoy a 4-course lunch with wine, and the small-group atmosphere of a tour limited to 14 people
Recent Photos of This Tour
What You Can Expect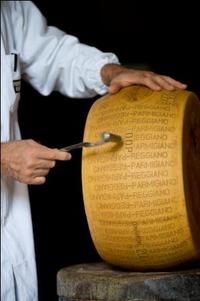 Start your small-group tour with a pickup from your central Bologna hotel, Bologna Centrale train station, or Bologna Guglielmo Marconi Airport.
Then, board your air-conditioned minivan and hear interesting nuggets about the culinary heritage of Emilia-Romagna, of which Bologna is the capital, as you travel to a factory that makes its famous Parmigiano-Reggiano cheese.
Head inside and watch the cheese-makers produce this legendary hard cheese, typically used to garnish pastas, risottos and salads. See how the milk is churned in huge vats and learn how the long aging process imbues Parmesan with its trademark tanginess.
Sample some differently aged varieties and then depart for Modena and one of the region's acetaia — family-owned farmhouses — that make balsamic vinegar. Discover how this 'black gold' is made in wooden barrels, and after trying some variants, perhaps buy a bottle of your favorite (own expense).
Next, head for a prosciutto factory and learn the secrets behind this dry-cured ham. Find out about the lengthy curing process, and finally, sample some freshly cut slices of this succulent delicacy.
Then, drive on to the Museo Ferrari in the town of Maranello to immerse yourself in another of Italy's iconic exports, Ferrari sports cars. A celebration of all things Ferrari, the museum tells the story of the brand with displays of vintage and contemporary models, and exhibitions charting its history and F1 honors.
Enjoy a guided tour, and if you wish, use some free time here to test drive a Ferrari car, with an instructor beside you (own expense).
Finish with a delicious 4-course lunch at a local restaurant, (see Itinerary for a sample menu), accompanied by wine and water, and followed by coffee and an after-lunch liquor. Then, return to Bologna, where your tour ends with a hotel, station or airport drop-off.
Itinerary
Sample Lunch Menu:
First course:
Crescentine (local fried breads) served with cold cut meat
Main course (choice of two depending on availability):
Homemade tortellini or tagliatelle with meat sauce
Lasagne
Risotto with balsamic vinegar
Third Course:

Beef tagliata with rosemary and olive oil

*Served with two seasonal side dishes such as salad, roast potatoes and grilled vegetables


Dessert:
Selection of homemade desserts
Coffee and a liquor
July 2015
My wife and I took two tours in two days - Food and Ferrari on day one and the Land of Motors on day two. Both were fantastic! You can tell Andrea, our guide, truly loves his job and loves his city of Bologna. He took care of us with a great deal of enthusiasm - fun, informative and never boring. The personal attention was greatly appreciated, the food and wine were great, and of course ............. the cars and bikes ....... Ferraris, Lamborghinis and Ducatis were unbelievable. I highly recommend them if you are ever in Bologna. A 5 star rating seems insufficient!
July 2015
Fantastic tour with only 5 of us on the trip. Each part was better than the part before culminating in the Ferrari test drive and museum. Actually not strictly true - the lunch after was my wife's high light. Make sure you only have a small breakfast!
We would particularly like to thank our guide Andrea who was informative and charming by his own admission especially to the ladies but don't get him started about his mother in law and also our driver Ricardo who was wry good company at lunch
I would thoroughly recommend this trip to foodies and petrol heads alike
June 2015
Great tour. Well worth the money. A wonderful and informative day out.
June 2015
We really enjoyed this tour. 16 in the group, but we all got on, and were really well looked after by Olga, who was an excellent leader.
May 2015
This was the best your I've done in Italy. The food was excellent everywhere. The guide was extremely helpful, patient and informative. A must for any tourist.
March 2015
A great tour that we would recommend to anyone. Excellent lunch topped off interesting factory visits.
March 2015
Everything about our tour was excellent. Olga was awesome. Although she does this tour frequently, she still had a fresh perspective on what we were seeing and experiencing. Logistically everything worked perfectly ... we were met on time, toured all the sites with plenty of time to linger and taste, and returned to our apartment as promised. A really good day!
January 2015
ONE OF THE BEST TOURS I'VE EVER BEEN ON!!!!
January 2015
The Emilia-Romagna region is known for it's delicious food and what better way to get to know all this yummy-ness than with a food tour that takes you from place to place to see how it is all made AND of course to sample all the good things it has to offer.... look no further, this tour will deliver!
Andrea, the guide, picked me up in morning at my hotel and from the moment I sat down he started to tell me about the region and the places we were going to visit and the things we were going to taste that I couldn't wait to get started.
Our first stop was at the cheese factory where he showed me how the cheese is made and I really mean from the cows who provide the milk all the way to the storage room where they keep all the cheese waiting to be shipped out to some lucky customers around the globe. After that we drove, not too far, to the prosciutto factory where Andrea explained how they cure and dry the meat to get from a simple ham to the delicious prosciutto I got to taste at the end of the tour. Next stop was for me as a balsamic vinegar fan, the most exciting one, we stopped at a, 4th generation family run acetaie where I was explained in detail how we go from a Trebbiano grape to the "black gold" that can age well over a 100 years and how the taste changes during that ageing process with plenty of samples and combinations with meat, cheese and my favorite... vanilla ice cream.
To conclude this fantastic day we had an awesome dinner at a typical Italian restaurant where I had some, typical for the region, tagliatelle al ragu and a superdelicious dessert.
tl;dr - Top experience and I would recommend it to everyone!
PS I had the privilege to experience this tour as an unforeseen "private tour" because there were no other participants for that day. (December is still a great time to visit Bologna people, go get some Bologna!)
December 2014
I attended this by myself as my husband was working. I do not speak Italian, the translator walked from the small bus to my hotel, spoke beautiful English and was very welcoming. The group included another couple and five girls from London traveling together. He introduced us all to each other and encouraged interaction which was fun. We saw the cheese being made, the proscuitto process and learned how the balsamic is made and why some is called gold. We tasted an abundance of everything and were offered the opportunity to buys products. The guide kindly told me that I was not allowed to bring back the proscuitto to the US. Then we went to an amazing lunch. It was four courses of all of the foods of Bologna and their local wine. During lunch I mentioned that I was having trouble finding reservations for dinner as there was a big show in town. Our guide, Antonia, called a friend that owned a great restaurant near our hotel where we were treated like royalty. The owner was standing there waiting for us and brought some tastes of things while he opened our wine. We could not have been happier. This tour will make you feel like you have a family member bringing you to his local farms and factories to share his heritage. At no point did I feel alone, the tour was fun. I would highly recommend this tour whether you are with a group or on your own.
Advertisement
Advertisement