49 Reviews
Location:

Bologna, Italy

Duration:

8 hours

(approx.)
Combine culinary and cards with this action-packed day-long tour of Italy's Emilia-Romagna region. Ride via minivan from the center of Bologna to the production centers of some of the area's most delicious and beloved treats: Parmesan cheese, balsamic vinegar and prosciutto. After sampling some of the edible delights, travel to the Ferrari Museum in Maranello where you can indulge yourself in the history of the prestigious car company and even test drive one (at own expense). Later, tuck into a four-course lunch. This small-group tour is limited to just 14 participants, ensuring extra attention from the guide.
Highlights
Full-day Emilia-Romagna food and Ferrari Museo tour from Bologna, with lunch
Discover the culinary heritage of one of Italy's most celebrated food regions, Emilia-Romagna
Learn how Parmigiano-Reggiano cheese is made and enjoy tastings
Visit a prosciutto factory and balsamic vinegar producer and taste samples of both
Tour the Museo Ferrari, a homage to Italy's legendary Ferrari brand, in Maranello
Discover the Ferrari story, ogle the displays, and if you wish, take a test drive (own expense)
Enjoy a 4-course lunch with wine, and the small-group atmosphere of a tour limited to 14 people
Recent Photos of This Tour
What You Can Expect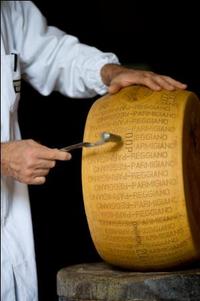 After getting picked up at your hotel in the center of town, Bologna Centrale train station, or Bologna Guglielmo Marconi Airport, commence this exciting small-group tour that combines culinary deliciousness and fast, luxurious cars. On the drive there, listen to your guide inform the group what is in store for the day, as well as, some of the history of food and Ferraris in the region.
The first stop is a cheese maker. Learn how Parmigiano-Reggiano cheese is made. See how the workers churn the creamy goodness and where they store and age it for up to two and a half years before it's ready to eat. And, of course, sample some of the incredible cheese.
Hop back in the van and head for Modena, the capital of balsamic vinegar. Learn all about this 'black gold' and why and how Modena has perfected making it. Then head to a prosciutto factory to sample some luscious cured ham. Learn about the long curing process and about the history of the meat in the area.
Transition from culinary to cars for the next stop: the Ferrari Museum. Stroll around the museum learning about the history of the posh automobile maker, take a guided tour and then even opt to test drive a Ferrari (at own expense) with a teacher beside you.
Finally, conclude the tour with a four-course lunch at a local eatery (see Itinerary for a sample menu), complete with wine and water and followed by coffee or a digestif.
After lunch, get dropped off at your hotel, the railways station or the airport.
Itinerary
Sample Lunch Menu:
First course:
Crescentine (local fried breads) served with Parma Ham
Main course (choice of two depending on availability):
Homemade tortellini
Homemade tagliatelle with meat sauce
Homemade tortelloni with butter and sage

Third Course:

Beef tagliata with rosemary and olive oil

*Served with two seasonal side dishes such as salad, roast potatoes and grilled vegetables


Dessert:
Selection of homemade desserts
Coffee and a liquor
January 2016
We had the most wonderful day. Worth every penny.

January 2016
This tour was amazingly informative and interesting. My guide Olga was more than great, she was a knowledgeable and helpful as a guide, also a nice and kind in person too. I could see clearly that she wanted to share the best of her loving hometown region Emillia-Romagna with passion, and it moved me too for sure. What I've experienced in this tour was something hard to see as a tourist, how much time those people in Italy food industries do every effort to keep their food and tradition as it is. I appreciate the tour office and my lovely guide Olga, and all the people I met who work hard for their tradition. Also best tour companies I've ever had.
매우 특이하면서도 잊을 수 없는 경험이었습니다. 일반적으로 관광객이 가 닿지 못하는 발사믹식초, 프로슈토, 파마산치즈 공장에 가서 그 사람들이 전통을 지키기 위해 얼마나 애쓰는지 아주 자세히 볼 수 있었습니다. 투어 가이드를 해줬던 Olga는 Emilia-Romagna 지방을 사랑하고 다른 사람과 그 지역의 아름다움을 나누려고 다양한 정보는 물론 열정을 가지고 임해서 투어가 더욱 즐거울 수 있었습니다. 꼭 추천하고 싶은 투어였습니다.
November 2015
Tour guide was knowledgeable and personable, making the visit to the Ferrari museum a memorable event.
November 2015
Brilliant tour from start to finish with Andrea being the perfect host. All food producers were so passionate about their craft and the Ferrari Museum was amazing. The Ferrari drive was definitely worth the extra money, what a buzz. The Four course lunch was the best of Italian cuisine with free flowing wine, beers or soft drinks. Would recommend this trip unreservedly as excellent value for money.
November 2015
Amazing tour with incredibly interesting visits to Parmesan cheese factory, to Prosciutto producing family business, Modena Balsamic Vinegar museum and producer, Ferrari museum and topped with multi course lunch. Highly recommend!
October 2015
We had a great time on this tour. We learned so much about making cheese, vinegar and prosciutto, and had fun tasting everything,and It was all very delicious. Lunch was delicious, and we enjoyed chatting with our tour guide and the others in our small group.The Ferrari Museum was an interesting stop, too.
I'd recommend this tour!
October 2015
If you only have time to do one thing in Bologna, this should be it! The tour and tour guide Andre and personal photographer for anyone wishing a picture taken with their own camera were incredible. No detail was missed! From the inside look into making of cheese, prosciutto, and balsamic vinegars to the Ferrari Museum to the option of test driving, what more could you want? Maybe an amazing lunch...well you had that too- with all you could eat and drink provided!
October 2015
Andrea Blasi was a great tour guide, super visits and great food we had a fantastic time
October 2015
We throughly enjoyed the tour we booked Via Viator for the Ferrari, and food tour of Modena 5 Star. The food tour included parmesan reggianno, balsamic vinegar, and parma ham. The tour guide Olga picked us up at our hotel as well as other guests at their hotels. The tour was excellent starting with information on the history of Bologna as well as the Emilia Reggiano Region. She was the guide through each producer that we visited. Olga wanted to make sure everyone was having a great time and also indicated that if we had any questions about other locations we were visiting through Italy to ask her and she would try to help. During the tour, guests had options to purchase the balsamic vinegar and cheeses to bring home. Prior to our return to our Hotel, we stopped for lunch that was incredible. It was a 6 course meal with 2 kinds of freshly made tortellini you could watch them being made as well as tagatelli bolognese, as well as salad, potatoes, grilled beef perfectly done, grilled vegetables, bread, 2 kinds of dessert, wine, espresso, cappuccino, water, etc. And if you wanted more, you had it. We finished the meal with a drink made from walnut skins excellent flavor. And the guys enjoyed the Ferrari tour in which you also have an option of test driving one of the Ferraris!
We would HIGHLY RECOMMEND THIS TOUR AS WELL WORTH IT.
October 2015
Fabulous, especially the 6 course meal at the end-one of the best meals we had in Italy!
Advertisement
Advertisement