Explore Bologna by two wheels on a private bike tour of the city. The 2-hour tour takes in the city's best-known sights and gives the lowdown on their history. Pedal past stately palaces such as Palazzo re Enzo, Palazzo Accursio and Palazzo del Protesta; learn about the public library of Sala Borsa from your private guide; and pose for photos by the Fountain of Neptune — a landmark that hails from the 16th century.
Highlights
Private Bologna sightseeing tour by bike

Explore Bologna in a pleasant, relaxing way with an English-speaking guide

See Palazzo Accursio, Palazzo del Protesta and the Sala Borsa

Admire the Fountain of Neptune, which dates to the 1500s

Pedal the length of Bologna's ancient canal system

What You Can Expect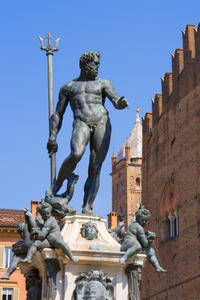 You'll also view the Medieval Market and Loggia Dei Mercanti, the Anatomy Theatre (closed Saturday afternoon and Sunday), Basilica of San Petronio, the Archiginnasio, Two Towers and the Complex of Santo Stefano.
Pedal the length of the ancient canal system, you may just be surprised at how much water runs through Bologna! For those with a little extra time to explore the city, an extended tour may include San Giacomo, The Oratory of Santa Cecilia, San Domenico of the Sanctuary of San Luca.
This in-depth, hassle-free private tour is hosted by an English-speaking guide. Please list any special interests you have at the time of booking to alert your guide, so that he or she can prepare for your private tour.
April 2015
I made a booking for guided cycling tour in Bologna. Unfortunately it was raining very hard, so our guide made a creative decision: a walking tour around city. The Bologna porticoes totally 40 km are unique and also... we stayed dry :
Our guide was very excited about the city and told very interesting stories about Italian and city history.
I strongly recommend, real professional tour!
August 2014
Exciting time! Not exactly what I expected but I was surprised and enjoyed this tour. We started by jumping right onto busy city streets. Though I have to say, for a person not use to bike riding in the city, the drivers and buses always yielded to us and did not get mad, this is not what I would expect riding in a city in the US. Our guide was very nice. She took us on a nice loop. We stopped at the train station, library, city center, church, monastery, university etc. We covered an amazing amount of ground in a short period of time. And then had a wonderful lesson in history and the current way of life in this very nice city. Our guide drew out our tour on the hotel map that I had. I have kept this and even took a picture of it to show my friends and family where we went. For a personalized, private, diverse, comprehensive tour, this is a great option. And after 30 days traveling and touring, it was nice to ride bikes and break up the monotony of the walking and tour buses. Our guide was lovely, I can't find her name... Nice job!
September 2012
September 2014
Tamara was an excellent guide and we thoroughly enjoyed our tour on bikes. It was a bit expensive, and we would have preferred to be in a group. This tour required us to form our own group in order to get a lower price, rather than join a group tour. But the tour itself was excellent.
Advertisement
Advertisement