Explore the medieval market of Bologna on this incredible private guided walking tour that showcases the history, traditions, food an culture of this famous city. Enjoy personalized attention from your professional guide as you roam through the eclectic gourmet market and learn about what makes this city a top spot for visitors from across the globe.
Highlights
Private 2.5-hour tour of Bologna's gastronomic highlights
Visit a traditional bakery, pasta maker, mortadella shop, chocolate maker and osteria
Customize the tour to suit your own interests
Private English-speaking guide
Enjoy privileged, personalized attention from your guide on this private gastronomy walking tour
Recent Photos of This Tour
Private Tour: Gourmet Walking Tour of Bologna - Pasta, Mortadella and Chocolate
What You Can Expect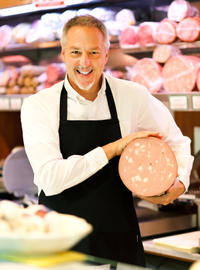 You'll visit a traditional bakery, followed by a pasta maker where you'll learn about the production of Tortellini and Tagliatelle. Continue to Beccari's salsamenteria to discover the history of mortadella, from the third century BC right up until modern times.

The highlight of the tour is perhaps your visit to a traditional chocolate maker, where solid chocolate was invented! Your tour also includes a visit to a typical Bolognese osteria (restaurant), to discover the fun-loving side of Italy's oldest university.

This in-depth, hassle-free private tour is hosted by an English-speaking guide. Please list any special interests you have (art, architecture, history, culture) at the time of booking to alert your guide, so they can prepare for your private tour.

June 2016
6 stars should be possible! A wonderful insight into the food history of the city. Our guide showed us through the markets, explained why each selection was important, then took us to the only authentic osteria to sit and eat our collection. Everything included so no hassles. A great tour.
October 2015
Highly recommend. Luca our tour guide was fantastic and shared his wonderful personal and widespread knowledge of both the areas history and food history which was very interesting. My only regret was we didnot do it first day in Bologna because once we had done it we knew where all the best food was. Thank you Luca it was great.
September 2015
We were met by Catia, a knowledgeable and friendly guide. Such delicious tastes and smells - highlights were the chocolate shop and the meat and cheese and wine snack at Tamburini. We still remember this tour and recall it fondly. I am so glad we did it.
August 2015
The tour was fantastic and we learned so much about the history of Bologna. Of course, the highlight was the food tasting at the end. Delicious!
May 2015
Bologna's history is not as self-evident as in some other tourist-destination cities in Italy, so having a good guide is especially important here. Gioco did a great job. Personable and considerate as well as deeply well-informed, he gave us a solid historical tour at the same time as we got to sample some wonderful food.
Ian W United Kingdom
May 2015
A superb overall guide to the history and of course the food of Bologna. Giacomo, our guide was extremely knowledgable and interesting, and even going to places we had been on our own the day before we learnt so much more. There was probably less about food than we were expecting, but that was fine, and tasting of gelato, chocolate and a superb antipasto lunch with wine rounded it off perfectly, recommended!
December 2013
Excellent tour. Very informative and friendly guide. Good value. If you are in Bologna don't miss it.
M/M J. Puorro, Boston USA
November 2013
We were so fortunate to have our fantasic gude, Cecelia, all to ourselves for this charming, informative walking tour. We visited the open markets, ate cheese, breads, and mouth-watering carpaccio, saw the oldest wine store in all of Bologna, the chocolatiers, and made an unscheduled (and incredibly informative) dash through St. Dominic's because we had expressed our interest in seeing it, too. Such fun!
John G USA
November 2013
Balda, our tour guide, was super! We could not have asked for a better tour. We had read many reviews that rated this tour highly, but complained that it was not quite the foodie tour they had expected. Well, for us it was a wonderful foodie tour - we saw all that we were promised, and tasted wonderful chocolate, cheese, meats, and wine. On top of this, we were also given a historical overview of the major sights in the Bologna city center.
November 2013
Excellent value for money!
Advertisement
Advertisement