From Lamborghinis to Ducatis and Ferraris, Italian sports cars are acclaimed around the world. When in Bologna, take this 6-hour private tour and visit two nearby car museums or sports car collections to learn about the vehicles of the rich and famous. As the tour is private, what you see and where you go is flexible, and you can enjoy personalized attention through the day.
Highlights
Private six-hour tour of two sports car museums or collections
Visit Ferrari, Ducati or Lamborghini or view private collections
Customize the tour to suit your own interests
Private English-speaking guide
Enjoy privileged, personalized attention from your guide on this private sports car tour
What You Can Expect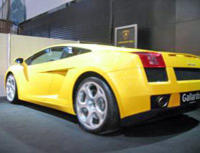 Ferrari, Ducati and Lamborghini - the choices are endless as you get up close and personal with these famous names. View displays of these well-known manufacturers, or visit the private collections of Righini, Panini, Maranello Rosso and Stanguellini. Your itinerary is totally up to you, and you will have time to visit two individual establishments on the tour.
This in-depth, hassle-free private tour is hosted by a professional guide. Please list any special interests you have (art, architecture, history, culture) at the time of booking to alert your guide, so they can prepare for your private tour.
Itinerary
This is a private tour with an English speaking guide. All race track visits are on request and depend on the day of travel. Please include any special interests at time of booking to alert your guide. The exact itinerary depends on the day of travel, however listed below are three sample combinations:
Ferrari and Lamborghini
Ferrari and Ducati
Ducati and Lamborghini
Sample Itinerary:
9:30am - 10:00am - Departure
10:45am - Ferrari
11:45am - Tour
12:00pm - Ferrari store
12:15pm - Lunch at Cavallino Restaurant
1:15pm - Departure
2:00pm - Lamborghini or Ducati
3:30 - Departure
4:00pm - Return
August 2008
We enjoyed what we saw, and the guide was wonderful. But, you should know that the track near Ferrari is closed for repairs and has been for some time. The other tracks are half a day's ride away. Also, Maserati has no museum and the factory is closed to the public. The guide was wonderful, very knowledgeable and gracious, she was able to give us other choices to fill in the gaps. So what could have been a problem was not, due to her abilities.
Natalie D Canada
August 2008
The tour guide was great. However, we did not see the three race tracks promised; one is not even open anymore and has been closed for three years. We couldn't see the Lamborghini as it was closed. The description on the website was incorrect and misleading.
Advertisement
Advertisement