Experience the thrill of snorkeling in Bora Bora with black-tip reef sharks, stingrays and tropical fish on this 3-hour trip by motorized outrigger canoe. Slip into the crystal-clear underwater world to watch your guide feed these fascinating creatures by hand, or observe them from the boat. You'll discover many marine wonders near the barrier reef in the Bora Bora lagoon. Hotel transport included.
Highlights
Watch through your snorkel mask the reef sharks being feed by hand
Snorkel Bora Bora's colorful underwater marine park
Snorkeling equipment is provided
Hotel pickup and drop off
Recent Photos of This Tour
Bora Bora Snorkel, Shark and Ray Feeding Excursion
What You Can Expect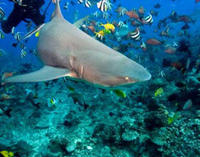 Start your 3-hour Bora Bora snorkeling tour in the afternoon, departing from your hotel or Vaitape Harbour Terminal. Then hop aboard a motorized outrigger canoe that takes your across Bora Bora's magnificent lagoon. Your guide makes several snorkeling stops along the way for an up-close look at sharks, rays and other fish.
Stop near the barrier reef and discover a coral garden and marine park teeming with nearly 700 species of tropical fish (weather permitting). Snap on your provided snorkel equipment and slip into the aquamarine water that makes
French Polynesia famous.
Black-tip reef sharks are another highlight of Bora Bora. Watch your guide jump into the water to attract and hand-feed more than a dozen sharks. Observe this feeding frenzy from the boat, or experience the thrill through your snorkel mask while in the sea.
Continue your excursion to a shallow bay where you'll come face-to-face with hungry stingrays under your guide's expert supervision. Enjoy fantastic photo ops before re-boarding the boat for a trip around the island of Bora Bora and a return to your hotel or the port.
June 2016
Fantastic experience! Snorkeling with black-tip and lemon sharks in the midst of thousands of tropical fishes everywhere added a dimension of surrealism to the experience... it was probably one of the more memorable things I have done. And feeding the stingrays was amazing... they are friendly and it was funny when they would randomly swim up to you to see if you had any food.
Our tour guides were knowledgeable and prepared for anything. They were a huge help to my wife, who was struggling a bit swimming in the coral garden.
Excellent experience all around.

May 2016
Amazing tour, breathtaking coral waters. Money well spent

May 2016
This was an amazing experience. We saw so many sharks and rays, it was hard to know where to look!

April 2016
Our tour was absolutely amazing!!! We were in port off a cruise but wanted a more personal tour with a smaller group. We had the most wonderful day swimming with sharks, stingrays etc and our guide was exceptionally caring with one of our elderly friends, helping and accommodating his limitations.
April 2016

April 2016
The very knowledgeable and skilled guide took our group of 8 to three different locations. We swam with a great variety of reef fish and coral in addition to black-tipped reef sharks and lemon sharks, sting rays and manta rays. A wonderful morning excursion.
March 2016
Exceptional value for the money.
January 2016
Best tour ever. Great way to see Bora Bora. Picked us up on time from the tender dock using a sign with our names. For three hours we made three stops; first to swim above a corral reef where there were so many colorful fish. Our next two stops we swam with and fed the sting rays and blacktip sharks
January 2016
Greatest snorkel tour ever! Small group unlike the cattle boats we observed others on. Our guide made sure everyone had maximum exposure to the wonders to see and we were never rushed. Pride in a job well done was obvious in his patience with us and the quest to find more to show us. A MUST DO!
October 2015
The rays come up and beg for food like puppies. Great experience. Beautiful water and breathtaking setting. Black fin sharks come within a few feet. Also looking for snacks, but harmless to swimmers. Not to be missed.
Advertisement
Advertisement