Enjoy the ultimate day in paradise with a full-day cruise around the gorgeous lagoons of Bora Bora. Meet gentle stingrays and see black-tip reef sharks, snorkel among spectacular coral gardens and visit a small island for a delicious barbecue lunch with warm and welcoming hosts. You even get a taste of Polynesian culture during a beachside performance. Your expert guide shows you the best of the island, from colorful fish to stunning views, as you spend the day exploring the treasures to be found around beautiful Bora Bora.
Highlights
Full-day island cruise with snorkeling and buffet lunch
Explore the lagoons of Bora Bora with an expert local guide
Visit a shallow lagoon to observe stingrays up close
See black-tip reef sharks swimming near your boat

Enjoy the warm hospitality of your hosts for a grilled lunch and beachside entertainment on a small island
Take a short hike for great views from the island summit
Get postcard-perfect photo ops throughout the day
Recent Photos of This Tour
Full-Day Bora Bora Lagoon Cruise Including Snorkeling with Sharks and Stingrays
What You Can Expect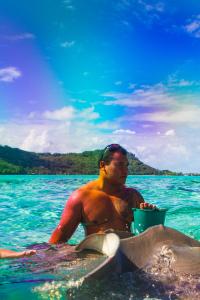 After morning pickup at your Bora Bora hotel, board your powerboat to start an amazing day on the water with your knowledgeable guide. Soak up stunning views of the lush coast and turquoise sea as you cruise over to a shallow lagoon for a stingray experience.

Hop into the water with the provided snorkel and mask to get a close look at the tame stingrays, who might swim right up to you. Your guide explains how the gentle creatures have adapted to the human presence in these waters and shows you how to interact with the rays. Swim and snorkel among the graceful rays, and learn about their breeding and feeding habits as well as how they escape from predators.

After a memorable time with the stingrays, head to a prime snorkeling spot above a colorful coral garden. Snorkel around the corals while marveling at the multitude of gorgeous fish that flit about. If you prefer to stay dry, you can easily observe the marine life in the crystal-clear waters of the lagoon from the boat.

Worked up an appetite by now? Disembark at a beautiful motu (small island) where you enjoy a freshly prepared buffet lunch that includes grilled steak, chicken, fish, salads, fruit and beverages. Afterward, take a short hike with your guide to the island's summit where you get incredible panoramic views. Then have time to take a dip in the ocean or walk along the shoreline.

When you hear the sound of a conch shell being blown, it's time for some island entertainment. Learn about local culture as you watch a coconut husking demonstration, hear live music and enjoy a short performance.

At the end of an amazing 7-hour cruise, your guide returns you to your hotel.
November 2015
This tour was definitely one of the highlights of our trip! Our tour guides were professional yet fun and willing to take all the pictures and videos we wanted, and boy were there amazing photo opportunities! We were lucky enough to spot and swim with a manta ray from a safe distance. We were so glad we invested in a nice underwater camera so we could capture the memories from this tour. Highly recommended!
November 2015
I forgot the guys who did the tour, but our 2 guides were very nice and accommodating! We especially liked the relaxing on the private motu after the picnic lunch and the views were unbeatable!
September 2015
Loved this tour!! A must do for everyone in the island!
August 2015
We actually swam with friendly mantas and black tip sharks! It was amazing!
May 2015
We took 2 tours during our vacation and this one was our favorite by far. This tour usually consists of 3 snorkeling stops and lunch. I had mentioned to Hiro that I wanted to see manta rays and to my surprise our tour now had a 4th stop. Each stop was about 20 - 30 minutes. We first went to look for manta rays and although we weren't lucky enough to see any, I'm so grateful they accommodated my wish. Our 2nd stop was just outside the reef to swim with sharks. 3rd stop was back in the shallow waters of the lagoon for rays and more sharks. We then went to the motu for a buffet lunch where we sat at tables in the water. Lunch consisted of grilled chicken and fish, cabbage, corn, coconut, bananas, grapefruit, rice, juice, etc. The motu has a clean restroom which is a big deal for me. The other tour we took had the most disgusting restroom I've ever seen worst than the restrooms in my 3rd world travels!. After lunch he hiked up about 70 steps to the top of the motu for an amazing view. Afterwards we went on to our 4th and last stop at the coral gardens.
Thanks to our guides Rai and Chris for making our tour fun and memorable. We will definitely do this tour again on our next visit. My suggestions are to bring your own snorkeling gear, booties or water shoes, drinking water, towel, sunscreen, and waterproof camera. I hope that those that read this review and decide to take this tour have as much fun as we did!
April 2015
Excellent excursion. All that it was advertised to be.
March 2015
This was the highlight of our 30 day cruise to French Polynesia. Matt and the other guys were outstanding! We snorkeled, saw stingrays and had lunch on a private island. You will not be disappointed!!!!
March 2015
Totally and completely AWESOME!!!
April 2015
Advertisement
Advertisement