Escape the bustle of Bordeaux for some seaside therapy on this 4.5-hour day trip to the Bay of Arcachon. With your local guide and small group, you'll journey southwest by mini-coach to the white sands beaches of Arcachon, famous for oyster-harvesting. Hike to the top of Pyla Dune — the highest sand dune in Europe — stroll the beach, get splendid ocean and forest views, and sample fresh oysters at a local oyster farm.
Highlights
4.5-hour guided Pyla Dune and oyster-tasting tour from Bordeaux
Marvel at panoramic views of Arcachon, the Atlantic Ocean and the Landes Forest from the top of Pyla Dune
Indulge in fresh oysters and a glass of wine at a local oyster farm
Small-group format ensures personalized experience
Roundtrip travel by comfortable minivan included
What You Can Expect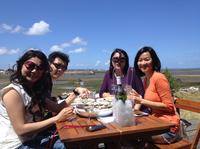 To begin your small-group tour, leave Bordeaux in the morning and travel by air-conditioned minivan to the beautiful Bay of Arcachon. During your 55-minute journey, your knowledgeable guide will recount some interesting facts about the region.

The tour starts with a visit to Pyla Dune (Dune du Pyla), the largest sand dune in Europe. Hike to the top of the dune and enjoy fantastic views of the Landes forest, the Bay of Arcachon and the Atlantic Ocean.

Your guide will drive you to one of the many local oyster farms, for which this area is famous. Meet the oyster producer and learn more about the traditional methods of oyster cultivation while enjoying a complimentary tasting of six fresh Arcachon oysters accompanied by a glass of white wine.
May 2016
This is a half-day tour well worth taking. The dune is impressive and the visit to the oyster bay and tasting we had shrimp, which was excellent, and those that had oysters said they were good also was a good complement. Our guide was excellent and provided great commentary both going and coming back to Bordeaux and answered lots of questions and provided great information and suggestions for our stay in Bordeaux.
April 2016
The guide was very friendly and helpful. I like the wine at the top of the dune.
October 2015
It was a fantastic tour and an excellent guide. The Oyster tasting was really a good experience and it was a good idea to eat with the group, which ment that everybody was talking with each other. The Pyla Dune was amacing.
Thank you for a fantastic and exciting tour!!

May 2015
Excellent tour guide. Fascinating tour of dunes. Wonderful oysters. Loved this tour.

July 2013
This was sooo much fun and the oysters was super yummy. A must do tour on a sunny day!

June 2013
Professional tour guide. Stunned by the Dune and the oyster tasting session at the oyster farm was a real good experience, we had some of the best oysters we have ever had!
May 2016
I love this tour! We were a small group of three people, which made the dune walk and the oyster tasting very easy and totally enjoyable. I loved the little suprise when we arrived on top of the dune. Only negative thing was that the guide seemed a little insecure in terms of driving but we made it :-
September 2014
Was very happy with this tour. My only disappointment was that we did not drive through the town of Arcachon or relax on a scenic beach as indicated in the Overview which states - "Explore the town of Arcachon before a visit to an oyster farm for a sample of fresh oysters. Relax on a scenic beach before heading back to Bordeaux". I asked the tour guide and she said there would not be enough time to visit the dune, visit Arcachon and the oyster farm in the half day tour. My problem is that my expectation was set by what your overview stated. But even so the trip to the dune was fantastic.
August 2014
Loved this - the only problem was the traffic...it took so,long to get to the sand dunes we only had 30 minutes there. The oysters were wonderful!
September 2015
We visited here years ago wanted to see it again. The sand dune is most impressive and quite a climb. My husband adores oysters and was a bit disappointed in their quality compared to oysters from Normandy and Brittany. I had shrimp as I'm allergic to oysters, and they were delicious.
Unfortunately, we sat in the back of the van and had trouble hearing the guide even tho' we asked her to talk loudly -- I don't think she even provided us with her name. It would have been useful if she had a sound system, similar to what was used on our St. Emilion tour.
Advertisement
Advertisement