Get to know Bordeaux by foot on this 2-hour walking tour, perfect for first-time visitors to the city. As you stroll between the sites, discover illuminating facts about the city and its history, and enjoy photo stops at highlights such as the towering Monument aux Girondins and handsome Place de la Bourse. Along the way, take in the picturesque Garonne River, amble along the pedestrianized shopping boulevard of Rue Sainte-Catherine, and check out the splendid Grand Théâtre, a vision of sweeping columns and one of France's best-known theaters.
Highlights
2-hour Bordeaux highlights walking tour
Get a comprehensive overview of Bordeaux from an experienced guide
Explore Bordeaux's historical city center to see attractions such as Monument aux Girondins and Place de la Bourse
Walk down Rue Sainte-Catherine, touted as one of the longest pedestrian streets in Europe
Admire the impressive Grand Théâtre in Place de la Comédie
What You Can Expect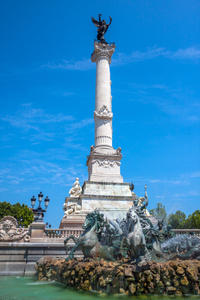 Begin your 2-hour walking tour in central Bordeaux. Meet your informative guide and set off to explore the elegant streets as you learn about the city's history and culture.
Your precise route may vary depending on the weather and number of people in your group, but your guide will showcase as many of the city's landmarks as possible.
Make your way to the magnificent Monument aux Girondin, a soaring fountain and column that celebrates the Girondists, a group of 18th-century, conservative National Assembly deputies executed in 1793 for their counter-revolutionary activities during the French Revolution.
Crane your neck to see the winged Statue of Liberty that crowns the column, and then stroll along the pretty banks of the Garonne River.
Soak up the river views and pause at the Place de la Bourse, one of Bordeaux's most recognizable squares. Created by Louis XV's chief architect Ange-Jacques Gabriel in the 18th century, this impressive expanse is home to the handsome Stock Exchange (Bourse), and a grandiose equestrian statue of Louis.
Continue to the Rue Sainte-Catherine, the traffic-free avenue that ranks as one of Europe's longest pedestrianized thoroughfares.
Saunter past the chic shops and restaurants that frame this street, and pass the Place de la Victoire on route to the Place de la Comédie.
Stop at this bustling square, and discover how it was once the location of a Roman temple. Pose for photos outside the sweeping, columned portico of the Grand Théâtre, a stunning neoclassical building that has become a symbol of the city.
As admire the perfectly proportioned
façade
, hear how the theater was completed in 1780 and stands as a monument to the wealth of Bordeaux's emerging bourgeoisie at the time.
Drink in the buzz of the square, and then finish your tour back at the start point. Bid goodbye to your guide, who will be happy to offer tips if you wish to continue exploring Bordeaux independently.
June 2016
Very good Christine our guide very informative.
June 2016
Fantastic english-speaking walking tour. Tour guide made the history of Bordeaux come alive. He kept our interest the whole time. We did many walking tours on our 34 day Europe trip and this was way up there with the best.
October 2015
Very pleasant morning spent wandering the varied streets of beautiful Bordeaux listening to stories of the past. history from our well informed guide. Not at all strenuous and really interesting.
September 2015
Great tour. A lot of information and good overview of Bordeaux for a great price.
September 2015
This was a great day trip and so glad we decided to book this instead of hiring our own car. We wouldn't have been able to go to half the places we did otherwise. Especially good if you have limited time, we had a great opportunity to see some amazing towns and lavender fields. Unfortunately the lavender fields were not as vibrant as we'd hoped but that's because we came at the end of the season, the day before harvesting. We were told the fields would normally be in their prime around June/July. Our guide was lovely and knowledgable and we thoroughly enjoyed it!
Nevione C Canada
June 2015
guide was very informative and provided a good description of the city in English.
June 2015
Fun and informative! Our guide was knowledgeable and made the tour interesting.
Laura A USA
April 2015
Very informative, host very knowledgeable on his information. Good way to learn your way around the city.
June 2016
Good tour to know the history of Bordeaux. The guide was friendly and informative. One thing tho, if you planned to buy a city pass, this is included in the pass so DON'T purchase this tour separately.
June 2016
Our guide took us on an efficient 2 hour walk of central Bordeaux. We were able to see many important sites and received a good explanation of the history and significance. She also shared her owns views on social issues in Bordeaux, which was quite informative
Advertisement
Advertisement