Delve into the culinary wonderland of Bordeaux with a 4-hour gourmet food tour. Join your knowledgeable foodie guide for a walking tour of the city, stopping in beloved local shops to sample things like chocolate, cheese and bread and meet the passionate shop owners. At the end of the tour, enjoy a buffet-style lunch of local specialties accompanied by fantastic Bordeaux wine.
Highlights
Food walking tour around the city of Bordeaux
Visit three local food shops to meet the owners and sample the staples of French cuisine
Taste a traditional baguette, savor flavored chocolates and indulge in classic French cheeses like Comté and Brie

End with a lovely buffet lunch served with Bordeaux wine
What You Can Expect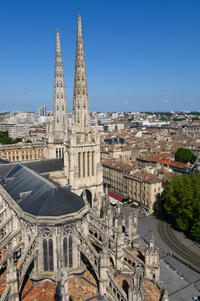 Begin your 4-hour gourmet exploration of Bordeaux by meeting your guide near Place des Quinconces in the city center. This food tour ambles through Bordeaux and a very leisurely pace, giving you time to marvel at the historic beauty of the city's architecture. Listen as your professional foodie guide offers insight into Bordeaux's culinary history as you walk.
Visit a favorite local bakery, with inviting scents of freshly-baked baguettes surrounding you as you meet the baker and sample some handmade treats.
Next, visit one of the most famous chocolatiers in the city to meet the owner. Generations have kept the shop's recipes secret, and though you may never be able to duplicate what you taste you'll certainly enjoy the samples. Unique flavor components include green tea, olive and ginger.
Follow your guide to a cheese shop to learn about the cheese-making traditions that make French cheese so world-famous while you sample cheeses from different parts of the country, including Roquefort, Brie and Comté.
After all this sampling, finish your tour with a visit to a typical apartment for a buffet-style lunch. Take your pick from the generous array of food offerings, including many of the items you sampled earlier in the tour, accompanied by some excellent Bordeaux wine. Conclude your lunch with a traditional Bordeaux cake called a canelé. The tour ends after lunch.
May 2016
Great tour guide and really informative and the tastings were delicious
November 2015
We had a truly fantastic time. Julie our guide was very pleasant and imformative. All the outlets we visited were great. The lunch that was provided after the tour was very tasty and plentiful. Everyone in our party thoroughly enjoyed this tour. I would highly recommend it to everyone
October 2015
I highly recommend this. It is the best thing I did on my trip. It was informative and the guide was excellent, there were great stops and surprises along the way, the lunch at the end was a perfect ending. They know how to do it. Perfect thing to do in Bordeaux.
October 2015
Low key but nice tour. The guide as very sweet and knowledgeable. The shops we visited were great. The best part was returning to the office and having the lunch they provided. It consisted of a cheese plate, salad, bread and quiche along with wine. It was all quite good.
October 2015
Guide was excellent and extremely pleasant and informative. She gave us a brief history of Bordeaux while we walked and provided excellent commentary throughout.
September 2015
Very enjoyable afternoon learning about wines in the Bordeaux region and tasting some with the variety of cheeses. Our guide was exceptionally knowledgeable. Unique setting. Well worth it.
September 2015
Highly recommended tour. The guide Astrid was extremely good and knowledgeable and friendly The bakery, cheese and chocolate shops we visited were impressive and so was the lunch at the end of the tour. Highly recommended.
September 2015
Julie was an excellent guide - interesting stops baker, chocolate shop and cheese shop where we got a bit of hx and samples as well as a lovely lunch. This was our first Viator but will definitely seek you out again on any non-escorted trips. Wish we had done more on this trip as your tours were certainly less expensive than those offered aboard ship and, based on one, equally as good. Thanks
Aussie-Nomads Australia
August 2015
Checkin and pre booking of tour was professionally handled. Laura our tour guide was excellent and handled all on the tour members with individual attention. The tour was a great mix of the history of Bordeaux and then a meet and greet with local food artisans. From the Boulangerie, Chocolate Making to the Cheese Suppliers who all made us feel very special and answered our questions as if it was the first time - we loved it all. The icing on the cake was the magnificent lunch from these shops washed down with Bordeaux red. Yeah!!

Rosane Brazil
August 2015
Simply amazing! This is a MUST do tour in Bordeaux specially if you haven't been there yet, which was my case. The guide was extremely knowledgeable, the wines were amazing and the cheeses were divine! I learnt so much about wine and the tasting tips that I now feel like a pro! The place where the tasting took place was really charming and felt very exclusive. It definitely went beyond my expectations!
Advertisement
Advertisement