Tour code:
5617TASTINGSTEMILION
Indulge in two top-selling Bordeaux wine tours at a discount with this Bordeaux Super Saver. Enjoy a morning wine workshop in Bordeaux during which you'll sample some of France's most beloved wines from famous wine regions like Côtes du Rhône, Burgundy and the Loire Valley as you nibble on cheese, cured meat and bread. Spend the afternoon visiting two châteaux in nearby St-Emilion for vineyard tours and wine tastings. Group size is limited to eight people to ensure more personalized attention from your guide.
Highlights
Bordeaux and St-Emilion full-day wine tour
Taste at least 10 types of French wine paired with bread, cheeses and cured meats
Enjoy lunch at an apartment in Bordeaux's city center
Visit two châteaux in the UNESCO World Heritage-listed village of St Emilion for more wine tours and tastings
Small-group tour limited to eight people ensures a more personalized experience
Why Our Insiders Chose This Tour
If you really want to learn as much as possible in one day about local wine, this is the tour for you! You won't be an expert after this but you will be able to impress your friends with your new-found knowledge!
What You Can Expect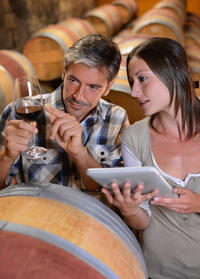 Combine two best-selling Bordeaux wine tours with this Super Saver. Spend the morning in central Bordeaux learning about wines from a variety of French regions. In the afternoon, take a road trip to nearby UNESCO-listed St-Emilion for vineyard tours and wine tastings at two classic French châteaux.
Itinerary
Bordeaux Wine Tasting and Workshop
Start your day with a 2-hour, small-group wine-tasting session in Bordeaux's city center. During this informative workshop, taste four different wines as an expert wine educator gives you an overview of French wine.
You'll discover the u
nique
characteristics of France's main wine regions including Bordeaux, Burgundy, Côtes du Rhône and the Loire Valley. G
ain insight into the terms 'terroir' and 'appellation' and learn how to read a French wine label.
Taste two more wines as you enjoy a typical French appetizer platter of cheese,
saucisson
(sausage) and fresh bread.
You'll then practice blending wines using two leading varieties of Bordeaux, merlot and cabernet sauvignon. Di
scover how to analyze various aspects of wine including its color, smell and taste, and mix
different varieties to create your own blend according to your personal tastes.
Follow your wine session with lunch at a traditional apartment in the city center.
St-Emilion Tour and Wine Tastings
After lunch, leave the city of Bordeaux behind and drive to the vineyards of St-Emilion, a UNESCO World Heritage-listed medieval village, home to 800 châteaux and renowned for its spectacular wines. Your guide will teach you about the Bordeaux and St-Emilion wine regions along the way.
Visit the traditional vat room and cellar of an authentic, private château. Wander through the vineyards while your guide explains the main varieties of wine in the region.
After your tour of the family-run estate, enjoy another wine-tasting session to learn more about French wine, discover
proper wine-tasting techniques, and practice your skills while sampling some of the château's wines.
In the late afternoon, you'll head to a classified-growth château overlooking the St-Emilion vineyards. Enjoy a welcome glass of wine accompanied by a platter of local bread, cheese and
saucisson
(dried sausage), and learn about the winemaking process from the vine to the bottle.
The specific châteaux you visit vary, but may include Soutard, Ferrand or Pressac.
You'll then take an evening tour of the village of St-Emilion, a typical charming French village dating back to medieval times and surrounded by the vineyards that took its name. Afterward, it's back to Bordeaux to conclude your full-day tour.
June 2016
Excellent tour. Berit was informed, interesting and was able to add history and cultural insights into the tour
June 2016
Good day, good to experience modern Chateau and old style Chateau. Would recommend the full day tour rather than morning only. Great to see St Emilion township. Remi was a great host.
June 2016
Excellent tour and value. Remy was outstanding! Highly recommend.
May 2016
Our guide was ridiculously knowledgeable and informative. The tasting was intimate and instructive, and the wines were super. Great for beginners and intermediates. If you already have a black belt in wine, you'll get to have a great conversation with an equal. We visited two distinct Chateaux and then St. Emillion. The only complaint here is that the trip isn't still going. The countryside is gorgeous. The guide was great. And the only complaint, which is more of a suggestion, doing both in one day is a full day, with at least 2 hours in a van, a very comfortable van, with some very great people, and lovely views. But for some, it might be a long day, so if, and only if, you are someone who shuts down after about 6 hours, you might want to break these up into two days. Bordivino will take care of you regardless of how you want to spend your time.

May 2016
Had a wonderful wine tasting class, lunch, and tours to two wineries and St. Emilion! A fantastic day and many thanks to Julie, Colas, and everyone at Bordovino.
May 2016
Great day - we all enjoyed it even though my sister doesn't like red wine - she discovered she did like Pinot Noir.
Remy was very good in the wine class, and is a careful and safe driver.
We went to two chateaus in St Emilion area and had a lovely walk around St Emilion town.
Very good value for money and a great day but a long one
April 2016
Great wine education session in the morning, a lovely lunch, and an excellent tour with tasting in two chateaux and a tour of St. Emillion in the afternoon.
January 2016
This was an excellent all day tour. Remi, our guide and teacher gave exceptional wine lessons and a fabulous tour. He was a pleasure to be with. Our family of four truly enjoyed our day.
January 2016
My husband and I took a wine class from Remi and really enjoyed it. He was very thorough in explaining the various blends of grapes in each area and taught us how to smell and taste certain flavors. We also learned how to read a wine label which has helped us when we shop for wines at our local wine shop. Remi helped us choose a case of wine to enjoy at home, which we are still very much enjoying! After a great class and a tasty lunch, we took a tour of three area wineries. Since it was harvest time, we got to see the grapes being harvested from the vines and received a tour of each facility explaining the wine making process. Of coarse, we were able to sample wine at each winery. As an added bonus, the beauty of the Bordeaux countryside is something to behold. Highly recommend!
December 2015
Advertisement
Advertisement