109 Reviews
Location:

Bordeaux, France

Duration:

8 hours

(approx.)
Join this small-group day trip to the Saint-Emilion and Pomerol wine-making region of France. This full-day guided excursion from Bordeaux offers picturesque scenery, sightseeing and fine wines – the perfect day out from the city! Sample Bordeaux wines in two fascinating chateaux and explore the charming UNESCO World Heritage-listed village of Saint-Emilion.

Numbers are limited to a maximum of eight people, ensuring personalized attention from your expert local guide.
Highlights
Full-day trip to the St Emilion wine region in Bordeaux

Enjoy wine tasting sessions in Saint Emilion or Pomerol chateaux

Explore the UNESCO World Heritage-listed village of Saint Emillion on a 45-minute, guided walking tour
Small-group tour, with a maximum of eight people, ensures a personalized experience
Recent Photos of This Tour
Small-Group Saint-Emilion and Pomerol Day Trip from Bordeaux
What You Can Expect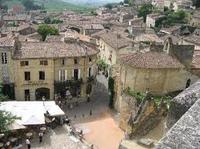 Traveling by luxury, air-conditioned coach, you'll head north from Bordeaux to the Saint-Emilion and Pomerol wine-making region, home to the charming village of Saint-Emilion. Not only is it one of the most picturesque places in France, it's also one of the principal red wine areas of the Bordeaux wine region.

The chateaux (French for 'castles') that produce the region's famous wines are divided into two distinct geographical areas, known as appellations. Chateaux in the immediate villages around Saint-Emilion produce wines for the Saint-Emilion appellation, whereas chateaux in the western Libournais region (an area known as Pomerol) produce wines for the Classified Growth Chateau of the Pomerol appellation.

Your full-day tour starts with a visit to a chateau in Saint-Emilion, where you'll enjoy a Bordeaux wine-tasting session with your knowledgeable local guide. During the tasting, learn about the dominant grapes used in the individual appellation, and how factors such as climate and soil can enhance or influence a wine's flavor.

Continuing on to the hill-top village of Saint-Emilion, enjoy a 45-minute guided walking tour around its quaint and pretty streets. You'll have time to spend at leisure in the village, so you use that opportunity to grab some lunch, admire the historic UNESCO World Heritage-designated buildings or enjoy some retail therapy in the local boutiques.

Then depart Saint-Emilion and travel to a nearby wine estate in the Pomerol appellation, where you will enjoy a wine tasting in a Grand Cru Classé chateau. You will be introduced to the art and techniques involved in the wine-making process and taken on a tour of the vat house and the cellars before returning to Bordeaux.
September 2015
An excellent and very enjoyable day trip. Our guide Matt was extremely helpful and very knowledgeable about the wine growing business and he spoke excellent English. A little more free time in St Emilion would have been helpful. However all in all very good value for money.
September 2015
It was FANTASTIC. It was worth every penny we paid. But the greatest thanks and appreciation goes to our super guide ISABELLE. She gave us every single information about the vine industry with special emphasis of Bordeaux. She answered all of our questions with patience and displayed amazing in depth knowledge. She was pleasant and handled our small group from different corners of the world very professionnaly. Thank you Isabelle, thank you for making our day. Claudia and Turhan
September 2015
The old petite town of Saint-Emilion is a must if you are visiting Bordeaux and this tour is the perfect way to do it as it also visits 3 beautiful chateaux wineries as well. Wine tasting is of course included at each winery and optionally at the town of Saint-Emilion as well. The overall tour guide Marion was excellent. Each winery also has its own guide and all of them were excellent. Highly recommended
September 2015
We had a wonderful day touring this region with our guide who was very knowledgeable of the history of the area, of the growing of the grapes, the wine making process and the differences between the Saint-Emilion and Pomerol appellations. At our first chateaux we had a great tour of the winery and then a very comprehensive wine tasting lesson. Our time in the lovely town of Saint-Emilion was fun with an informative tour, a delicious lunch of Croque Monsieur, followed by an enjoyable wine tasting in a local establishment run by a delightful Irishman. He regaled us with stories and had us taste two wines at a time without telling us the price. We then would pick our favorite and more times than not it would be the less expensive wine. Lesson learned. Finally we went to a chateaux in Pomerol for another tour and wine tasting. It was a thoroughly pleasurable day and well worth the money.
September 2015
We had a wonderful time on our tour this past Saturday with Boris. He was a fountain of information and energy, with a sincere love for Bordeaux. Our first stop of the day was a small, family-run winery in Pomerol Chateau du Tailhas. We received a tour by the niece of the owner and her ability to share personal stories from when her grandfather and great-grandfather ran the winery made the tour special. The tasting was a bit underwhelming, but still enjoyable. Our next stop was in the village of Saint-Émilion. Before arriving in the village itself, Boris took us on a bit of a driving tour of some of the surrounding vineyards, pointing out some prestigious wineries to better explain the classification system. It was quite helpful, and the scenery was superb. Boris then took us on a short walking tour of the village, pointing out restaurants for lunch as well as sites we might want to visit. We had about 1.5 hours of free time, which afforded my fiancé and I enough time for lunch, a climb of La Tour du Chateau du Roy, and a peek inside the Eglise Collegiale de Saint-Émilion. As a group, we then went to Le Cellier de Saint Emilion, for a wine tasting with Bruno, the owner. Bruno was very generous and had seven wines for us to sample that had very different profiles and prices. It was a great tasting and Bruno was very happy to answer any questions the group had. For our last stop, we left the village and travelled to Chateau de Pressac, which has an impressive history: the Hundred Years War ended there. The views from the Chateau were spectacular, and a reason to come here in and of itself. The tour and tasting were enjoyable, and while we would have loved some free time to just admire the scenery, we were on a bit of a tight schedule. Overall, we had a great time on this tour and highly recommend it. We even considered going on Boriss tour to Medoc the next day!
September 2015
The Tour guide was fantastic. Her descriptive information on the Bordeaux region and the wineries was very informative and made me appreciate the passion and dedication of the people associated with Bordeaux.
September 2015
Our tour guide was lovely and very knowledgeable. Our first winery at Pomeral was a delightful traditional winery. We enjoyed our visit there. Arriving at Saint Emillion we visited a wine merchant, the village is full of them. It was an interesting visit and good wines were tasted. We had an hour free time before a walking tour of the village and the church. We caught a quick bite then explored...so much to see...lovely streets and everything so old. The walking tour was interesting and not hurried. We would have liked more free time there really, to relax over a meal and explore the museum and shops. Our last stop out of the village was another winery but it lacked charm and was so very modern and efficient. Wine was very rough. Disappointing. We would have rather had another hour at Saint- Emillion or another winery with character. We did however have a great day and were well looked after by our guide.
Can I suggest a tour to Saint Emillion with less wine tasting and more time in the village.Thank you!
September 2015
This is a fantastic day trip. Our host David, a fellow Australian from our home town, was extremely knowledgeable and made the day very interesting. This is a must do side trip from Bordeaux and if you are fortunate enough to have David as your host then that is an added bonus. Thank you David for ALL of your assistance. Robyn, Dennis and Dana
August 2015
This was a fantastic trip, the knowledge of our guide was excellent and additional wine tasting in the village of St Emilion itself was a great bonus.
August 2015
What a wonderful day. Boris was fantastic, very knowledgeable and quite funny. We had 6 in our tour all 8 would have been a tight squeeze in the van which was perfect. 2 vinyards we visited were different and interesting in their differences. The town was great - the 2 hours to eat and wander around were perfect.
Advertisement
Advertisement