Up the ante in your wine-tasting game with a 2-hour small-group wine tasting workshop in Bordeaux. Learn from a knowledgeable wine guide about some of France's illustrious wine regions, get advice on proper wine tasting methods and find out how to distinguish the various flavors and aromas in the wine. Sample eight wines from around France, including Burgundy, Côtes du Rhône, Bordeaux and the Loire Valley, as you nibble on local bread, cured meats and cheeses. Cap off your fun educational experience with a wine-blending workshop, during which you'll create a custom blend of your own wine.
Highlights
2-hour small-group wine tasting and workshop in central Bordeaux

Learn about the main French wine regions, such as Bordeaux, Burgundy and Côtes du Rhône, from your professional wine educator
Taste eight different French wines accompanied by a typical French appetizer platter
Analyze different aromas of wine and learn the best wine-tasting techniques
Blend your own wine during the workshop
Small-group tour with a maximum of 12 people ensures a more personalized experience
What You Can Expect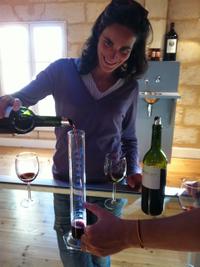 Enhance your understanding and appreciation of French wine with this 2-hour wine workshop. Begin with an overview of French wine regions from your professional wine guide. Learn about wine terminology such as 'terroir' and 'appellation' as you taste wines from regions like Burgundy, Côtes du Rhône, Bordeaux and the Loire Valley.
Find out how to decipher a French wine label. Learn how to identify a wine's aromas and flavors and how to interpret the color of a wine. As you taste, you'll no doubt start to develop – or enhance existing – preferences for these different wine characteristics. This is a skill that will serve you well long after you leave the class, since you'll learn how to not only identify but also describe the wines you like best.
At the conclusion of the lesson, you'll put all this new-found knowledge to use by creating a custom blend of your own wine using two varietals local to Bordeaux – Merlot and Cabernet Sauvignon. Throughout the workshop, you'll sample eight different wines and nibble on hors d'oeuvres such as cured meats, cheese and fresh bread.
Throughout the workshop, your lesson leader is on hand to answer questions and help enhance the experience. As you depart, you'll get a diploma to remember your educational Bordeaux wine workshop.

June 2016
So much fun and very informative! My husband who is wine mad enjoyed it just as much as clueless me. Remy was a passionate and patient host.

August 2015
It was a great experience. I highly recommend it.
June 2015
Had a wonderful session learning about the various wine regions within France via a blind tasting. Being able to blend your own wine to determine what suited your taste was also a highlight. This a very well thoughtout, intimate experience!! Booked via the Viator iPhone app - seamless.
August 2014
Very interesting, entertaining and tasty! Well worth doing if you're in Bordeaux.
July 2014
It was a great tasting, very informative and helped me to understand the different wines in the region. Rémey our expert was great and knew so much about wine, not just in Bordeaux but all over the world! He was so good at his job that i even joined in a tour he did that afternoon out to some vineyards to put my new wine tasting skills into action!
March 2014
Really informative wine tasting - our host answered all our questions and went overtime. He gave us some great information and wine recommendations. Highly recommended!
March 2014
Super informative, great way to start the morning and had a really great workshop leader. He was very charming and had a vast knowledge of the things he was talking about. Loved it!
January 2014
Pierre, our host was excellent. He had a very good knowledge of French wines and Bordeaux wines in particular. He was entertaining and interacted with all the members of the party. The wines were excellent and the part of mixing the wines was very entertaining. The food platter was nice and complimented the wines. The only draw back from myself was the fact that we were informed prior to the booking that the wine tasting would be held in a nearby restaurant but it was held in a room in the house were we were told to meet.
December 2013
Our trip with Enrique was very good. He was a very good communicator, had a deep knowledge and enthusiasm about the Alhambra and Granada in general and his manner was engaging. We were very happy to have done this tour and to have had him as a guide.
July 2013
Had a fantastic wine tasting with Stephan. He was knowledgeable about the wine regions, wine, process of making and storing wine, and had a sense of humour. Thoroughly enjoyed!
Advertisement
Advertisement