Enjoy a photography tour of Boston's upscale Beacon Hill neighborhood. Brimming with historical character and charm, this area offers endless stunning sites that beg to be captured on camera. As you stroll through narrow cobblestone streets and squares, your guide, an expert photographer, will teach you valuable photography tips and skills to enhance the quality of your photos. Plus, you'll learn some interesting facts about Beacon Hill, like how it has been the home of several famous figures like author Louisa May Alcott.

Highlights
Boston photography tour of historical Beacon Hill

Learn creative photography techniques from your guide, an expert photographer

Stroll along narrow cobblestone streets and admire the elegant, stately 18th- and 19th-century architecture

Capture stunning photos of iconic Acorn Street and Louisburg Square, home to many famous public figures

Learn some history about the sights you see

Recent Photos of This Tour
Best Boston Photography Tour: Beacon Hill
What You Can Expect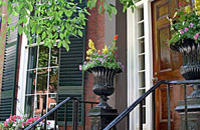 Starting on Beacon Street near the Shaw Memorial, follow your guide, an expert photographer, through Boston's upscale Beacon Hill neighborhood. Admire charming narrow streets and brick sidewalks lined with gas lamps and hidden houses. Federal-style row houses dominate this 18th- century neighborhood that's rich in history and displays elegant architecture.

With your camera in hand, discover the gems that make Beacon Hill sparkle and hear some stories about famous residents who once lived there, like Little Women author Louisa May Alcott. Learn how Beacon Hill got its name and the common theme that the street names share. Snap photos of sites you see and receive creative photography tips from your guide on how to make your photos look great.

Stroll through the narrow cobblestone lane of Acorn Street, said to be one of the most photographed streets in the US. Journey to Louisburg Square, a residential square that features Greek Revival-style homes reflecting the rarefied tastes of the upper class in the 19th century.

You'll leave this tour with a plethora of amazing photos of historical Beacon Hill to show off to your friends!
October 2015
I would gladly recommend this tour to photographers with any camera. To obtain the most from this trip, please have a camera wherein fine tuning can be made to focus, aperture, etc in order to capture all the shadows, and reflections offered.
October 2014
This was amazing! Beacon Hill is so gorgeous and we got the most of it from Saba's insightful tour. Plus we got some of the best photos too!
October 2012
I learned a lot about the neighbourhood and took beautiful photographs.
September 2012
Your information about this tour is not 100% clear as it is sold as a walking tour but is more a walking tour for photographers. However, although it was not what we thought it was going to be it was an excellent tour with a very informative and knowledgeable guide who gave us lots of tips and my photographs for the rest of my holiday were certainly far better and more artistic and interesting plus I learnt a lot about Beacon Hill
May 2012
Excellent; It was my favourite part of Boston ; The tour guide was not only knowledgeable about photography but Boston history add well. I learned a lot and loved it
May 2010
We thoroughly enjoyed our photographic tour of this very historic and attractive part of Boston. The tour leader Saba was most interesting and knowledgeable - and pointed out creative and unusual ways of taking photos of the area. We thought it was very worthwhile for anyone who wants to wants to have great holiday shots.
May 2010
This tour was very good.
August 2012
THE TOUR WAS VERY SIMPLE. THE NEIGHBORHOOD IS GREAT BUT NOT EXTRAORDINARY. THANKS
Advertisement
Advertisement