Raise a pint to the spirits of Samuel Adams, Paul Revere and George Washington as you relive more than 375 years of tavern history in Boston. This informative 3-hour walking tour also gives you a taste of Boston pizza, one of the city's best bites. Sample three of the best pizzas in town. Along the way you'll explore Boston's oldest neighborhoods, like Beacon Hill, the Blackstone Block, the North End (Little Italy) and Charlestown, and visit some of New England's most historic landmarks.
Highlights
A 3-hour walking tour of Boston's taverns, pizzerias and historic neighborhoods

Taste what makes Boston pizza unique with three slices of pizza

Walk in the footsteps of America's most famous revolutionaries
Embark on a scenic ferry ride across Boston Harbor

Cover 375-plus years of history in 3 hours with an informative guide
What You Can Expect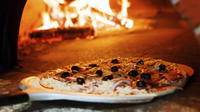 Indulge in Boston's eclectic pizza culture on this 3-hour walking tour. Bring your appetite when you meet your guide in the North End, Boston's oldest neighborhood. Settled in 1630, it's also known as Little Italy, and Italian is still spoken in the streets.

Aside from sampling a cheesy slice in this neighborhood, you'll get a taste of Boston's history. See Boston's oldest pizzeria, with an oven from 1883, and stop at the spot where the famous 'Crime of the Century' — the armed robbery of the Brink's Building — happened in 1950.

Follow your guide down the cobblestone streets of neighboring Charlestown to see tavern ruins dating all the way back to 1635. Then stop at a historic tavern, established in 1785, for the second slice slice of the tour. Work up some more appetite on the walk past Bunker Hill Monument and through the Charlestown Navy Yard to see the USS Constitution, nicknamed 'Old Ironsides.'

Then the walking tour gets sea legs on the short, scenic ferry ride to the historic Long Wharf. Bust out your camera for snapshots of the steeple of Old North Church, Fan Pier and the Old State House — the oldest public building still standing in Boston.

It's a short walk back to the North End for your last slice before venturing to the Blackstone Block, Boston's oldest commercial district. The tour wraps up in the North End at either the oldest tavern in America or a tavern known as the 'Headquarters of the Revolution.' Cheers! Take some time to order a beer (own expense) to complete the day.
July 2015
Great tour, Martin was a great tour guide with a lot of great history and stories about the North End, Charlestown and Old Ironside. The Pizza was great we are from Chicago and so we know Pizza pretty well and the Taverns historical and fun to visit. This tour is a must see when you are visiting Boston. Great tour for all ages. Very Highly Recommended!
July 2015
I really enjoyed this tour. The guide sorry I forgot his name was very enthusiastic and you could tell he loved Boston. The pizza was great and you even got to eat outside. I was a solo traveller and there was also a family and we all had a great time. I would recommend this tour as great value for money and so enjoyable
October 2015
What a great way to combine a history lesson with slices of Little Italy pizza! Martin was a very enthusiastic and knowledgeable tour guide. We felt like we saw quite a bit of the Old North End and Charlestown areas, walking quite a bit of the Freedom Trail and all the sights there. Each slice of pizza was very tasty, however, two of the three slices were plain cheese pizza... for the price of the tour, I would expect more toppings on the pizza.
November 2015
There was about 4 miles of walking . It was cold out and we had to eat our pizza outdoors at the first stop. Only cheese pizza was served . Maybe I'd be more positive if the weather had been better . Also I wouldn't recommend going on a Friday night . The pizza shops are too busy then . We did enjoy the tour and narration .
May 2015
Fun tour and great pizza and beers/cider! Thanks.
Advertisement
Advertisement