Try a unique alternative to a typical night out in downtown Boston with an exciting dinner cruise along the city's waterfront. This 3-hour expedition on Boston Harbor features an all-you-can-eat buffet meal with live entertainment and dancing. Watch the sun set, then take a stroll under the stars and enjoy the view of the illuminated Boston skyline at night or head to the dance floor for music and fun inside the ship's nightclub. Bring that special someone or a whole group of friends for a night to remember.
Highlights
Sunset dinner, dancing and sightseeing cruise of Boston's harbor
Lavish, all-you-can-eat buffet, including carving station
Breathtaking views of the Boston skyline, including the Bunker Hill monument and the USS Constitution
Cabaret entertainment
Dance party with live DJ
What You Can Expect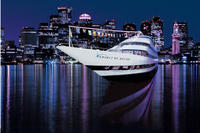 This dinner cruise is one of the best places in Boston to combine dining, dancing and sightseeing in one evening. Get a view of the city from the historic waterfront. Three climate-controlled interior decks with panoramic windows allows for a perfect view of the Boston skyline.

As the ship departs from the Seaport World Trade Center at Commonwealth Pier, head to the elegant dinner buffet, complete with salads, entrees and desserts, prepared fresh on the ship.

Great food and entertainment go hand-in-hand on this cruise, so take in the live performances and festive atmosphere during dinner. Then grab a refreshing cocktail at the floating rooftop lounge, head to the spacious observation deck for a moonlit stroll under the stars or hit the dance floor with one of the hottest DJs in the city, spinning top hits from a variety of genres.

Notable attractions to see along the route include Zakim Bunker Hill Memorial Bridge, the historic USS Constitution and Boston's thriving Seaport District.
Itinerary
Classic Dinner Menu (subject to change)FRESH SALADS
Organic Mixed Field Greens: Grape Tomatoes | English Cucumbers | Carrots | Corn | Kidney Beans | American | Cheddar Cheese | Herb Croutons | House-Made Ranch Dressing | Balsamic Vinaigrette | Low-Fat Italian Dressing
Organic Spinach & Kale Salad: Aged Reggiano Parmesan Cheese | Red Bell Peppers |Red Onions | Lemon & Oregano Dressing
Roasted Red Beet Salad: Pickled Shallots | Fresh Mint | Italian Parsley
Mediterranean Couscous & Chickpea Salad: Scallions | Plum Tomatoes | Cumin & Paprika Vinaigrette
MAIN COURSES
Oven Baked North Atlantic Sole Filet:

Tomatoes | Shallots | Caper Sauce

Honey & Sesame Chicken: Scallions | Fresno Chilies

Whole-Roasted Pork Loin: Dijon Mustard Cream Sauce

Roasted Broccoli Florets: Toasted Garlic | Chili Flakes

Creamed Corn & Cheddar Cheese Casserole: Green Chilies | Scallions | Fresh Cilantro

Baked Ziti Pasta: Aged Reggiano Parmesan Cheese |Mozzarella Cheese | Spinach & Garlic Sauce

Mashed Potatoes: Idaho Potatoes | Roasted Garlic
THE DESSERTS
Seasonal Fruit | Cannolis | Chocolate Drizzle Rice Krispy | Cheesecake | Chocolate Cake | Strawberries & Vanilla Custard | Apple Cobbler
December 2013
Great food and it was really fun. Must try this Dinner Cruise.

October 2012
Wonderful night out - great food - lovely scenery - perfect crew. Couldn't have been better !
August 2012
This was awesome. One of our favorite activities.

katseyes Australia
July 2012
FANTASTIC, We loved it. Well worth the money. They had non stop entertainment on the boat. The staff were the entertainers! We highly recommend it!
Christine and Wayne
South Australia
August 2014
A lovely evening. We would do it again. Seeing the city at night from the bay was a treat for all. Nice boat, super crew, average food. Thanks.
Bjarni I Iceland
September 2012
This cruise was delightful. We had a very good time and enjoyed to be on the upper deck and see Boston and everything. The staff were very good , but the food wasn't very good.
September 2012
We had a wonderful time! It was just perfect for an evening out with my family. The DJ was great and lots of dancing. The crowd defintely enjoyed his style. We just wished it was longer than 2.5 hours. Will certainly recommend this cruise to friends and family. Thank you!
Robert M Australia
August 2012
Staff were well organised and talented and the food was average. The best part of the cruise was watching the sunset over the city. It was much quieter outside on the decks due to the entertainment, which would have been fine had that been our major reason for booking this cruise. Overall, it was a good evening.
melania España
July 2012
buena cena, divertida y entretenida
September 2014
Had no idea this was 50s theme cruise the night we booked this. The line has several theme cruises. It would have been nice to know this in advance. Some people may not like the theme planned for the evening. All in all, it was alot of fun mostly due to the crowd that knew in advance of the 50s theme, dressed for it and did it as group event. Decent buffet food. Live band and DJ for dancing. No narration / explanation on what was on your tour route so not sure what we were passing on the shoreline.
Advertisement
Advertisement