Experience the best of New England's marine wildlife on this Super Saver combo tour. Enjoy a 3-hour whale-watching cruise around the Stellwagen Bank National Marine Sanctuary. See humpback and fin whales, plus Atlantic white-sided dolphins and harbour porpoises with the help of a naturalist guide. Then discover more than 800 marine animals under one roof at the New England Aquarium. From seals and sea lions to sea turtles and stingrays, it's one of the premier visitor attractions in Boston.
Highlights
Discover New England's wildlife with this Boston Super Saver
Enjoy a scenic 3-hour whale-watching cruise around Stellwagen Bank National Marine Sanctuary
Spot humpback whales, fin whales, Atlantic white-sided dolphins, and harbor porpoises with the help of your naturalist guide
Explore fascinating marine exhibits and

get up close to sharks, stingrays, penguins, and more

at the world-famous New England Aquarium
Why Our Insiders Chose This Tour
If you live in a landlocked area, definitely take this tour. You'll see some marine animals that you may never have the chance to see again! Great for families, independents and couples. Bring a good-quality camera because you'll definitely want nice photos to look back on.
Recent Photos of This Tour
What You Can Expect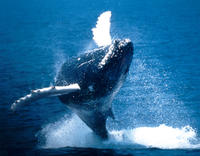 Beginning at Central Wharf in Boston, hop on a high-speed catamaran and embark on a 3-hour whale-watching cruise to Stellwagen Bank National Marine Sanctuary, an 842-square-mile stretch of open water at the mouth of Massachusetts Bay that serves as a rich feeding ground for whales, dolphins, sea birds and more.

From the ship's three outdoor decks, view humpback, fin, minke and pilot whales, plus Atlantic white-sided dolphins, harbour porpoises and more with the help of a trained naturalist. Between whale sightings, relax in the comfortable, climate-controlled indoor cabin, which features state-of-the-art sound and video systems, the New England Aquarium Education Station and a galley offering food and beverages for purchase.

This Boston Super Saver also includes admission to the world-renowned New England Aquarium. Informative and entertaining live animal presentations happen here every day, allowing visitors to get up close and personal with their favorite aquatic animals. Watch fur seals interact with their trainers. See sea stars, sea urchins, sea lions and sea dragons, not to mention snails, hermit crabs, horseshoe crabs, shorebirds, lobsters, goosefish, octopus, piranhas, anacondas, salmon and many more.

The largest "touch tank" on the East Coast features more than 100 animals, including cownose rays, Atlantic Rays and sharks, and the centerpiece exhibit, a cylindrical 200,000-gallon Giant Ocean Tank featuring turtles, sharks, eels, stingrays, tarpon and many more.
May 2016
Cold and rainy day,but was able to see plenty of whales. Very exciting and fun experience!
April 2016
We had a fantastic trip and were very entertained by the whales at close quarters for about 2 hours. The staff were very informed and caring, however, if you are hard of hearing you may not be able to hear the commentary when the boat is moving, which is a shame as the information was excellent.
We also had a double ticket for the aquarium and this was also a really good experience. A whole day of whale watching and the aquarium was fantastic and great value for money

November 2015
Fantastic Tour - lovely Boat - really comfortable. We saw about 50 - 80 hump back and a few others.... It was amazing activity. The guides were amazed themselves!!!
November 2015
Great trip, really lovely comfortable boat and obviously the whales were the star of the show!
November 2015
LOts of humbacks, also minkes. acquarium is a gem
October 2015
This was an amazing tour. I booked this tour for mid of October which is near the end of the season and surely not optimal. Nevertheless, we saw many hunchbacks with calfs very close to our boat. The guide knew the animals by their appearance and told us really interesting facts on our way back to Boston. I really enjoyed the trip. However, be sure to have very warm clothes. It's getting unbelievable cold once you leave the harbor area.
September 2015
This has been one of the best tours my wife and I have taken in a long time. We arrived at 9:15 am a bit early and the tour company, Boston Harbor Cruise had a representative at the wharf to talk with us. At 9:30 am we loaded the fabulous ship with two hulls and waited for our departure. The captain and staff continually announced that the seas were rather choppy with sea's of 6 - 10 ft and if you felt uncomfortable to please stay outside of you may want to come back another day. We of course stayed and stood on the bow the entire time. Dun was strong and sea's choppy with wind in your face. Trip to the whales took 1 1/2 hours and we encountered over 100 whales during our journey. The biologist explaining to us all said this was the largest whale watch she had ever seen. Pods of 25 - 30 St a time. The whales were breaching causing huge spashes of water, the cries of the whales were heard, and the bow holes making sounds throughout. I can't promise you will see this many whales again, but I can promise there is no better tour then this. Since the whales were so plentiful, the captain and staff made our journey in 4 1/2 hours. We have been to Alaska and never saw this many whales. You might want to come in September since the whales are feeding and getting ready for their journey south.
After the whale watch we toured the New England Aquarium and just loved the aquarium as well. Very well laid out and do interesting. Had a lot of giant turtles. The penguin exhibit was the best we have seen any where. Please don't miss this tour. Viator pricing is fabulous. Just the normal cost for an adult to enter the aquarium is 29.95. Buy the combo ad we did and you won't be disappointed.
Thank you Viator for bringing this tour to the public.
September 2015
We had such a fun time watching the whales. We saw 4 Humpbacks whales 3 adults and a calf. I could have watched them for hours. The crew was very knowledgeable about the whales and were able to identify them by their flukes.
Suzyblue United Kingdom
September 2015
Great trip, saw lots of whales.
Would recommend!
September 2015
The whale-watching is fabulous - I have now done this twice and had the privilege of seeing humpback whales and their calfs close up to the boat. Also lucky enough to see a fin whale, second largest of all whales. And really enjoyed the aquarium - interesting, well laid-out and informative.
Advertisement
Advertisement